As far back as the Model T, people have had a love affair with their vehicles. It might be the car model they wanted in high school and finally purchased 25 years later. Or maybe it's the company van that the owner bought with their initial investment when the garage still served as the "corporate headquarters."
And no matter which type of vehicle it is, how old or new, and whether it's a personal vehicle or a company-owned one, we all want it to look, well, awesome. We want it to reflect who we are, and we want it to send a message – something distinctive about our company or ourselves.
One of the best ways to do this: a vehicle wrap.
The Way of the Wrap
So what is a vehicle wrap? The most basic definition is that it's a printed vinyl graphic that covers the majority of the entire car, truck, bus, or other vehicle – typically excluding bumpers, headlights, and windows. And although we'll focus here on wheeled vehicles, wraps can also be applied to boats, airplanes, and just about any form of transportation you can think of.
For consumers, the wrap design generally is all about color, forms/shapes, accents, and effects. For businesses, meanwhile, the wrap is more likely a combination of branding, messaging, and catching the eye of prospective customers.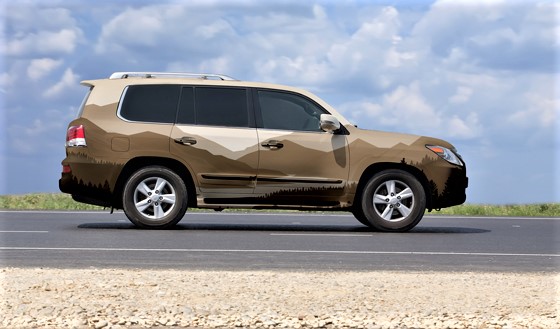 Yes, there are a few alternatives to wraps when it comes to adding graphics to a vehicle, including:
Paint: The original way to completely change a vehicle's color or add some ornate graphics to it – who can forget seeing their first Pink Floyd prism van? However, painting a vehicle first requires removal of the original paint, followed by multiple coats – so it takes considerably more time than a wrap. Plus, intricate and detailed graphics and messaging are much more difficult to achieve with paint, so painting is not a very realistic solution for company vehicles.
Pinstriping: Adding fine, detailed flourishes to a vehicle was originally done by handpainting or airbrushing. Vinyl pinstriping is another alternative, although customization can be limited if only template-driven pinstriping is offered.
Decals: Decals are another way to add custom graphics to a vehicle without covering the entire vehicle. If, for instance, you simply want to add your company's logo and phone number to a vehicle's side panel, for instance; or, for DOT numbers for a fleet of trucks. Plus, you can typically install decals yourself, without necessitating an installer.
A vehicle wrap, however, provides the ultimate customizable design for complete coverage of any vehicle. And because a wrap can be produced and installed in a relatively short period of time, you won't have to rely on a long-term rental for your transportation needs.
As we noted earlier, vehicle wraps typically fall into one of two broad usage categories – personal use or business/commercial use.
Personal-use wraps are almost always entirely about improving the vehicle's aesthetic. How can my car look better or different? How can I add a unique look to my truck? I've had my SUV for a few years and I love it, but I've grown tired of the exterior color – how can I make it look different? And so on.
Business or commercial wraps are about aesthetics as well, but they're also about reinforcing the company brand or messaging, promoting the business or a particular product/service, or perhaps ensuring that a company simply stands out amongst its competitors. The company's logo is almost always included in the wrap, as is basic contact information.
Something else that will often differentiate business/commercial wraps from personal wraps: A business typically has multiple vehicles to wrap – a fleet enabling the company to more easily deliver goods to its customers or to allow the business to provide its many clients around the region with services, etc. For company fleets, it's important that every vehicle carry the same branding and/or message; and, even if the fleet comprises different vehicle models and/or types, it's important that the wraps be as consistent as possible from vehicle to vehicle.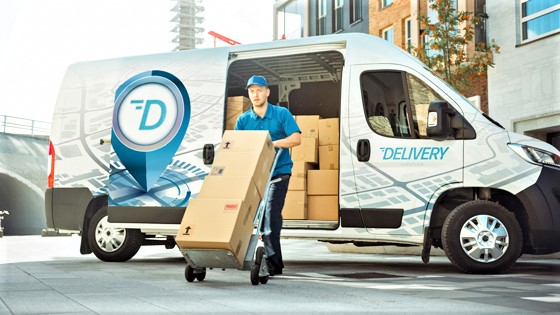 Some Basic Questions
Let's address a few of the basic questions that people typically have about wraps – whether the vehicles are for business or personal use. And we'll also touch on some critical issues to consider when it comes to deciding on which shop to have produce and install your wrap:
Can you wrap your own vehicle(s)? – Unlikedecals, which can be easily installed by most folks, full vehicle wraps really need to be installed by experienced professionals for the best result. Unless you have quite a bit of expertise with vinyl wraps, we advise against attempting to install them yourself.
And while we're on the topic of experience and skill set, it's a good time to mention training and certification – two things that can be instrumental in a successful wrap job and one you'll be proud to show off. Professional wrap installers can take advantage of various training opportunities, typically provided by vinyl manufacturers (3M, Avery, etc.), industry/market associations (PDAA/Printing United, UASG), or nationally known wrap installers. Having successfully completed these training sessions, they can then become certified – indicating to the customer that they're proficient and knowledgeable of the entire wrap process (some are even specifically certified for fleet graphics).
Will a wrap damage your vehicle's paint? – Actually, a wrap can protect your vehicle's paint because it serves to block UV light from the sun, which can damage paint over time. Nor are there any concerns when it comes to removing the wrap – the vehicle's original finish will be intact once the wrap is removed. Just as with the installation of a wrap, it's best to bring in the professionals when you're ready to have the wrap removed. Note that we indicated "original finish," because aftermarket paint jobs and/or repairs that have been painted might encounter problems when a wrap is removed.
Also: You can re-wrap your vehicle as often as you'd like, so you never have to be committed to a message, promotion, or color for any specific length of time. In fact, you can even have a new wrap installed over your current wrap if the existing wrap is in good condition and not that old.
How durable is a wrap, how long will it last? – Dependingon the quality of the wrap, type of vinyl wrap, the specific inks used for printing, the care taken during installing, care after installation, and environmental factors, vehicle wraps can last from three to 10 years.
Tip: Be sure to ask if your wrap will be printed onto cast vinyl. Cast vinyl (so named because it begins its life by being poured into a moving "casting sheet") is much superior to calendered vinyl when it comes to vehicle wraps. Cast vinyl is far better at adhering to curved surfaces and complex shapes, is more resistant to shrinking, and will maintain its color. Although calendered vinyl is more economical and is more resistant to scratches (because it's thicker), it simply cannot accommodate a vehicle's demanding curves.
Is there anything that cannot be wrapped? – Because a wrap is vinyl, it will best adhereto smooth factory paint and smooth, rigid plastic surfaces. It won't bond well to poor paint jobs, rust, chipped or flaking paint, gouges, textured surfaces, rubber, ABS plastics, and a few other surfaces – including what most folks refer to as "trim pieces." Your installer should alert you to any surface problems that are spotted during the initial lookover of your vehicle pre-wrap (see "the steps," below). Nor should wraps cover headlights or taillights, although perforated window film can be used to cover windows and windshields (opaque vinyl should never be used to cover windows or windshields).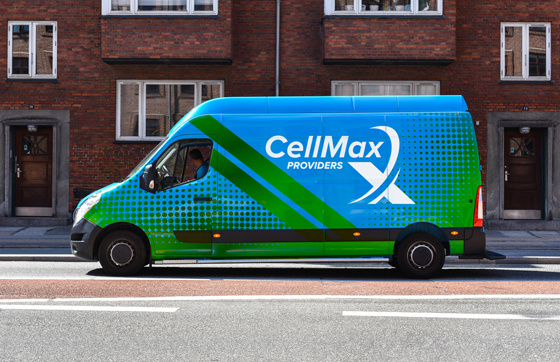 The Steps
Typically, here are the steps in the vehicle-wrap process in just about any shop:
● You'll bring your vehicle(s) into the installer's shop to be measured and evaluated. While templates do exist for many vehicles, it's best to have your specific vehicle measured to ensure no surprises down the road. The shop should measure for vehicle length and width, of course, but also for door handles, lights, wheel wells, body seams, and so on. As noted earlier, the shop will check for any concerns they might have with the body of the vehicle – rust, "iffy" paint, damaged panels, etc.; you will likely need to these problems addressed/corrected before the wrap process begins.
● After the measuring process, you'll get a quote from the shop. This quote should include the printing of the wrap, the installation, and any additional work that might need to be done.
● You'll create your wrap design, and work with the shop to ensure it will look great on your vehicle. You may need to "tweak" your design a bit to help it accommodate your vehicle's body shape and contours – remember, you wrap is covering a three-dimensional shape, it's not just a flat sign. After you have finalized the design and given the shop your approval on it, they'll print it, and then schedule an installation date for you.
● Once the install date has been established, you'll bring your vehicle in for the work. The vehicle should be clean when you bring it in, or the shop will wash it for you (and will likely charge you for that service).
● When the wrap process is completed – time will vary with the number of vehicles and complexity of the wrap, etc. – you'll go to the facility to see your new custom wrap and pick up your vehicle. Inspect the wrap before leaving to ensure you're happy with the completed job.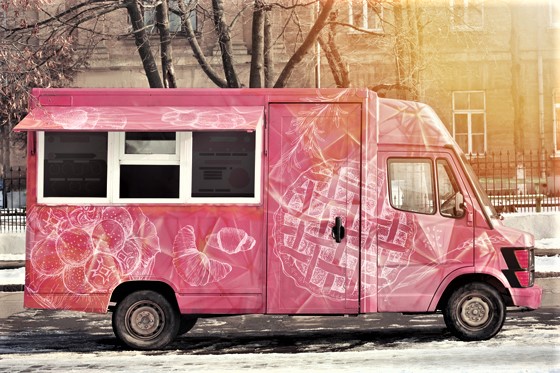 The Care & Feeding of Your New Wrap
Your wrap has been installed and you've picked it up from the shop – now it's time to take your newly wrapped vehicle(s) to the streets – go ahead, show it off and make your friends and your company's competition envious!
When your wrapped vehicle is not on the road, however, you want to ensure the wrap maintains its vibrancy and its longevity. The best way to do so is simply by keeping it clean. Generally, you should wash your wrapped vehicle whenever it looks dirty, just as you would with any unwrapped vehicle. Follow these best practices for washing a wrapped vehicle:
Handwashing is best: To help ensure your wrap lasts its longest, it's best to stick to handwashing and avoid car washes. If you must take your wrapped vehicle through a car wash, be sure it's the brushless variety with the big, floppy curtains typically found in higher-end car washes (not the power-washer type).
Use non-abrasive detergent: When handwashing, use only non-abrasive detergents and then thoroughly rinse with clean water. Avoid any rough scrubbing and don't use abrasive brushes or other tools. When drying, use a silicone squeegee or a microfiber cloth to prevent water spotting.
No wax required: There's no need to wax a vehicle wrap; in fact, many vinyl manufacturers (such as 3M) recommend against using wax on a printed vinyl wrap.
One final note on the subject of wear and care: Can a wrap be repaired or patched if, say, your vehicle is involved in a fender bender or other small accident? The answer is yes, sometimes: If the damage is limited to a small section or wrap panel, then there's a good chance the entire wrap won't have to be reprinted and reinstalled. Your best bet is to check with the shop that did the original work and have them evaluate the damage.