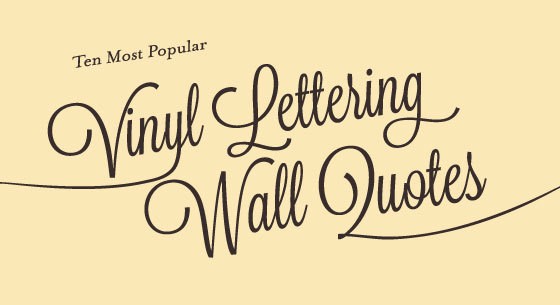 At Signs.com, we print a lot of customized wall decals. Some of these are fairly large decals that people use to decorate their home or office, while others are small and simple, like wall lettering.
One of the more recent trends taking American homes by storm is printing and displaying quotes, usually motivational and uplifting quotes on several walls throughout a home. We've seen some pretty awesome quotes over the years and in all sorts of places… yes, even the bathroom, and wanted to put together a post on the ten most popular wall quotes.
If you like any of these quotes or have another you'd like to get printed for your home, you can build it in our custom design tool.
1. Chase Your Dreams
2. IN THIS HOME We do sharing. We do LAUGHTER. We do MISTAKES. We do real. Sometimes we do silly. We do our best. We do FUN. We do grace. We do I'm sorrys. We do LOUD really well.We do HUGS. We do family. We do AWESOME. WE DO LOVE
3. You've got what it takes, but it will take EVERYTHING you've got
4. Take your elbows off the table. Sit up straight; don't slouch. Eat your vegetables. Use your knife. Wife your mouth. Don't talk with your mouth full. Don't slurp your soup. Ask politely and say please. Don't chew with your mouth open. If you've finished, excuse yourself. Don't chomp your food. Don't eat with your fingers. Talk quietly. Be thankful and just eat your dinner
5. The KITCHEN is the heart of the home
6. Education is the most powerful weapon which you can use to change the world
7. Pray as though everything depends on God. Work as though everything depends on you
8. Don't be afraid to give up the good to go for the great
9. Home is where the heart is
10. Dance like there's nobody watching, love like you've never been hurt, sing like there's nobody listening, and live like it's heaven on earth
Which of these are your favorite? Or is there another quote that should have made our list? If so, please share in the comments section below.