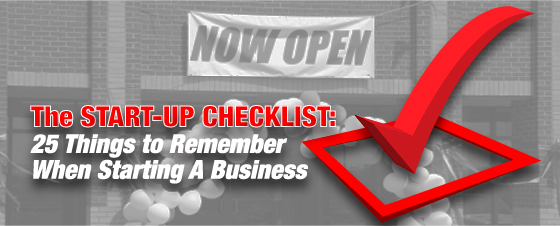 Think you're ready to make the plunge and start your own business? Good for you! Now you just have to remember a myriad of details in order to be ready. It can be a little overwhelming. Our checklist will help you get started (though you might need to add a few other tasks to the list, based on your particular business).
Educate yourself. There are many resources for aspiring small business owners. Check your library or bookstore—you'll find hundreds of books to help guide you through all aspects of starting a business. The Small Business Administration website offers many educational resources, and your local office may host free or low-cost workshops. The more you learn about running a business, the better prepared you'll be. http://sba.gov
Write a business plan. This is the document that will be your guideline through the entire process of opening your business. Writing a business plan forces you to work through the details of your business so that you can be organized and focused throughout the process.
Decide how to structure your business. There are four legal forms of business ownership: Sole Proprietorship, Partnership, Corporation, and Limited Liability Company.
Name your business. Once you've chosen a name, conduct a trademark search to ensure that no one else already has the name. Register your business with your state, county and city. Your state's U.S. Small Business Administration (SBA) office can help point you in the right direction.
Obtain business licenses and permits. Your local SBA office has information on which licenses and permits you'll need, depending on your location and type of business.
Obtain a Federal Employer Identification Number (EIN). You'll need this number if you plan on hiring employees. http://www.irs.gov/businesses/small/article/0,,id=98350,00.html
Obtain a state tax identification number, if necessary.
Find an attorney. He or she can draft any internal documents needed for your business and give you legal advice regarding business practices, liability issues and more.
Find an accountant. Your accountant can help you develop proper accounting procedures right from the start, can save you money and most importantly, will keep you from getting in hot water with the IRS.
Obtain start-up capital (if necessary). Talk to the bank about a small business loan, or find investors. This is where your business plan will come in handy.
Open a bank account. You'll want to keep business and personal expenditures separate, and this is most easily accomplished with a business bank account. While you're at the bank, obtain a business credit card or line of credit.
Get insurance coverage. An insurance agent specializing in business insurance can help you determine what kind of coverage you are required to have.
Choose a location. Find an office or retail space. A commercial real estate agent can be helpful. Look over the lease carefully (or have your attorney review it). http://realtor.org
Find a contractor. If you'll need to build out your space to make it suitable for your business, you'll want to get started as soon as possible to leave time for the inevitable delays and setbacks associated with construction.
Sign up for utilities. Contact local water, electric and gas companies and get accounts. Get your phone system set up.
Purchase or rent equipment. Make a list of everything you need to run your business. You may be able to find some fixtures or office equipment used; check your local online classified ads.
Hire a designer. You'll want to have a professionally designed logo so that your company will make a great first impression. http://businesslogos.com
Design and order signage. Professional signage is the most effective way to alert customers about your new business, help them locate you and educate them about what you offer. Call us to get started – 888.318.0052
Create a website. Yes, you need to have a website. Even if you're not going to sell anything online. Your customers expect to be able to find information about your business by looking online. It's well worth the money to hire someone to help you design your website – an ugly, poorly designed website will drive customers away.
Develop a marketing plan. How will you get customers to walk through the door? Once they're there, how will you get them to buy your stuff?
Create social media profiles. Like the website, having social media profiles is an expectation that you really can't get around. If you take the time to do it right, creating and maintaining those profiles can really increase your business. Start with Facebook, Twitter and LinkedIn and go from there.
Find suppliers. If you're selling product, you'll want to know where you're going to get it. If you have a business that relies on equipment or parts, find suppliers that will be reliable so you'll be ready when a customer calls.
Hire employees. Write job descriptions, place ads and schedule interviews. Once you've done the hiring, make sure you thoroughly train your employees—they're the ambassadors of your business.
Get ready for opening day. Stock your store, set up your restaurant, gas up the delivery van, get ready to answer the phone.
Install your "Grand Opening" signage and enjoy your first day of business!