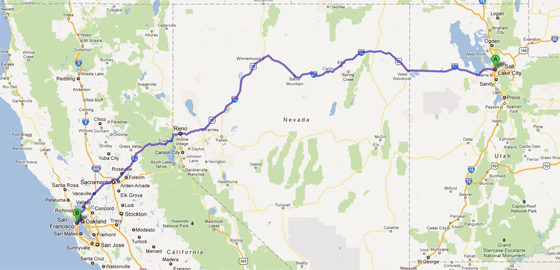 Spring break. If you're a college student, those two words evoke images of beaches, girls in bikinis and lots of beer. If you're me, "spring break" means a road trip to San Francisco with my husband, two teenagers and a Subaru Forester packed to the gills with laptops, hand-held video games, and junk food. It's a twelve hour drive. Each way.
To get to our destination, we crossed through Nevada on I-80 West. The landscape of Nevada is not particularly interesting unless you love sage brush, tumbleweeds and dirt. The signage along the highway takes on extra significance as it provides both information and the only form of entertainment for the people in the car without the hand-held video games.
There are several small towns between Wendover and Reno, but the landscape is pretty barren. It looks like the main industries in the area are mining, cattle ranching and prisons. We passed several prisons along the way, and we knew we were approaching one when we saw this sign: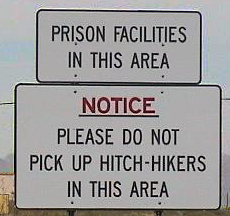 It's the stuff horror movies are made of: vacationing family picks up seemingly nice young man along the side of the road in the middle of nowhere. They don't notice his orange jumpsuit, or the cold, hard glint of violence in his eye. Mayhem ensues. Cut to the scene with the salty old Nevada State policeman, shaking his head as the cadaver dogs find four shallow graves along the side of the highway, "That poor family. Never knew what hit 'em." Good thing they came up with those signs.
While the prison area signs were kind of creepy, I did find some fun signs on the exterior of gas stations along the way. My favorite was the one that said, "Ice Cold Drinks." Don't those two words paint a nice picture? They don't just have sodas and bottled waters. They have ice cold sodas and waters. When you're driving down the freeway in Nevada with two teenagers and the heat is shimmering off the blacktop, nothing sounds better than a cold drink. Some of the signs even have little snow caps on top of the letters. A small bit of marketing genius in the desert.
Some signs provide the impetus for interesting road trip conversations. We saw this sign outside the little town of Verdi: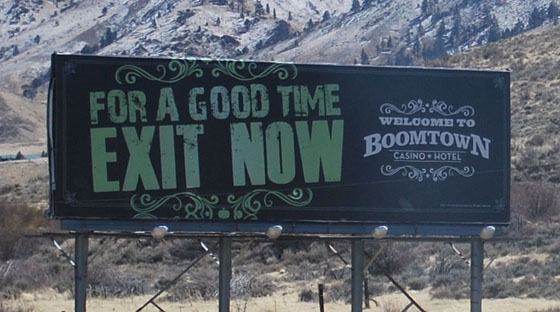 I suppose this sign resonates more with some people than others. We stopped because another sign promised a Peet's Coffee, which we sorely needed by that point. We had to go into the casino for the coffee. The people didn't look like they were having a good time. Most of them looked as if they had been down on their luck for awhile. They were staring blankly at slot machines, pushing buttons like robots, cigarettes dangling from their hands. Unlike the commercials full of gorgeous people surrounding the craps table, holding drinks, laughing and smiling, it was not an atmosphere of festivity. Maybe the robotic slot machine gamblers were having a good time and we just couldn't tell.
Hospitals seem to be advertising on billboards more and more. In my city, the hospitals have all installed digital signs that tell passersby the length of the wait time in the ER. Why? If I have a kid who's fallen off his bike and needs stitches, I have no intention of driving along the freeway, shopping for the shortest ER wait time while my kid is screaming and bleeding all over the car. I suppose I've always considered an emergency room to be for, um… emergencies. And while I'd prefer an emergency room with a short wait, I'm not usually in the mood to shop around. Along I-80, just past Fernley, Nevada we passed a sign that said, "15 minute ER guarantee." Or what? I get my money back? Quick, sweetie! If you're going to have a heart attack, now's the time while we're close to this ER with a guaranteed 15 minute wait.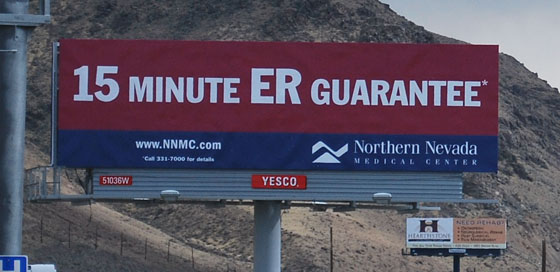 We entered California and the signage got more sophisticated, and funnier. Near Tahoe, we found this digital sign:

It's like Dr. Seuss writing for the California State Transportation Department! A nice, friendly reminder to slow down so you don't slide off a cliff to your death.
Another sign seemed a bit more strident:

While I wholeheartedly agree that people should never text and drive, this sign seems to take it a little too far. To some people, $159 probably isn't that much money (to writers it's more than enough of a deterrent). In any case, this is a sign with a moral statement.
The state of California redeemed itself, however, with it's adorable seat belt law sign: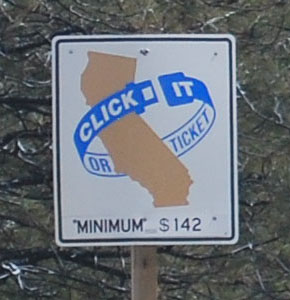 The state does have a nice shape with a perfect little waist around which to wrap a mandatory seatbelt. Too cute for words.
We finally made it to San Francisco and enjoyed a nice family vacation, though we weren't particularly looking forward to the twelve hour return trip through the desert. On our last day, down at Fisherman's Wharf, we saw this guy with his sign:
Yeah, buddy. Don't we all.