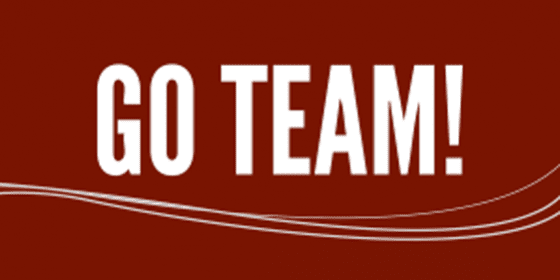 If a sport was played without any fans present, would anyone care? Probably not. Because while the players might seem as though they're thoroughly engrossed in their games, they rely on fans to provide energy, noise and motivation. Every sports team has a loyal fan base that supports and cheers players on—even when things are going badly. The fans are why players shine. Today we're celebrating the sports signage created and displayed by some of the best fans in the world.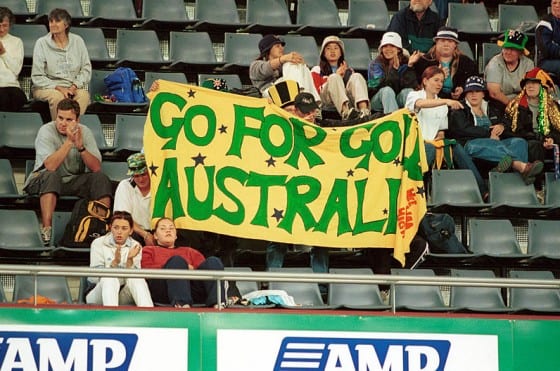 Australians at the 2000 Sydney Paralympic Games cheered on their country's track cycling team. There aren't a ton of spectators, but the signage helped.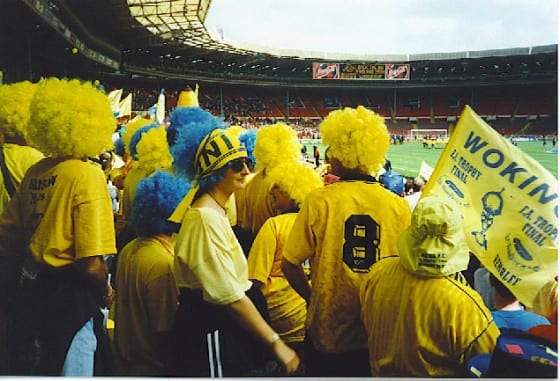 British culture sometimes seems a little… off to us Yanks. Here, Woking Football* Club fans in London don't settle for just a banner. They figure that wearing bright yellow and blue wigs will be just the thing to push their team to victory. Whether it was the wigs or just the team's skill, it worked. This photo is from the 1997 FA Cup Finals, which Woking won. *That's soccer to you and me.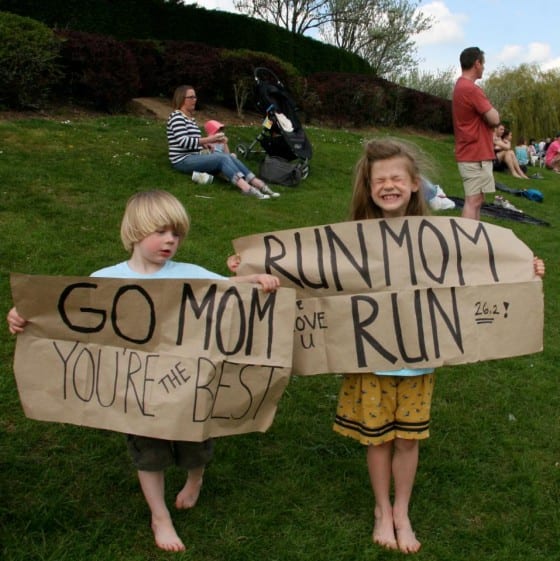 Perhaps these adorable children will grow up to be Woking fanatics. But for now, they're just the two biggest fans of their mom, who's been running marathons all over Great Britain. What marathoner wouldn't sprint to the finish line with these little pips to greet her? There's nothing like having your very own private fan club, cheering just for you.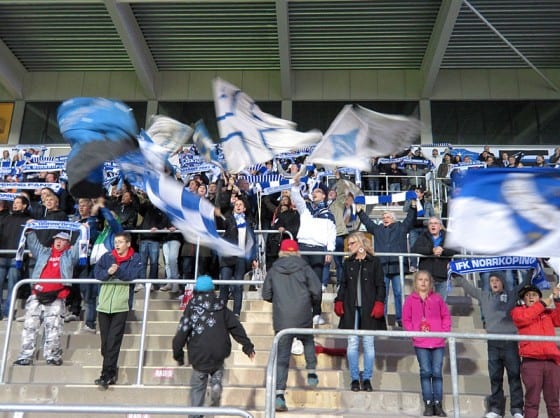 Football* fans in Norway have to bundle up by the middle of September. But bundle they do. They also keep warm by waving their flags vigorously throughout the game. They lost this one, but at least their fans looked good. *That's soccer to you and me.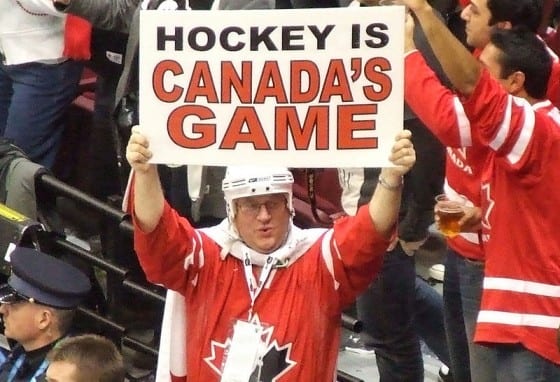 Canadians are good at a lot of things: Indie films, maple syrup and universal health care. Oh… and hockey. In case you didn't know, this proud fan's sports signage reminded everyone at the 2010 Olympics, where Canada beat the U.S. team in overtime. They did have the home advantage, there in Vancouver, but we still have to admit: Hockey IS Canada's game. We'll beat them in something else. Like men's figure skating. That'll show em, eh?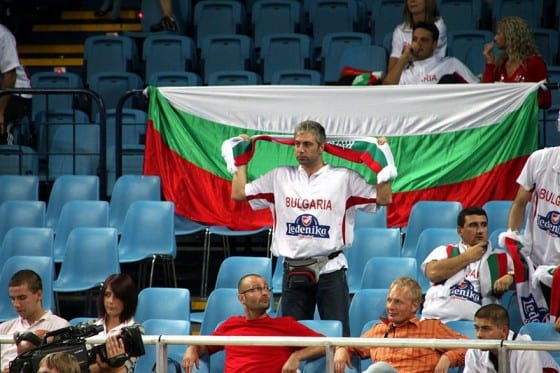 In Bulgaria, football* is the most popular sport. Sadly, sometimes the team loses due to lack of fan participation. Clearly, this guy has given up and zoned out, though he is still holding his scarf aloft. Maybe if they'd just had some better sports signage, they'd have won. Final score: Turkey 94. Bulgaria 66. Ouch. *That's soccer to you and me.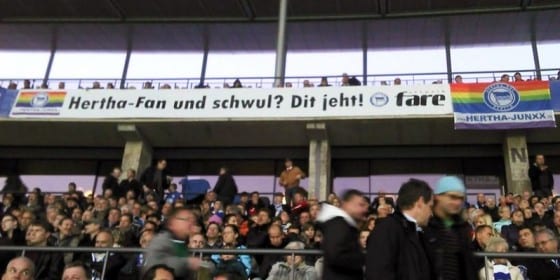 Football* fans in Berlin won't stand for intolerance. If you're a Hertha Berliner Sports Club fan, no one cares about your orientation. Just keep cheering—with their ranking, they can use all the help they can get. *Yup, you guessed it… that's soccer to you and me.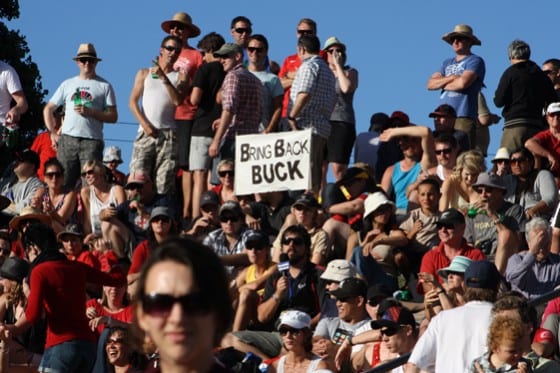 In New Zealand, the national sport is rugby. And they're pretty good at it—they won the World Cup in 2011, and the regularly kick the trash of pretty much every team they play. New Zealand All Blacks fans are loyal. And they have long memories. When Wayne "Buck" Shelford, captained the team, he made sweeping improvements, including bringing back the Haka (a Maori tribal dance performed to terrify enemies in battle—see below). This guy was tough. His legend centers around a 1986 match against France. After losing four teeth in a melee during the first 20 minutes of the game, he took a cleat to the groin. The injury was… well, gory. But Shelford had the team doc stitch him up (without anesthesia) on the side of the field, then got back in the game. All Blacks fans wanted him back as World Cup Ambassador. Buck didn't serve as the Ambassador, but not for lack of love from his fans.
This is the Haka… the New Zealand All Blacks perform it before every game.

Because not only should you try to terrify the opposing team with your legend of players who can undergo on-the-field surgery and keep playing… sometimes you should rally the fans in return.
No matter what sports game you attend, no matter where in the world, you'll find loyal fans in the stands with sports signage to prove their love.