Happy birthday, Dr. Seuss! Theodor Seuss Geisel was born on March 2, 1904. He died in 1991, leaving behind some of the most well known stories for young readers. But his books are more than just fun adventures for children – everyone can learn something. Here are six smart rules for success from Dr. Seuss.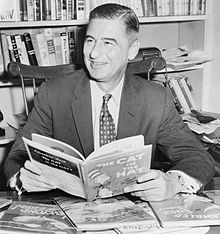 Know Your Customers and Their Needs
In 1954, first graders were learning to read with boring books that featured perfectly groomed, freakishly courteous children who spoke like robots. William Ellsworth Spaulding, the director of Houghton Mifflin's education division, challenged Dr. Seuss to write a book for six-year-olds that introduced normal characters who did something fun and interesting. But the book had to be one that early readers could tackle, so he made a list of 348 words that first-graders could read and asked Seuss to include no more than 225 of them. The Cat in the Hat (1) forever changed the way first-graders learned to read. It featured an audacious, reckless, humorous cat who shows up to rescue two children from boredom on a rainy day.
Seuss knew his readers. He knew they needed something fun and entertaining to read. He also knew that they were limited in their abilities, so he wrote his story using short, easy words to avoid frustration.
Get to know your customers. What can you give them that the competition doesn't? Are they bored with what's available? Can you shake things up without creating difficulties? Even the most boring business can find a way to be fun. As the Cat in the Hat says:
I know it is wet and the sun is not sunny But we can have lots of good Fun that is funny!
You Can't Juggle Everything At Once
The cat thinks he can juggle a lot of things. He balances on a ball, holding a host of items including: a cup, some milk, a cake, three books, a fish, a rake, a red fan, a toy ship and a little toy man. While Sally and her brother look on in amazement, the cat brags,
I can fan with the fan
As I hop on the ball!
But that is not all.
Oh, no.
That is not all…
But even a fictional, party-loving cat can't juggle everything at once:
That is what the cat said…
Then he fell on his head!
He came down with a bump
From up there on the ball.
And Sally and I,
We saw ALL the things fall!
So, what can you learn from The Cat in the Hat? It's tempting to try to do several things at once, but it doesn't usually work out well. You really can't talk on the phone with a supplier while ringing up a customer, stuffing lunch into your mouth and punching numbers into your calculator. Well, maybe you can. But you shouldn't. Your customer feels slighted, your supplier can hear you chewing and you're making some grave data entry mistakes on the calculator. Take a deep breath and choose the thing that is the most important to do right now. And if you find yourself trying to juggle too many things too often, take a good hard look at your organization skills and staffing.
Accept a Challenge
In 1960, Seuss wrote Green Eggs and Ham (2) and won a bet with his publisher that he couldn't write a book using only 50 words. Quite an accomplishment, considering that his previous book, The Cat in the Hat, used 225. Take a tip for Seuss: create some goals for your business that might seem difficult. Even if you don't quite reach them, you will have improved (imagine if Seuss had gone from 225 words down to 75. Still impressive!)
Don't Be Afraid to Try New Things
In Green Eggs and Ham, Sam-I-am challenges the dog to try a new dish. The dog isn't too excited about green eggs and ham and resists Sam-I-am's efforts to convince him that they are delicious. But Sam-I-am just won't give up, so finally the dog agrees:
Sam!
If you will let me be,
I will try them.
You will see.
And in the end, the dog realizes that Sam-I-am was right all along:
Say!
I like green eggs and ham!
I do! I like them, Sam-I-am!
Are you resistant to change? Maybe your employees or customers are telling you that trying something new would be beneficial, but you're scared that it won't work out. Ask yourself: what's the worst thing that can happen? If you're OK with that scenario, then you have nothing to lose.
You Can Overcome Failures
Dr. Seuss published his last book, Oh, the Places You'll Go! (3) in 1990. The book tells readers of all ages that, though there might be challenges, success is possible. As a small business owner, you will have some bad days when everything seems to go wrong. Dr Seuss says:
I'm sorry to say so
but, sadly, it's true
that Bang-ups
and Hang-ups
can happen to you.
It can be very easy to fall into deep depression when things go wrong, but usually, these failures are temporary. Don't despair–try to have the optimism of Seuss:
With banner flip-flapping,
once more you'll ride high!
Ready for anything under the sky.
Ready because you're that kind of guy!
Remember Why You're an Entrepreneur
At some point, you'll wonder why in the world you're running your own business. You're tired. You're frustrated. You're worried you can't pay the bills. Stop and remember why you chose this path instead of working for someone else in the corporate sector (where you'd be enjoying a steady salary and health insurance).
In Oh, the Places You'll Go! the narrator tells you:
You have brains in your head.
You have feet in your shoes.
You can steer yourself
any direction you choose.
You're on your own. And you know what you know.
And YOU are the guy who'll decide where to go.
Celebrate your freedom and believe in yourself. Dr. Seuss believes in you:
And will you succeed?
Yes! You sill, indeed!
(98 and 3/4 percent guaranteed).
(1) Dr. Seuss. The Cat in the Hat. Random House Books for Young Readers. 1957.
(2) Dr. Seuss. Green Eggs and Ham. Random House Books for Young Readers. 1960.
(3) Dr. Seuss. Oh, the Places You'll Go! Random House. 1990.