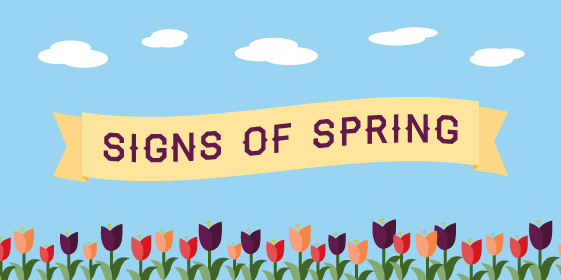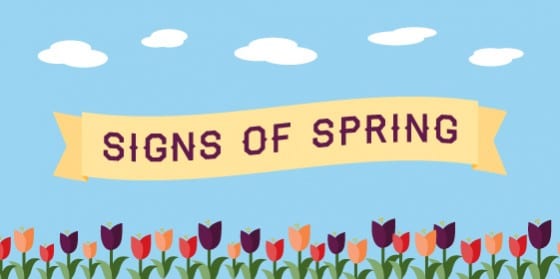 Here in Utah, we have some absolutely incredible skiing. Our powdery snow is world-famous, and we're lucky to play in it (as the many tourists from all over the globe constantly remind us). And we do play in it. All. Winter. Long. But to be honest, all the long months of cold, cold weather and the piles of slush and snow get kind of old and tiresome.
By April, we Utahns are ready to pack away our skis and hit the slopes in hiking boots. Every April it warms up beautifully for a week or so… and then it snows. Again. But by the end of April, Mother Nature usually gets serious about bringing on spring. How do we know when it's safe to pack away our mittens and parkas? Because we see the signs of spring, of course.
Baby Animals
What is cuter than a baby animal? Nothing. Absolutely nothing. They're the first sign that spring is on the way.
Kittens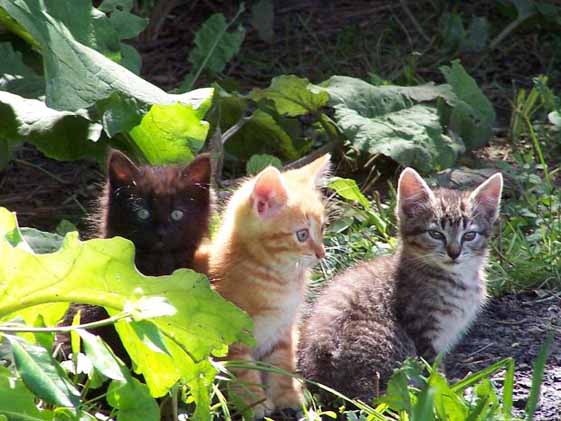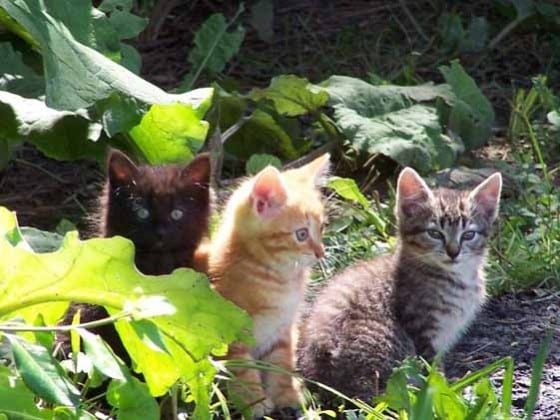 How could anyone not want a baby kitten? Well, ask my husband. He does not want a baby kitten. Mostly because they make him sneeze, but also (I'm fairly certain) because he does not like baby kittens. Weird, huh.
Puppies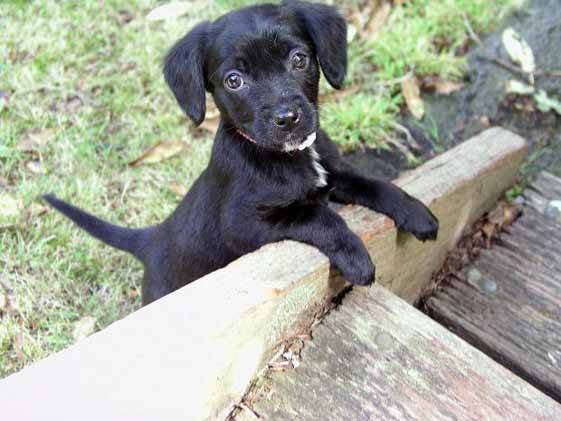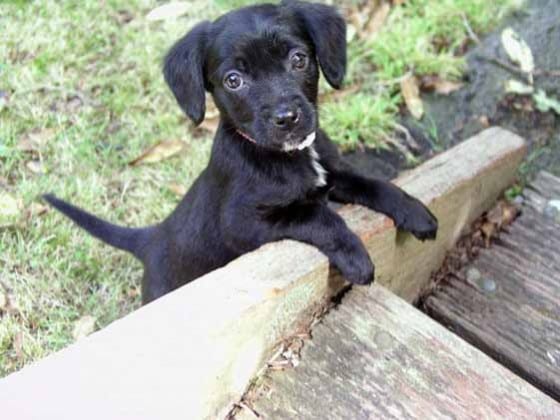 How about a baby puppy, then? The thing about baby puppies is that they cry a lot. And they pee on the carpet a lot. That's why they're so cute—so you don't decide to take them back to animal shelter. It works.
Lambs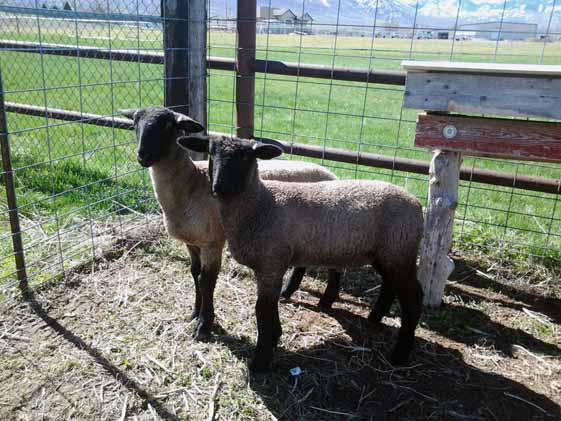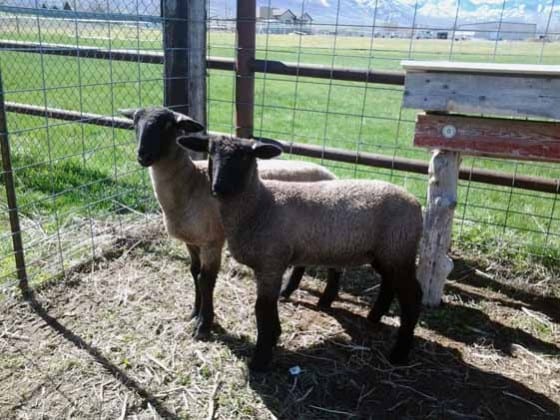 I live in the country, where there are tons of baby lambs romping about in the fields. These little lambs are lucky—they belong to my daughter's friend, Courtney, who's raising them for an FFA (Future Farmers of America) project. I don't know if Courtney will be a farmer in the future, but who cares? She gets to play with baby lambs every day after school.
Colts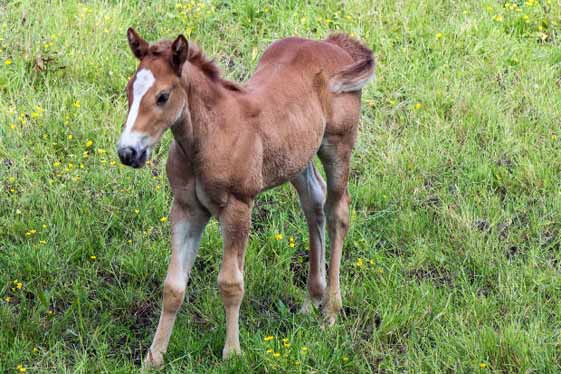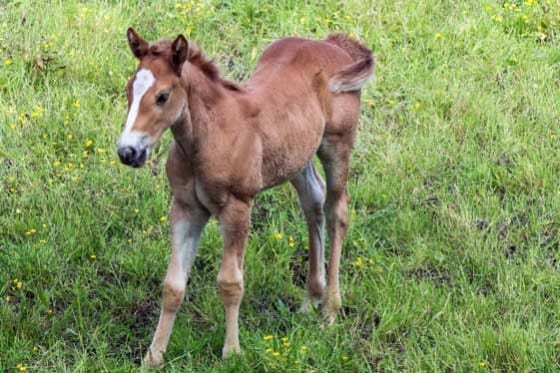 When I'm not seeing baby lambs, I can see baby horses playfully galloping about. All these baby farm animals totally make up for the, um… interesting smell we get when the wind blows.
Geese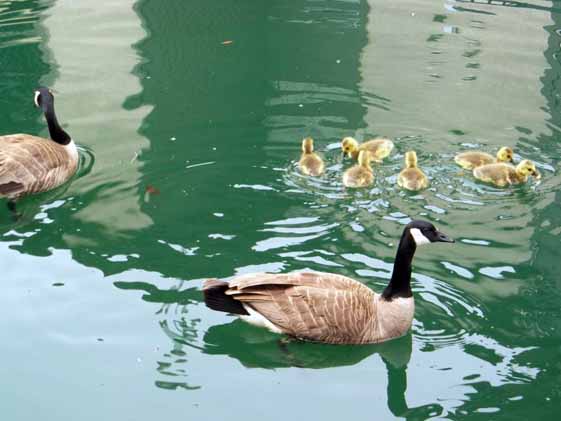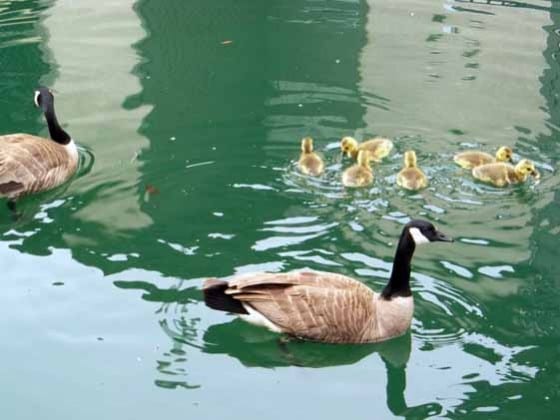 Little baby geese are pretty sweet. Too bad they get so mean when they're bigger. We have a great park in Salt Lake City that has tons of geese. Sometimes small children try to feed them bits of stale bread. If the geese don't bite the hands that feed them, they knock down the toddlers. At least right now, while they're innocently learning to swim, the babies are pretty darn cute.
Spring Sports
The crack of a bat. The smell of a freshly-mown soccer field. The excited squeals of young athletes as they score a goal or a run. The furious screams of said young athletes' parents as they're tossed off the field by a ref who's had enough name-calling by red-faced, overwrought parents who have assigned way too much importance to a baseball game of nine-year-olds.
Baseball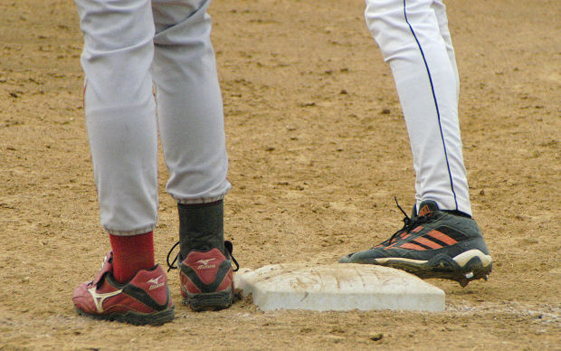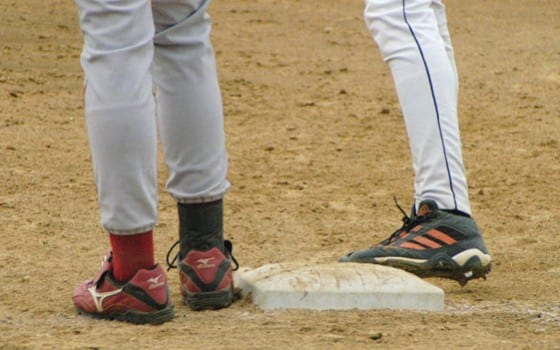 We can probably all agree that baseball is the Great American Sport. Even if there are annoying parents present at some of the games. It's the one time during the year that I'll eat a hot dog. Because hot dogs somehow taste edible when consumed in the crisp, clean air of a baseball game.
Football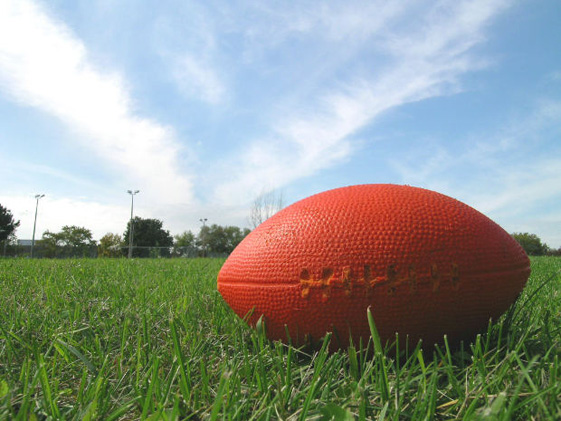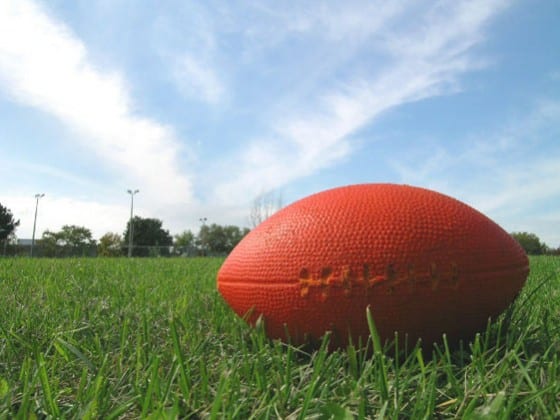 What? Wait a minute…football is a fall sport. Everyone knows that. Then how is it that I've recently been surrounded by animated conversation and virulent arguments about so-and-so and his stats and such-and-such and their amazing winning record? Argh. I put this photo of a CHILD'S football in here just to point out how childish people get during the NFL Draft. Seriously, people. Go to a baseball game and have a hot dog already. You'll feel much better.
Fútbol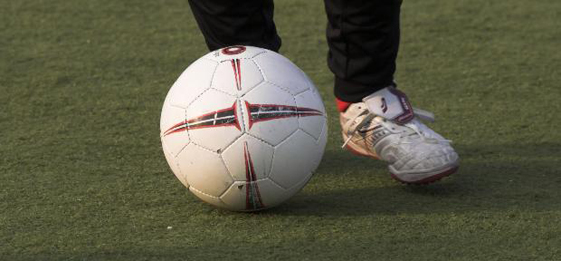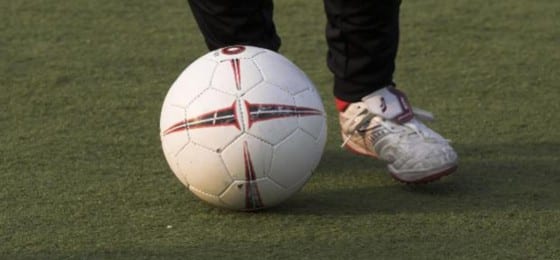 It sounds so European to say fútbol instead of soccer. And we're the only nation in the world that doesn't. Why? See above. We have this other sport with a very similar name. You know—the one with the bjillion dollar budget and the endlessly rambling commentators.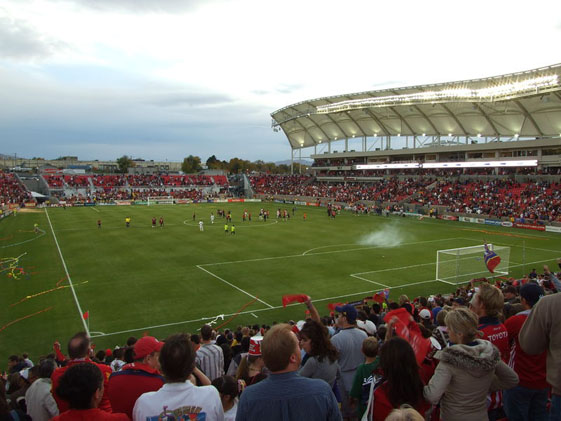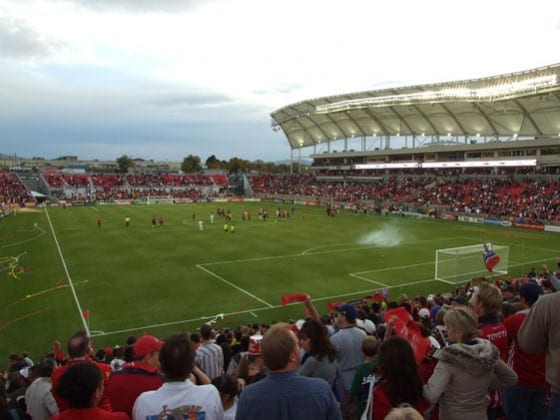 Fútbol is a real sport. Fútbol fans have pasión. Fútbol in Utah has Kyle Beckerman and Nick Rimando and Álvaro Saborío and Javier Morales. They were all born with la pasión. Well, Beckerman is American—but he has the super-hot dreadlocks, which just goes to show that you don't have to be from a country near the equator to develop la pasión. Rimando is American too, but his parents are of Filipino and Mexican descent, so Nick was born with major pasión. Saborío is from Costa Rica and Morales is from Argentina—major pasión in both countries.
We used to have the iconic Argentinian Fabián Espíndola, who had the most pasión of all of them, but was traded in a super lame move to free up money. Who needs money, when you have la pasión? RSL, apparently. I'm turning the other cheek and forgiving the club for its money-mongering ways. I'll be watching a lot of RSL fútbol this spring.
Track and Field
I'm not sure why they have to add the "and field" to this awesome spring sport, because the track is… on a field. But who am I to argue? In my opinion, there's no better way to spend an afternoon than at a high school track meet. You get to see young athletes trying their best to make it all the way around the track without tripping and killing themselves on the hurdles or passing out from exhaustion. But the best part? It ultimately doesn't matter if the runner from your school or the runner from the other school wins—it's about beating your personal best time. So parents in the stands cheer for everyone—even the poor kid who's three full minutes behind everyone else.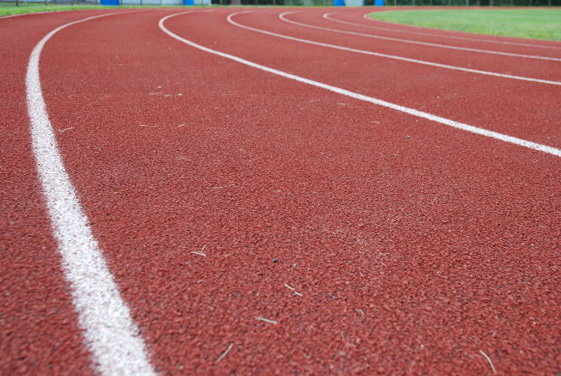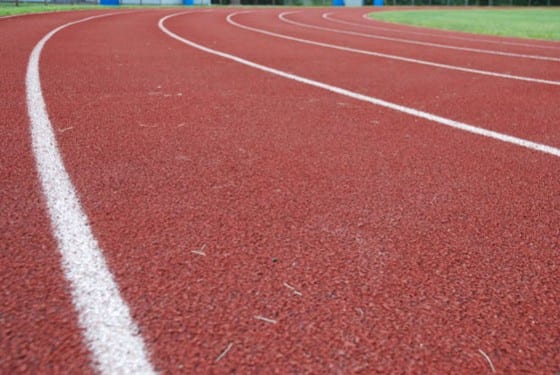 This is a track. It looks even bigger in real life. I recently found out that four times around equals one mile, but they use the metric system to make it sound even farther. The 1500-meter sure seems like a long haul, and it's not even the longest race at a typical high school meet (that would be the 3000 meter). My daughter is a freshman sprinter for her school—she runs the 100 meter and 200 meter races. Which means that I sit in the stands, watching other kids run longer distances for about four hours. Then I see her run for… about 30 seconds.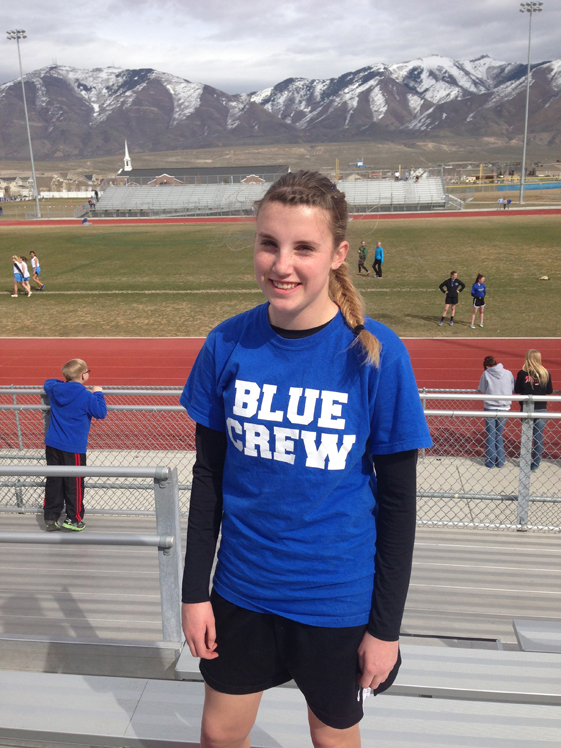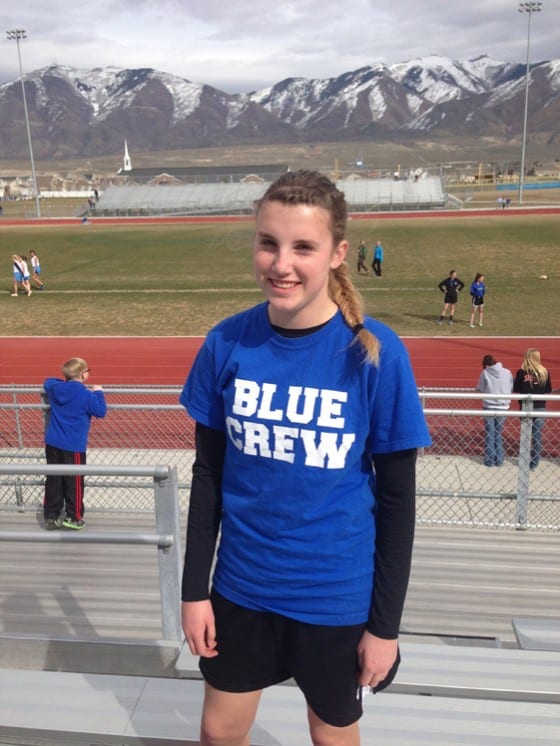 Spring Flora
After a long, grey, winter, there's nothing like those first blooms of color.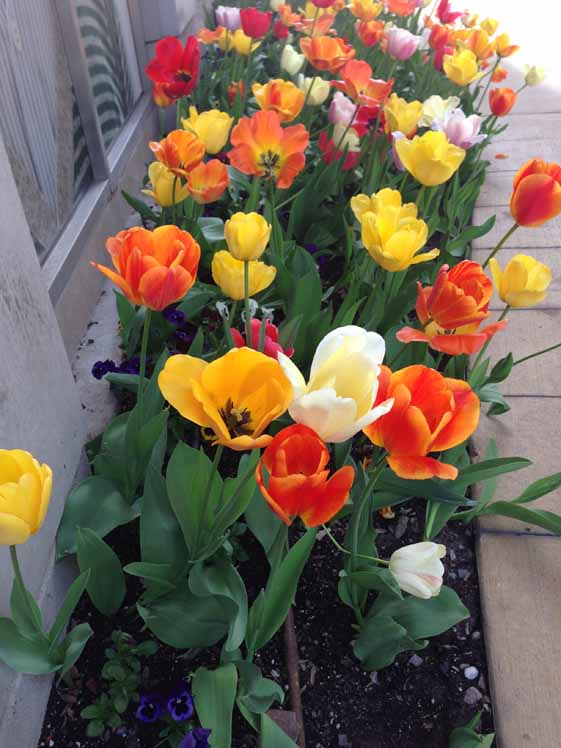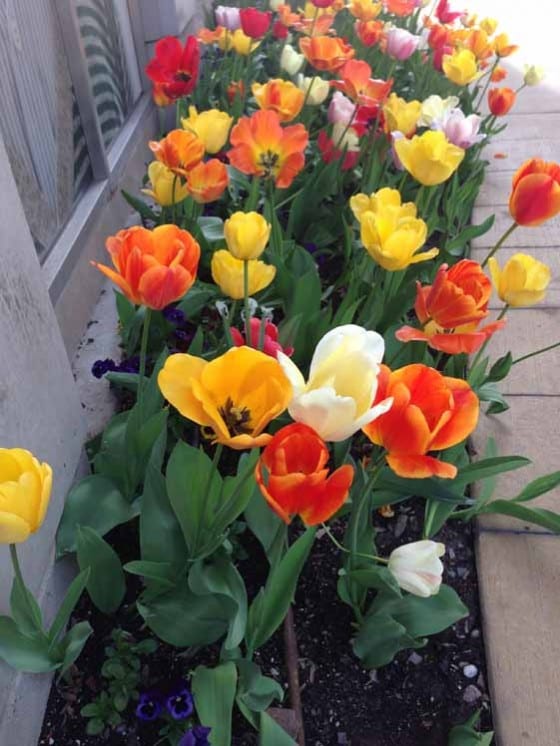 Tulips are my all-time favorite flower, and a definite sign of spring. I wish they lasted longer.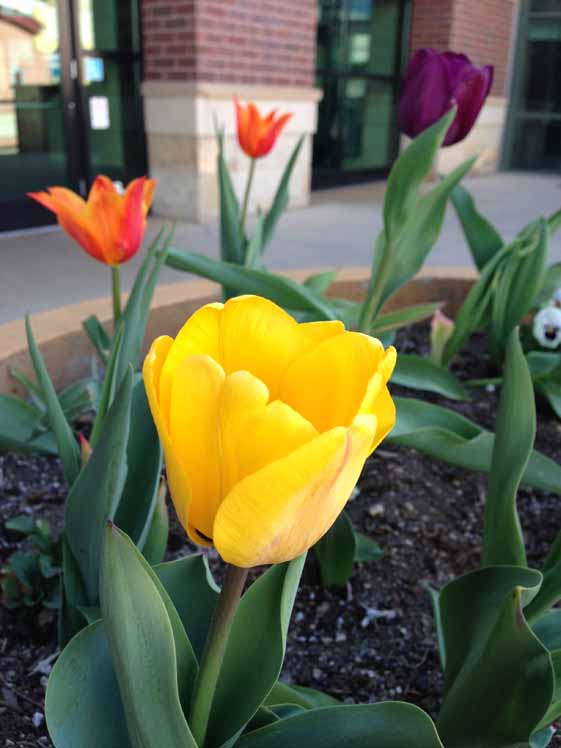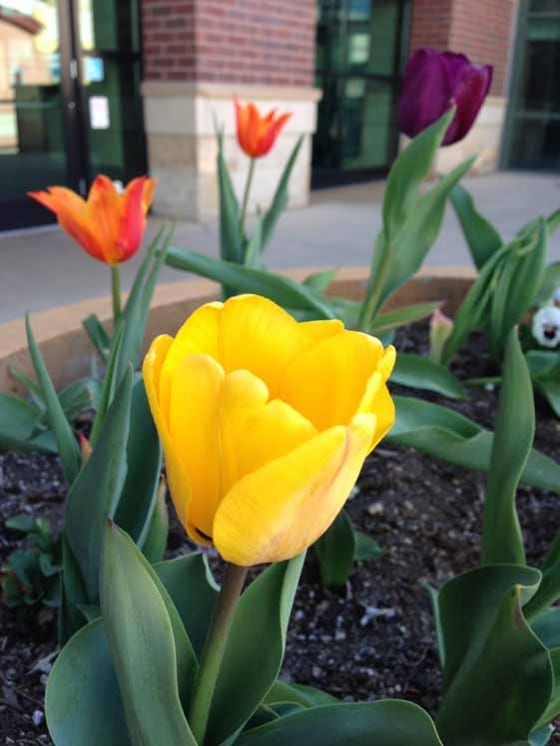 Here are more tulips, just because I love them so much.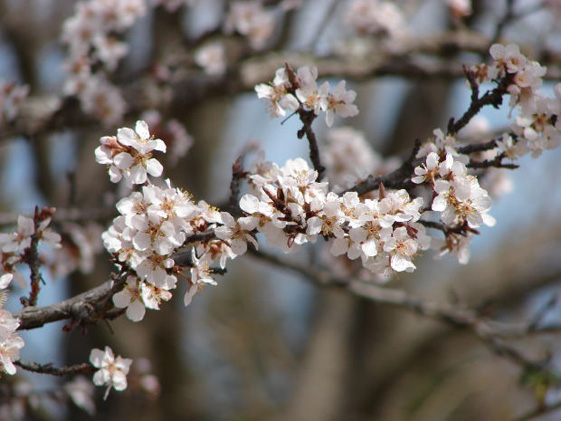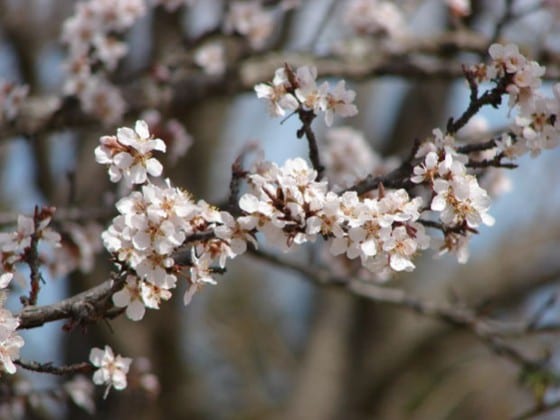 The trees give us another great sign of spring once they start padding those barren branches with gorgeous, fragrant blossoms.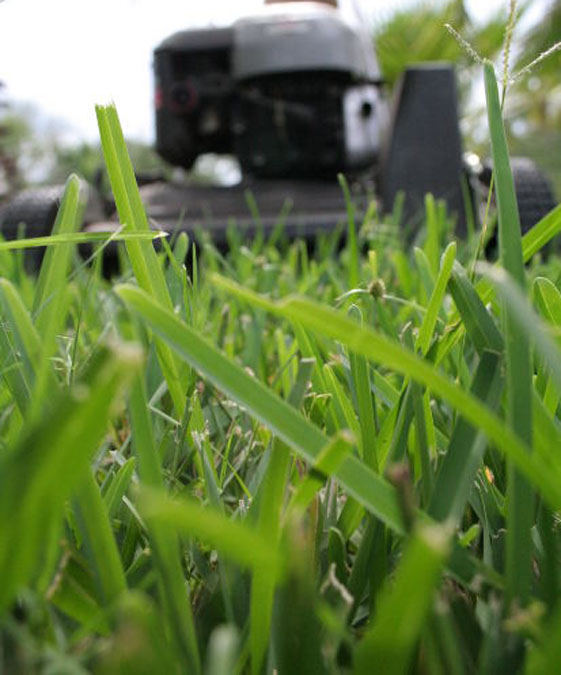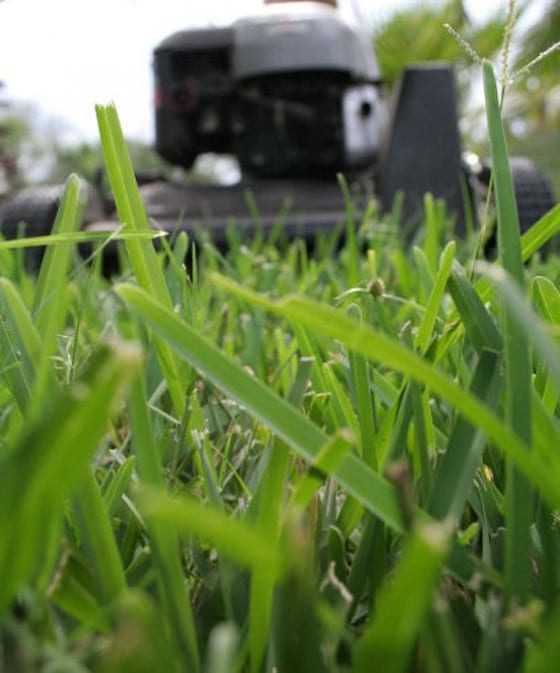 All our neighbors get really excited about mowing their lawns in the spring, so everyone's yard looks fabulous—at least through May. By July, all those eager gardeners have decided that it's too hot to mow the lawn, and they either go hiking or sit inside their air-conditioned houses, watching television.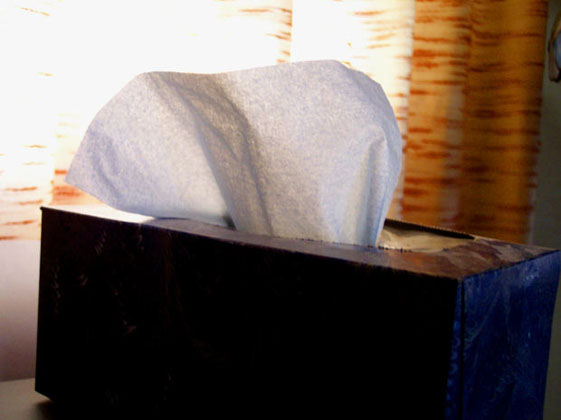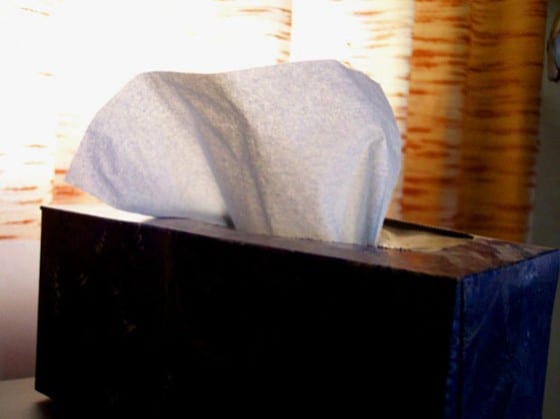 Unfortunately for me, it only takes one neighbor mowing his lawn while I'm outside to provoke a severe allergy attack. For me, this is another sign of spring.
Spring Shopping
You didn't really think we'd do an article on signs without some photos of actual signs, did you? I went to the Gateway, one of our downtown malls, to check out some of the spring offerings. Here's what I found: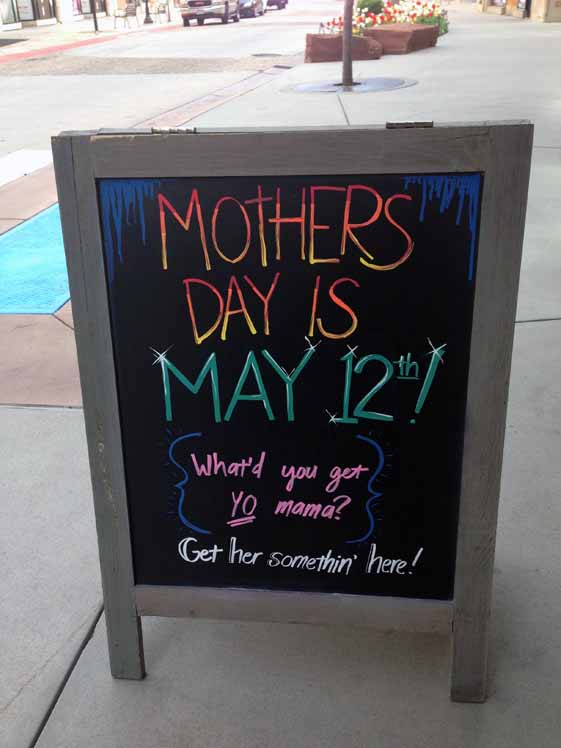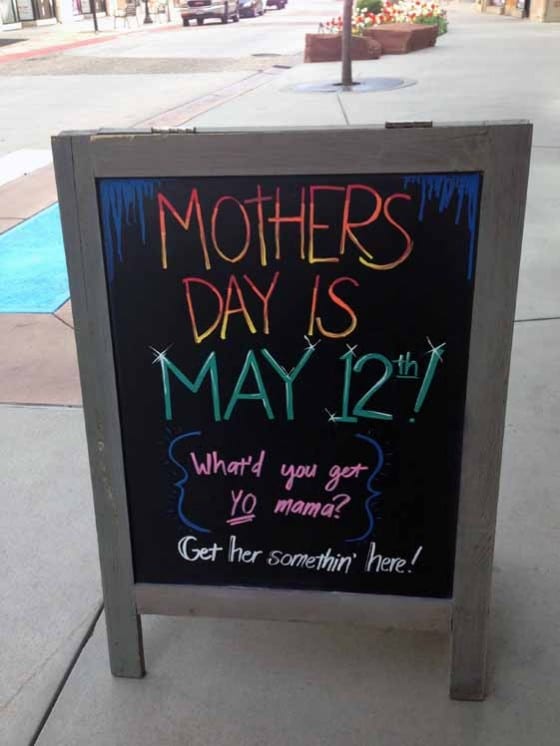 First, a gentle reminder to buy Mom something cool for the upcoming holiday. Obviously, proper grammar is not on the gift agenda for Mother's Day. "Yo Mama" indeed. Note to my kids: I'm not "yo mama." Don't try it.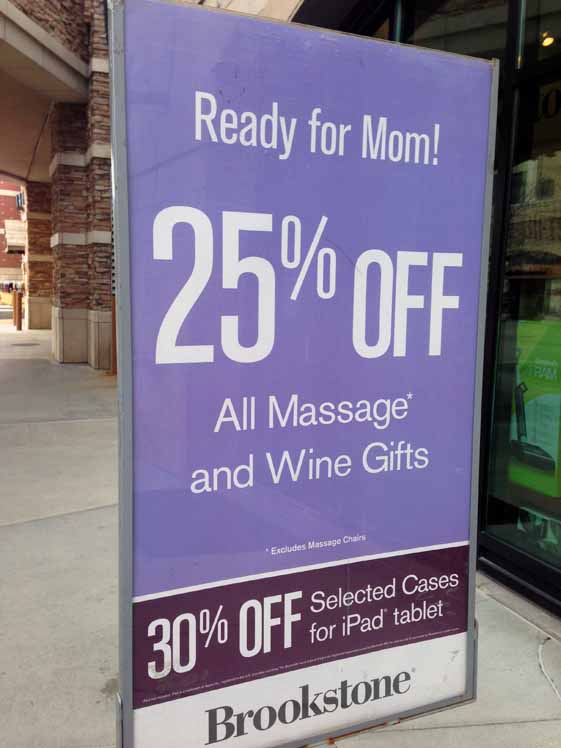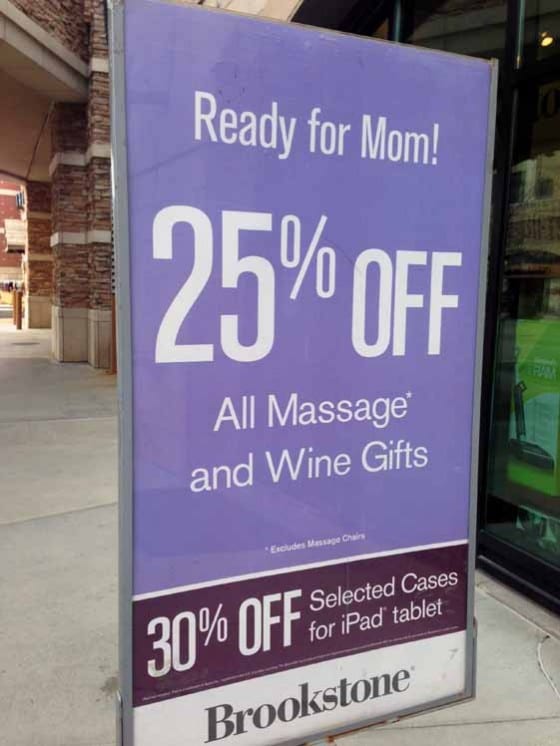 Ooohhh… Brookstone has an even better idea. A massage and a glass of wine. And a new cover for your iPad. The one that your husband knows you want, so he's already ordered it.
Barnes & Noble has handled the whole Mother's Day thing really well. I think their marketing campaign is designed to make moms realize that it's perfectly OK to drop a couple hundred bucks on books occasionally. It's not selfish—a well-read mom is a good mom. Just saying.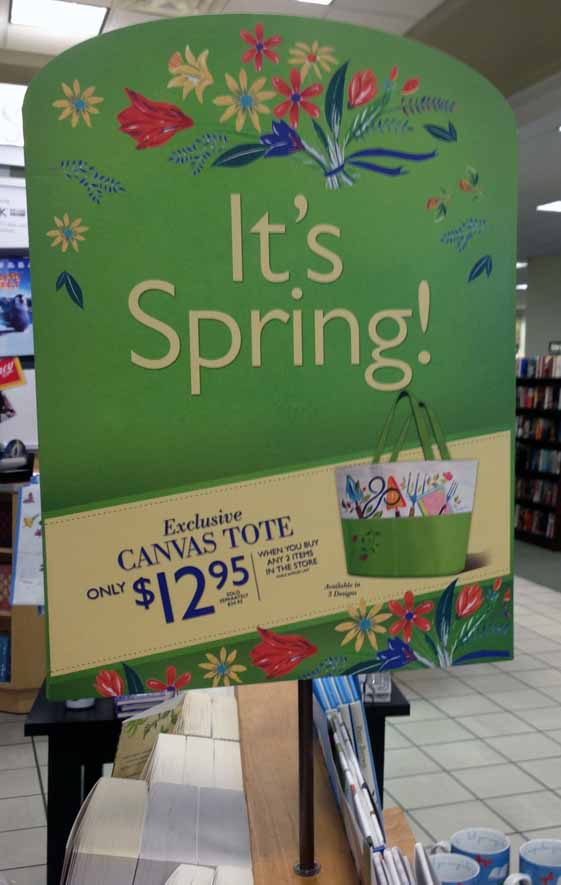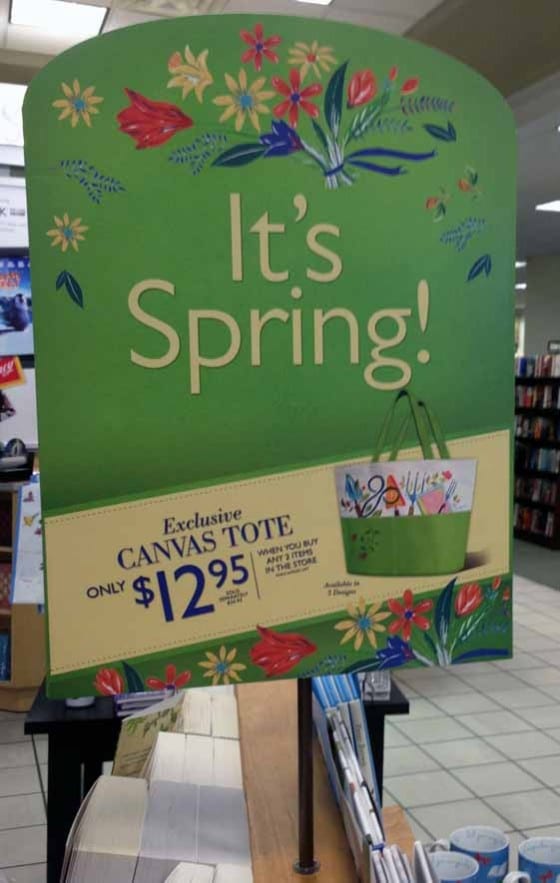 B&N introduces a new tote bag for every season. The bag is always really big. To hold lots of books.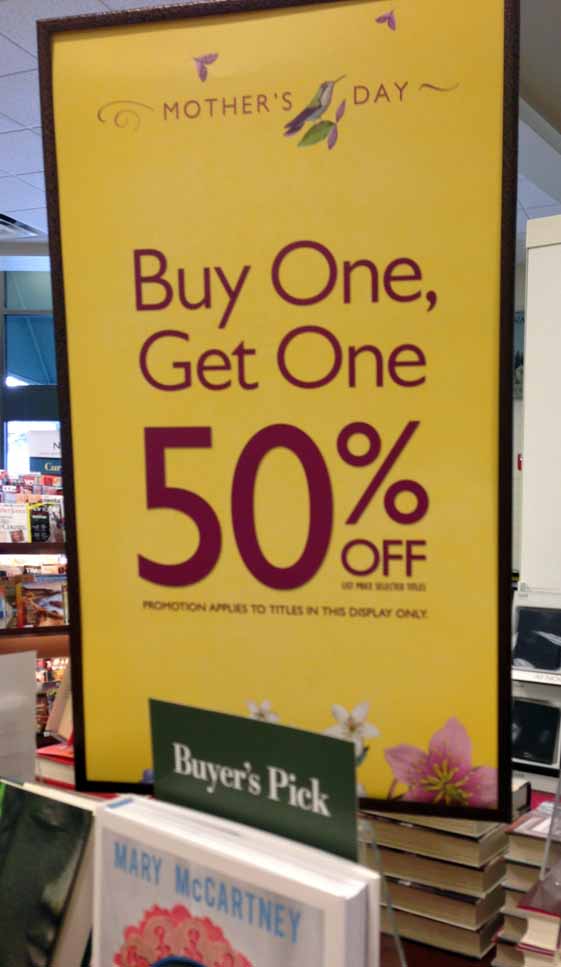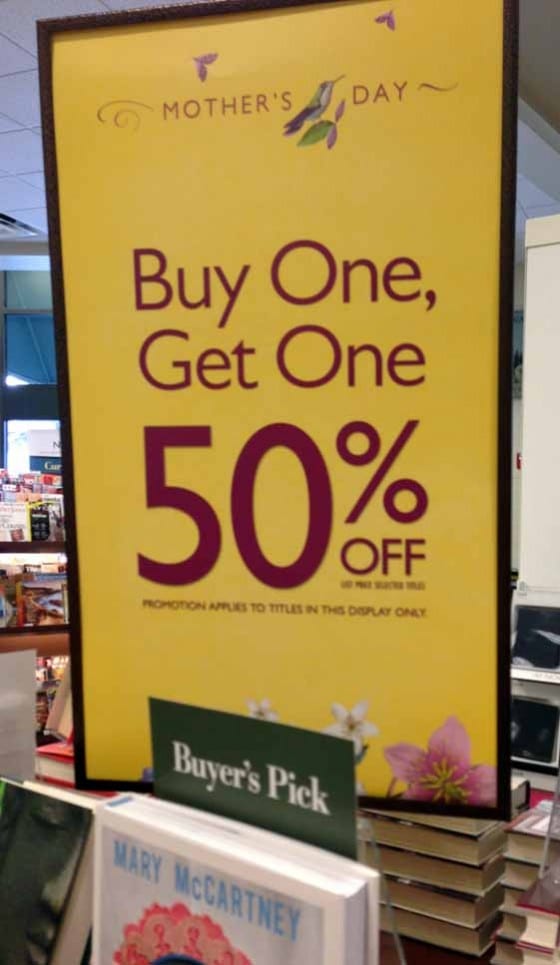 And how do get lots of books for your huge spring tote bag? A Buy One Get One 50% off sale, of course. In my opinion, the sale should really be called Buy 4 Get 4 Half off.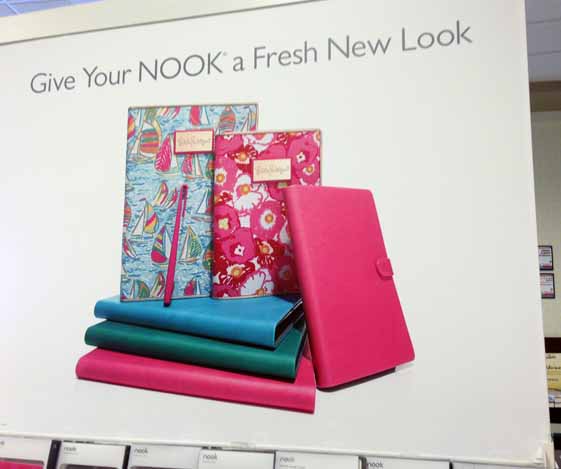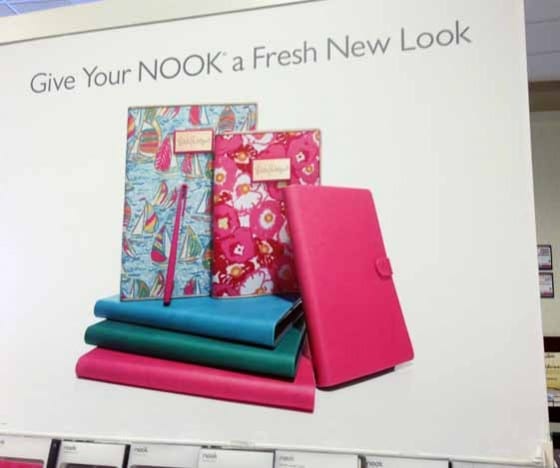 Pretty new covers for your Nook, if you're into reading stuff on an electronic device. I'm not. Which is why I need the huge tote bag.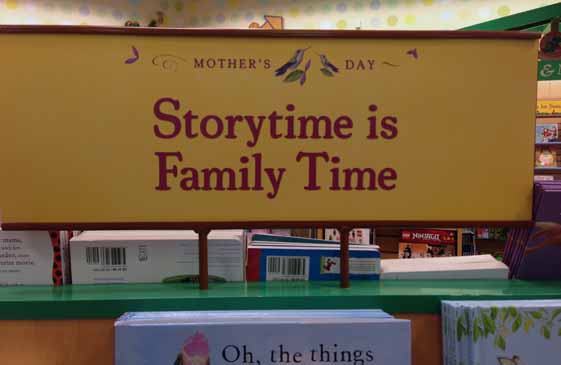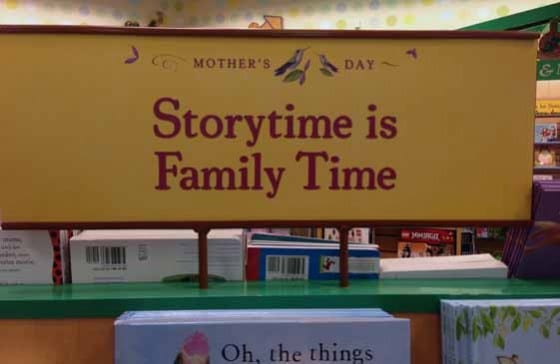 For the moms who just can't avoid feeling guilty about buying all those spring books, a gentle reminder that story time IS family time. See? Just buy a couple great picture books, read to your kid and then you can retire to the hammock with your new novel, a cold glass of iced tea and absolutely no guilt.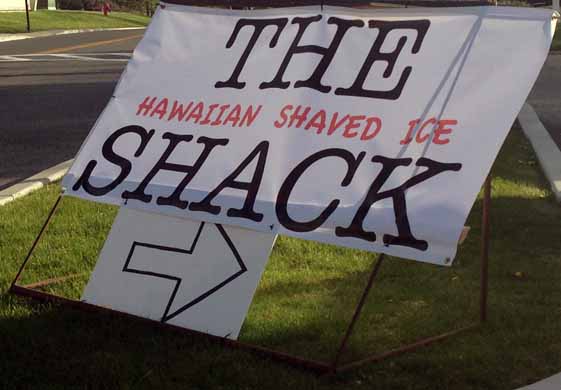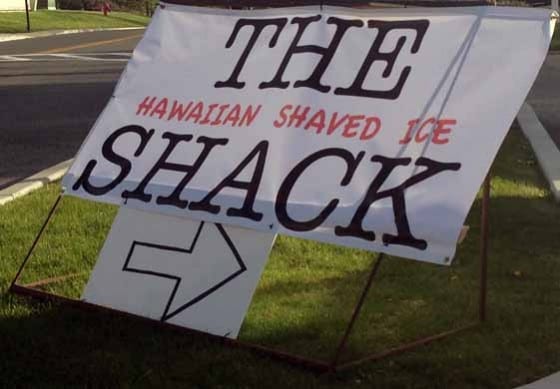 Or, you can read your new book with an icy-cold Hawaiian Shaved Ice. You're not going to Hawaii, after all… you just spent $250 on books. So head to The Shack and get a Tiger's Blood ice. Yum. This one is in my neighborhood, but I bet there's on in your neighborhood, too.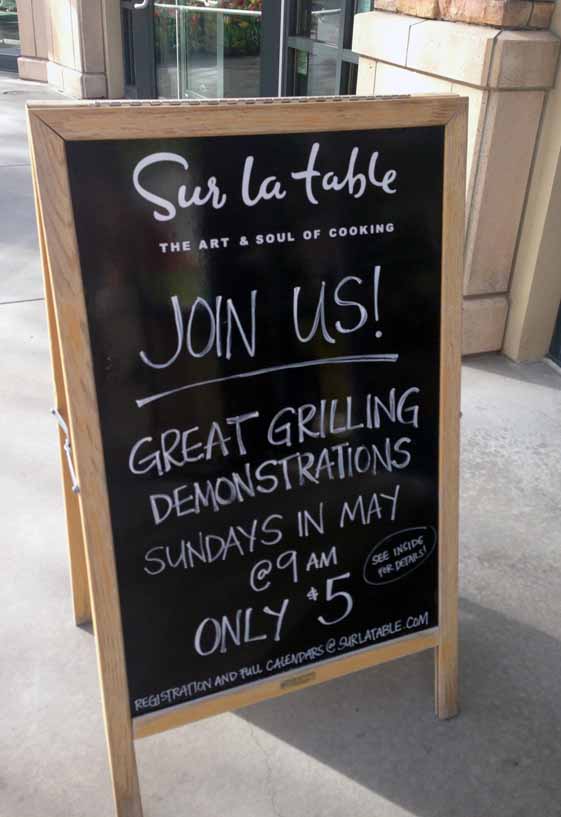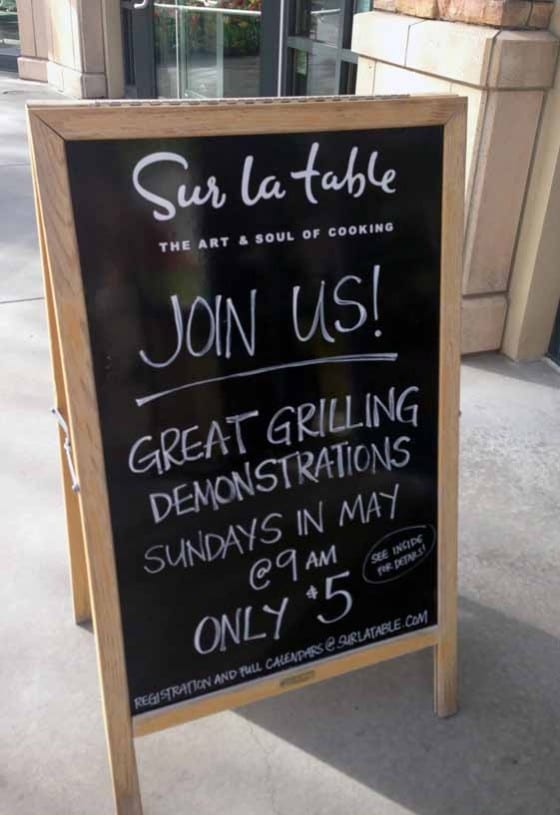 If you ever get out of the hammock, you can grill something. Or you can let your husband do the grilling. Send him to Sur la Table to learn how if he doesn't already know how to char meat in the great outdoors. Quick side note: It's pronounced Sur la Tahb—you don't say the "L" because it's a snooty French cookware store. But it does have really good stuff. Teach your husband how to say "Tahb" before you send him to the grilling class though, or all the savvy, European husbands will laugh at him and make him feel bad.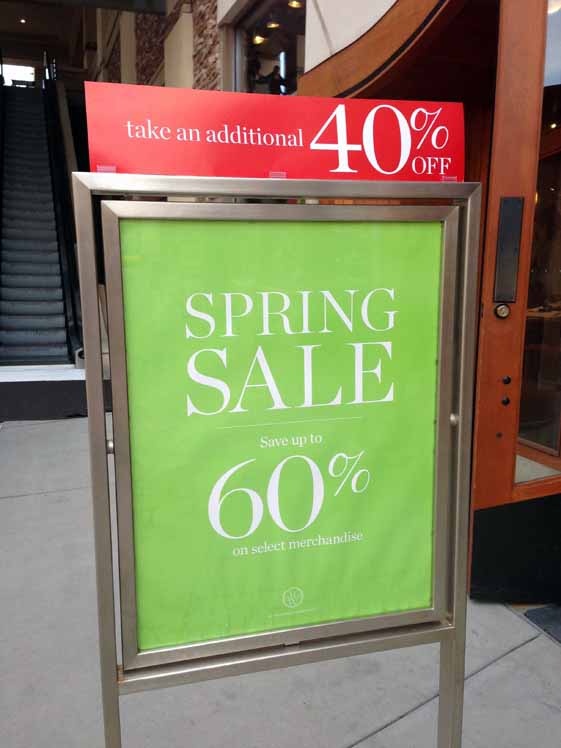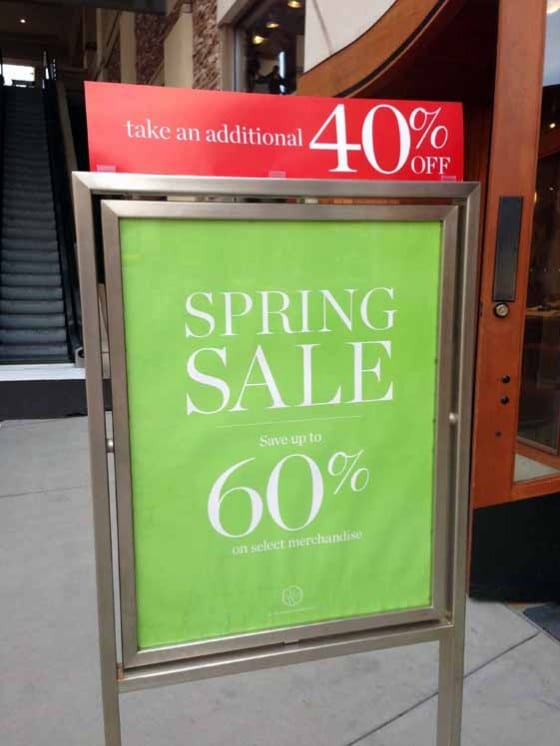 If you're going to have a BBQ, you should invite some neighbors. And of course, if you're going to throw a party, you need a cute new outfit. Start with the Spring Sale!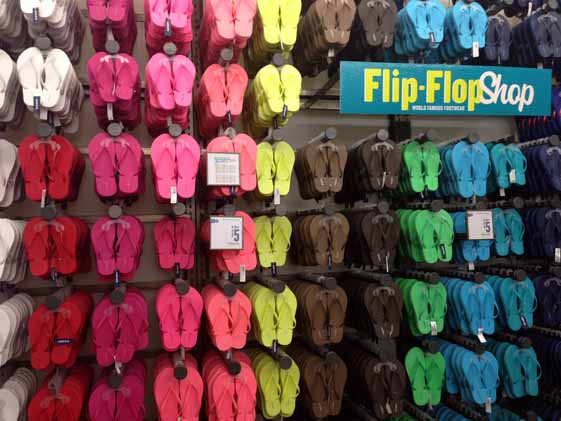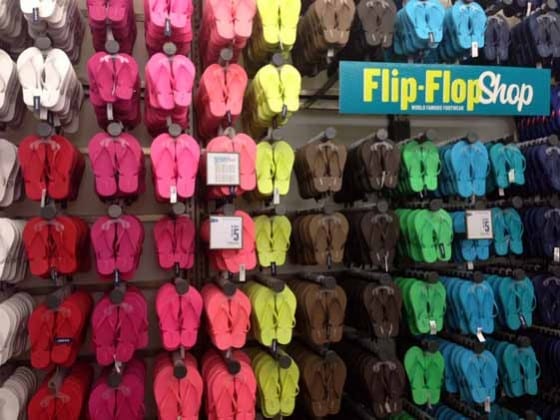 Then, add some colorful flip-flops. Nothing says "Spring" like the Flip Flop Shop at Old Navy. You can get a bjillion colors for like 4 bucks a pair. Which is good, since you spent that $250 at B&N earlier.
If you live here in Utah, all I can say is this: Enjoy these signs of spring while they last. Because here, if you blink, you'll miss spring—it only lasts about two weeks. By mid-May, the tulips will be dead, you'll be hot and sweaty and getting skin cancer at the soccer game and your husband will already be tired of grilling stuff.