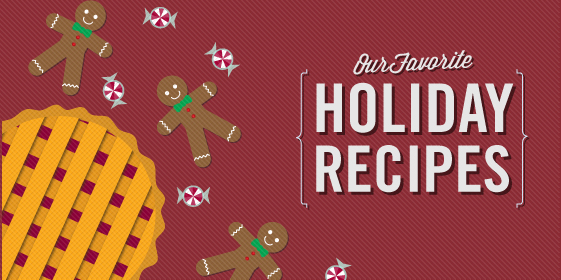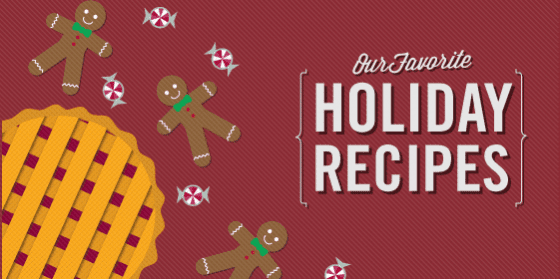 Best thing about the holidays? The food. Today's post features a selection of favorite holiday recipes gathered from Signs.com's friends, family and employees. Enjoy!
Broccoli Cheese Soup
From M. Johnson
"Our favorite to bring for potluck parties, especially when it's cold. The best way to make a vegetable unhealthy!"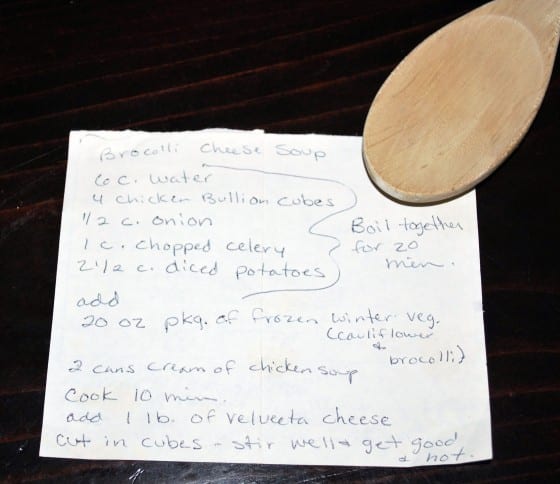 Butter Buns
From Libby Monson
"We make these at Thanksgiving and Christmas. The day after Thanksgiving, my boys let me sleep in and they were being really quiet (not a good sign). I went into the kitchen, and they were finishing off the leftover butter buns… with an entire stick of butter. Because the one thing butter buns need more of? Butter!"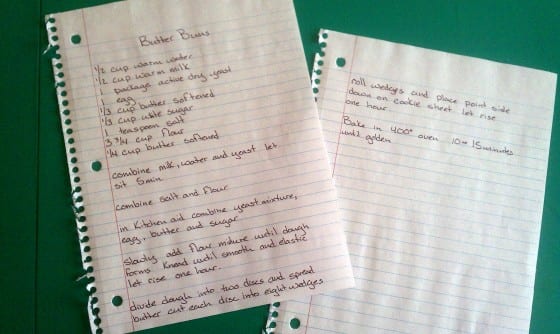 Chocolate Caramel Graham Crackers
From Melissa Moyle
"These are amazing! We make them every year. Super easy too."
12 graham crackers
1/2 cup light brown sugar
1 1/2 sticks (3/4 cup) butter
1/8 tsp. salt
1 1/2 cup chocolate chips (semi-sweet or milk)
1 cup walnuts, pecans or almonds (3-4 oz., chopped)
Preheat oven to 375.
Line 15x10x1 pan with foil.
Line pan with graham crackers.
Melt butter, add brown sugar and salt. Bring to a boil and cook one minute. Pour over crackers. Bake in oven about 10 minutes. Scatter chips and bake 1 minute.
Remove from oven, spread chocolate evenly and sprinkle with nuts. Cool 30 minutes. Freeze 10-15 minutes. Break into pieces. Crackers keep chilled in layers in an airtight container 2 weeks.
Chocolate Guinness Cupcakes with Bailey's Irish Cream Frosting
From Kimberly Royer
"A new favorite in our house, especially with my husband!"
Cupcake
2 cups all purpose or cake flour
1/2 cup cocoa powder
1/4 tsp. salt
1 1/2 tsp. baking soda
1 cup sugar
1/2 cup brown sugar
1/2 unsalted butter
2 tsp. vanilla
2 eggs
1/2 cup sour cream
1 – 12 fl. oz bottle of Guinness Beer
Bake at 375 degrees at a higher altitude for 15-18 minutes.  If at a low altitude or sea level then bake 350 degrees for 20-22 minutes.
Bailey's Irish Cream Frosting
1 8oz. package cream cheese
14 ounces of unsalted butter
2 cups confectioner sugar
4-6 Tablespoons Bailey's Irish Cream (start with 4 and test the
thickness of frosting, if too stiff add another Tablespoon)
Cinnamon Rolls
From Meri James
"My mom's cinnamon rolls are probably the recipe for which she is best known and my favorite of all the desserts she makes.  She doesn't make them as often as some of her other best recipes, probably because they are a fairly time-intensive dessert, so when she does make them, it's for something special.  I remember her making dozens and dozens of cinnamon rolls to take to our extremely lucky neighbors as Christmas gifts.  Not only are they delicious, but she has a special way of twisting the dough to make the most beautiful cinnamon rolls I have ever seen.  These are definitely a holiday favorite for our family."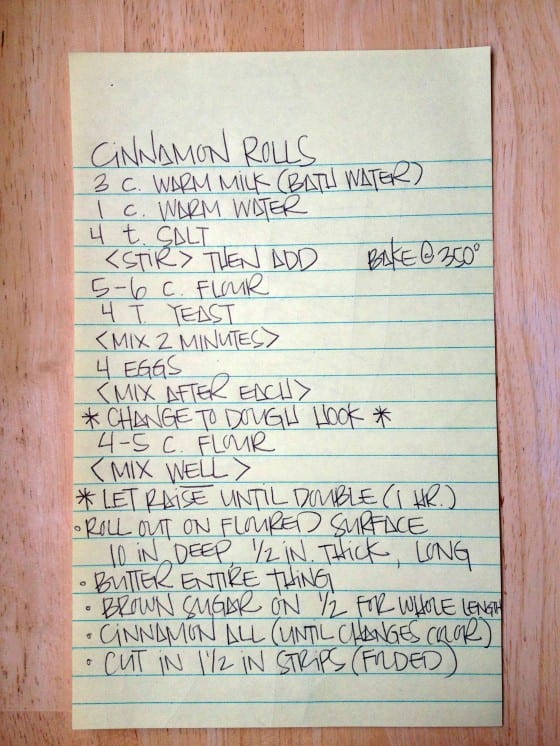 Dinner Rolls
From Meri James
"These dinner rolls are one of our family's favorite recipes.  We don't have them often, but they are always part of our Thanksgiving meal and other special celebrations.  They are delicious right out of the oven and even better made into a sandwich the next day (we always try and steal a few to take home with us). "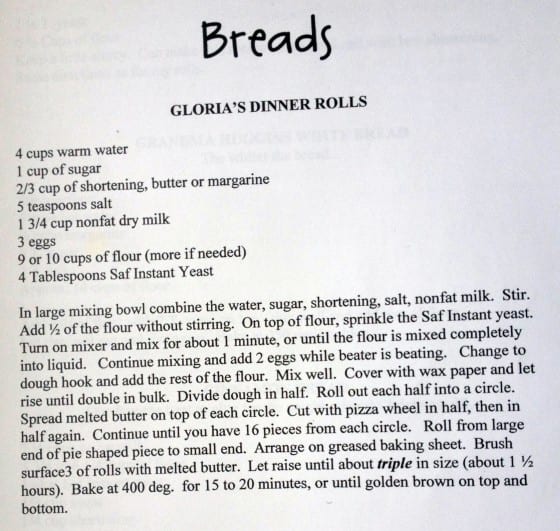 Fudge
From Cem Lyman
"People come for miles to eat this fudge."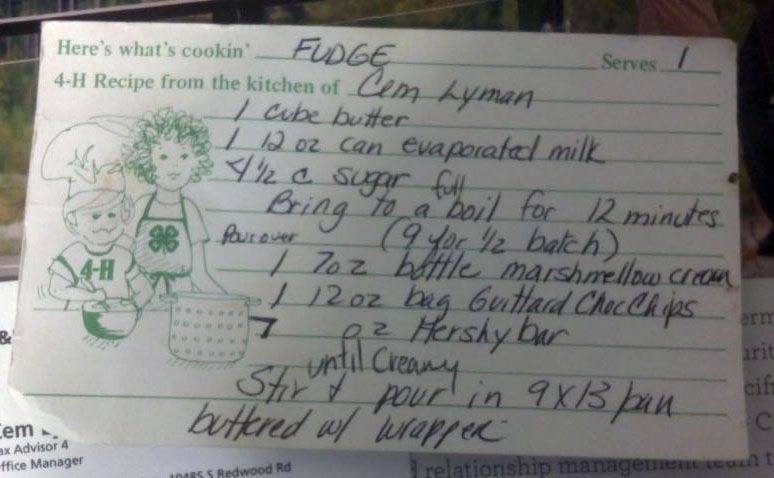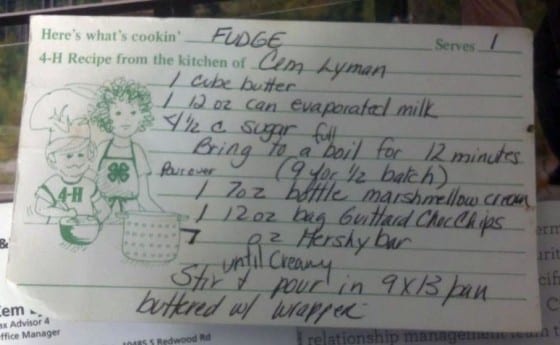 Nanaimo Bars
From Daniel Royer
"After eating, be prepared to join a gym!"
Bottom Layer
Melt 1 stick unsalted butter, 1/4 cup sugar, 5 Tablespoons cocoa in the top of a double boiler.
Add 1 beaten egg and stir constantly until it thickens (approx 2mins).
Remove from heat and stir in 1 3/4 cup graham crackers crumbs, 1 cup coconut,and 1/2
cup chopped almonds.
Spread firmly into a lightly greased ( or line with wax paper) 8×8 pan.
Middle Layer
Cream 1 stick unsalted butter (room temp), 3 Tablespoons whipping cream (or milk, but cream works better), 2 Tablespoons vanilla custard pudding (dry mix), and 2 cups powered sugar.
Spread over the bottom layer and refrigerate for couple hours to set up.
Top Layer
Melt 4 squares semi-sweet chocolate and 2 Tablespoons unsalted butter over low heat.
When cool but in liquid form, pour over middle layer and chill at least 15 minutes.  Then cut into bars.
Keep covered and refrigerate.  Enjoy!!!
Oatmeal Cookies
From Catherine Rees
"My grandmother's special recipe. She never measured anything and no one could ever duplicate these. After two years of trial and error, this is pretty close."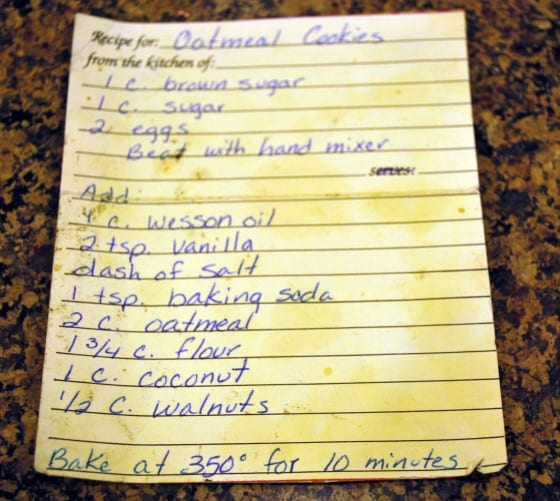 Pumpkin Roll
From Jan Bruening
"Is there anything better than cream cheese frosting? I think not."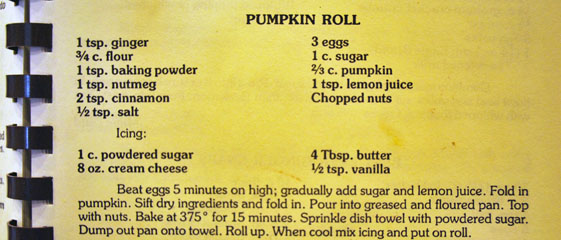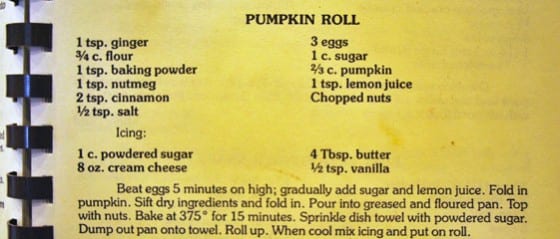 Happy Holiday eating from Signs.com!