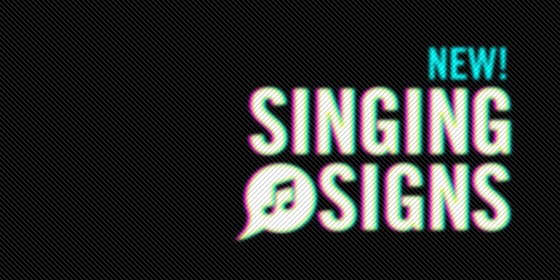 We at Signs.com are proud and excited to offer customers not only the best vinyl banners and yard signs on the market, but the most auditorily pleasing signage, as well. In addition to providing passersby with stunning visual imagery, our new singing signs offer exquisite acoustic bliss as well. Imagine—two of the five senses, coming together in one sign.
Currently, the singing feature is available on two of our most popular products: yard signs and vinyl banners. The feature is an option that can be added at checkout for the low price of $34.95.
The Latest Technology
When you order the singing feature on your new custom sign, our production team will place several small holes in the upper corner, to create a speaker. Cutting-edge SingSpy technology is installed behind the sign. SingSpy comes complete with:
A tiny video camera
SongSelect profiling software
An extensive library of 830 million popular songs in 75 languages.
The Marketing Advantage of Singing Signs
Don't confuse our SingSpy unit with a simple motion-detector music box. No, this highly-developed, super-secret technology profiles passersby to offer the most customized sign experience on the market. This ensures that every single person who sees and hears your sign will feel as if your company or organization not only understands what his needs are, but connects right to the very core of his soul. Can your competitors do that? We didn't think so.
The SingSpy Personal Profile
When a potential customer walks past your sign, SingSpy's tiny video camera captures his image. The profiling software then completes a complicated algorithm that allows the sign to run facial recognition data*, access the latest marketing studies relating to demographics and generate a profile of the person. The SingSpy profile is so detailed and accurate that it will tell you:
The person's annual income, rounded to the nearest tenth of a penny.
Names of all the person's pets, from his first puppy at age 4 to his current parakeet.
A list of all organizations for which the person is a member, including large national organizations such as AARP or AAA and smaller ones, such as The Simon Sablonski Star Trek Fan Club.
The person's top four greatest fears—from snakes to his mother-in-law.
The person's illegal and immoral activities, including the time he took his dad's car for a joyride in 1962 and the afternoon of April 4, 2003 when he kept the 47 cents extra change the cashier at the Piggly Wiggly gave him by mistake.
The person's current emotional state. Whether he's in the mood for a little Metallica or a light Neil Diamond tune, SingSpy will accurately detect his brain chemistry within three neurotransmitters or less.
*Facial recognition data is automatically sent to the FBI, CIA and MI5. In addition to marketing your business, you are an integral part of a worldwide crime net designed to identify and capture dangerous felons, terrorists and Jason Bourne.
Music That Will Change Your Customer's Life
Once the SingSpy profile is complete, the software will choose and play the absolute most appropriate song for the potential customer's current state of being.
For an even larger conversion rate, connect your Singing Sign to a Bose Surround Sound stereo system for a higher quality, higher volume customer experience.
Our 830 million song database includes music from all genres, from Classic Rock to Post-Marxist-Venezuelan-Alphorn-Funk.
Research Proves That Singing Signs Increase Business
A recent study at The Institute for Paid Marketing Studies showed that customers who are exposed to singing signs are more likely to buy, but their behavior depends on the type of song to which they are exposed.
Action Verb Songs Spurred… Action
Dr. Robert Hiro states, "Customers whose profiles led to songs with compelling action verbs in the title behaved in a very focused, confident manner. They strode into the store, found several items and paid for them quickly. Their purchases had an average total of $78.92, and they displayed no hesitation when asked, "paper or plastic?"
These action verb songs included such classics as:
Call Me by Blondie
Shout by Tears for Fears
Stand by Me by Ben E King
Imagine by John Lennon
Songs With Question Marks Confused Consumers, Led to Higher Sales
Dr. Hiro also notes, "Songs with questions in the title led customers to behave in a much more hesitant, confused manner. Those customers typically picked up several items in the store before putting them back on the shelf. It took an average of 3 hours and 42 minutes for them to finalize their purchases. Still, those customers purchased an average of $385.13 worth of merchandise. We suspect that the larger dollar value per order is due to the customer's inability to make a decision, so he purchases everything. Which, obviously, is of huge value to the retail sector."
Songs that influenced this "buy it all" behavior included:
How Deep is Your Love? by the Bee Gees
Are You Lonely Tonight? by Elvis Presley
Don't You Want Me? by The Human League
Who's That Girl? by Madonna
However, one song proved to be a gold mine. The song that created the most buyer confusion was Why? by Frankie Avalon. Researchers believe that this song was the impetus for catastrophic, existential crises amongst consumers. Those whose profile led to this song spent an average of $32,583, typically on sports cars, facial reconstruction surgery and Buddhist spa retreat packages.
Songs with Shopping Connotations Cashed In
Finally, Dr. Hiro notes that songs with direct shopping connotations have the most impact on sales, "Our study found that songs with titles that expressed emotions related to shopping, or titles that reflected good customer service prompted buyers to purchase up to $1,513.23 worth of products, or sign up for 9-year gym memberships."
Songs that influenced customers to think about money and spending included:
Three Coins in the Fountain by Four Aces
Pennies From Heaven by Bing Crosby
Money Money Money by ABBA
Songs that bring to mind stellar customer service:
Hello by Lionel Richie
I'll Be There For You by Bon Jovi
Respect by Aretha Franklin
Songs that create a subtle hint for shoppers to spend include:
Temptation by The Everly Brothers
Shopping! by Pet Shop Boys
Shop Around by Captain & Tennille
Songs That Had Negative Effects on Consumers
Four songs were found to actually horrify potential customers to such an extent that they promptly abandoned their shopping trip, went home, called their therapist and then curled into a ball and rocked for an average of 1 hour, 27 minutes:
Mmmbop by Hanson
Macarena by Los Del Rio
My Heart Will Go On by Celine Dion
Mambo No. 5 by Lou Bega
These four songs have been removed from the SingSpy music database.
Get Your Singing Sign Now!
Singing signs clearly offer exceptional value. They will increase your sales and emotionally influence your customers to do pretty much whatever you tell them. This technology is the first of its kind in the signage industry—get in on the ground floor of marketing nirvana.
Signs.com will offer singing signs for a limited time only. Order yours today!