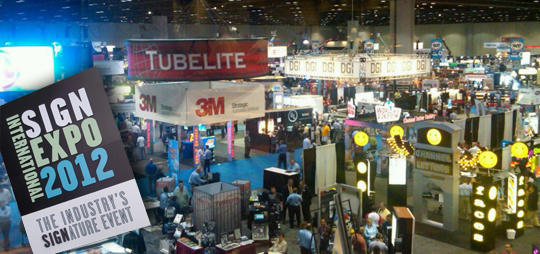 Last week, we took off for sunny Orlando to visit the International Sign Association (ISA) Trade Show. We spent Wednesday, Thursday and Friday visiting people who represented many different businesses in the sign industry (and enjoying great food and entertainment). The weather was fabulous, the new products were innovative and exciting, and the information we gathered was so plentiful, it was a bit . . . overwhelming. We've delved into some of it so we could bring you a quick re-cap of the show today, but watch for even more exciting finds from the ISA 2012 Expo in future articles.
Sign Associations
Did you know that no matter where your business is located in the United States, there's a local sign association that's looking out for you? In addition to the International Sign Association, we visited sign associations representing Utah, Southern States, Northeast States, Nevada, Arizona, Mid South, Midwest Sign Association and the Northwest Sign Council.
Your local sign association keeps tabs on upcoming and ongoing sign regulations and legislation that can impact your ability to advertise with signage. Associations also offer education and permit information so that your sign installers know exactly what to do when you call with a request. By supporting businesses in the sign industry, these associations are also supporting every business in the area – allowing you to create and display signage that supports and increases your business.
Education
We also stopped by to say hello to the folks at the Signage Foundation. The foundation is a non-profit that partners with the University of Cincinnati to conduct research regarding the benefits and impacts of signage. Signs.com is committed to providing educational resources to our customers, and we've used many of the resources from the Signage Foundation to keep you up to date. We're excited to attend the Signage Foundation's conference in October.
The ISA also offers lots of research and data that helps us create informative, accurate articles for our readers. We had a quick chat with some of the friendly ISA representatives who told us that the association is busier than ever with over 2,000 members from 60 countries. The ISA works closely with the Signage Foundation, as well as with smaller, local sign associations to keep tabs on the industry and provide education, training and resources to members worldwide.
New Products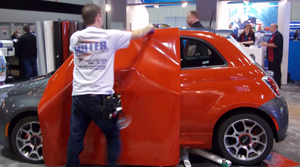 There are simply too many new innovations in the signage industry to list here. We saw lots of LED lighting, new materials to offer our customers and improvements to existing products (such as stronger grommets and tabs for vinyl banners, and better reinforced stakes for yard signs). We watched people in several booths wrap cars with some really cool new materials (and marveled at the installers' patience and attention to detail).
We saw print machines of every size, from table-top versions to huge wide-format monster printers that measured 20 feet long.
We even played a little basketball, though we've hopefully convinced our Chief Operations Officer, Nelson, not to quit his day job. On the serious side, we're enjoyed talking with our current suppliers and worked to forge relationships with new suppliers to make sure we bring you the very best in signage products.
The Show
We've all heard that the economy continues to struggle, but this year's ISA show was busy from the very first day. Richard Hronopulos, sales manager at Image Microsystems told us that he's never seen so many people visit on the first day; the second day is typically the busiest. Normally, Mr. Hronopulos collects information from around 170 interested people on the first day. On Wednesday, he spoke to over 240 people who wanted more information from his company. www.imagemicrosystems.com
Anita Skroback, of Mark Bric Display also had a great first day. She sold over 200 banner stands and was surprised at the number of people walking the floor. "This volume of business on the very first day lets me know that the show is going to be great for us," she said. www.markbric.com
SytLogic is a brand new company that offers project management software for sign companies. In addition to the SytLogic software, the company provides apps for both the iPad and smart phones help business owners keep track of ongoing projects. Al Wild, Director of Sales and Marketing for the company, told us that there has been a lot of interest in the new product. He said, "There are lots of great products at the show. But none of these companies are talking about how to manage your business. SytLogic has the solution." We agreed–there were so many people crowding the booth that we wished them well and got out of the way so that Al and his staff could answer questions and show off their new product. www.sytlogic.com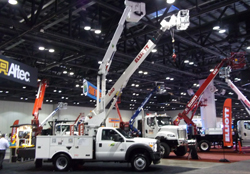 We moved on toward the back of the trade show, where we found several dozen huge trucks equipped with buckets and booms that telescoped up into the rafters. We didn't ask for pricing, but we're pretty sure these beasts aren't inexpensive. We spoke to Kent Feldman, Vice President of Elliott Equipment Company to see how the show was working out for the companies who offered the most expensive product on the floor. Kent told us that business over the past few years has been slower, but he's seeing signs that the economy is picking up. "People are here to buy," he noted, "We're seeing serious buyers at this show. They've done their homework and are coming in ready to invest in their businesses." www.elliottequip.com
What does this mean for you? Well, we know that signage companies and the companies that support them with supplies, printers, lighting and software, are busier than ever. Since the signage industry's businesses are getting busier, it follows that the businesses that need signage must be getting busier. We're excited to see the sign industry increasing and improving and are hopeful that your business is doing the same.