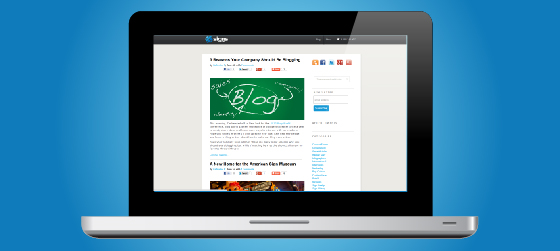 So you're thinking a company blog might be a great idea. I wholeheartedly agree (since I make my living as a company blogger and I've been at a killer blog conference all week!) But if you've been checking out other company blogs, you may have noticed that some of them are dry and boring. And you wonder what in the world you can say on your blog that will encourage anyone (other than your mother) to read it. Here are a few tips to get you started creating a fabulous blog that your customers will read and love.
1. Focus on your customers, not yourself.
I see many company blogs that are all about self-promotion. These blogs feature articles about products, the awards people in their company have won and the company BBQ. While writing a few articles about your products is fine, this can get boring for readers really fast. How many people really want to read articles like, "New Improvements to the IS7385 Printer" or "Check Out Our New Line of Jet Propulsion Systems?" Borrrring. Even if I'm in the market for a new printer or a jet propulsion system, I'm not highly entertained by an article listing all the technical specs of the product. Keep posts like this to a minimum on your company blog.
Then there are the Awards Posts. While it might be really cool if the president of your company receives an award from Barack Obama, anything less isn't very interesting. Your top sales rep received an industry award for selling lots of widgets? Great news for you. Not so interesting for your readers. And hosting awards events for your own employees, then posting blog post after blog post about it . . . sadly, no one cares (except those award-winning employees).
Your blog is not a place to endlessly promote your company or products. Instead, write articles that entertain or educate your readers about topics that interest them. So what interests them? Read on . . .
2. Solve problems for your customer.
You probably already know that it's important to offer products that solve problems for your customers. This is true no matter what your industry. If you own a high-end dress shop, you're solving problems for women who need to find something to wear to a special event. Pretty straightforward. Now think of other problems your customers have and write some articles that help them solve those problems, even if your shop doesn't provide the solution.
Perhaps most of your clients come in to buy fancy gowns for weddings, cruises, class reunions, etc. The women you help want to look beautiful and they might be a little stressed about their upcoming event. What kinds of other problems might those women have? Here are a few suggestions for possible articles:
How to find the perfect shoes for every gown.
Six great hairstyles for fancy occasions.
How to lose 10 pounds before your class reunion.
Your shop might not sell shoes, style hair or feature treadmills and weight machines, but your customers are probably all interested in these topics. Do a bit of research and write some articles that give them information they want and need.
3. Post articles on a regular basis.
Your blog won't be effective unless you post regularly. I've seen companies that only post once every 3-6 months. I'm sure they don't have many readers – people forget that the blogs even exist.
Signs.com posts new articles six days per week. There are several reasons for this schedule. First, we can continue to engage readers; many of our readers have our blog bookmarked and read our articles every day. Second, we continue to create content that increases our visibility on search engines. And finally, we're able to capitalize on our blog posts with social media such as Facebook or Twitter.
Posting six days per week is a lot, especially if you are a business owner writing the blog yourself. Signs.com has a full-time writer (me!) in-house to generate content. If hiring a writer isn't in your budget, you can still create a great blog with two or three posts per week.
Speaking of writers . . .
4. Generate quality content.
You probably keep the windows in the front of your shop clean and the parking lot swept because you know that the appearance of your shop makes an impression on customers. The same is true of your blog. It should be well-written, carefully edited and thoroughly proofread. Poor writing, bad grammar and typos will only serve to make your company look sloppy.
If you don't feel confident about your writing skills, hire a writer. Some companies hire full-time writers. Others hire PR or marketing folks who write the blog as part of their duties. Smaller companies might benefit from hiring a freelance writer who just creates a few posts every week.
When hiring a writer, ask for some writing samples to make sure you're getting someone who knows her way around the English language. And please, please, please don't purchase $2 blog posts from content mills. These are widely available, but very poor quality. Real writers don't work for $1 an hour – you'll get what you paid for.
5. Add photos, charts, graphs or videos.
Unless your readers were all English majors, they probably don't want to read 1,000 words in one big block of text. Think entertainment, not book report. Break up your text with photos, like I've done here. Or add video. In my post on the American Sign Museum, I added two YouTube videos from the museum. You'll want to ask permission before posting a YouTube video that's not your own, but most people are thrilled with the idea of the extra promotion and exposure.
Charts or graphs are another way to break up text and are especially handy when presenting statistics.
6. Integrate your blog with social media.
Social media is a key part to any blog strategy. In fact, it's a great way to get your content out to those who aren't familiar with your company or blog. The best part is, you don't really have to manage it to make it successful. Facebook, Twitter, and LinkedIn have plugins that allow you to publish your blog posts automatically. Not that you should just set it up and then disappear. Engage your customers and readers and they will be sure to come back and read your posts.
At Signs.com, we post all our articles to our social profiles, but we also have a weekly SIGN QUEST as a way to drive traffic to our blog. We post a blurred or partially obstructed photo of a sign every week and ask readers to guess what the sign is. Each day we reveal a bit more of the photo until someone comes up with the correct answer. It's fun for us, and entertain for our readers.
7. Have fun with your blog.
I can only think of a few instances where humor shouldn't ever be used on a blog (the funeral industry comes to mind). But most of the time, a little humor is a good thing. Unless your business relies on being stuffy and boring, shake things up a little. Write some funny editorials. Post cartoons. Or make fun of your industry a bit (at Signs.com we post photos of funny signs).
One of my favorite ways to have fun with the Signs.com blog is to conduct interviews with interesting people. I write a Small Business Success Stories series that features interviews with small business owners. I've also interviewed people from non-profit organizations, a collector of antique signs and the founder of the American Sign Museum. It's so much fun to meet people and get their perspectives on signage, business, books, food and more.