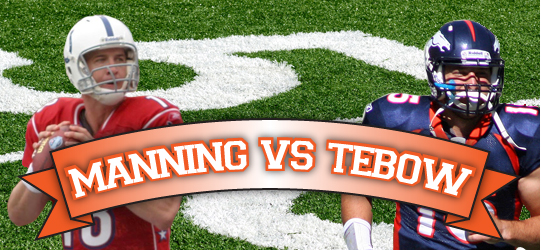 Unless you live under a rock, or just simply hate NFL football, I'm sure you've been following or at least heard about the Peyton Manning saga concluding today with his signing for the Denver Broncos. If it wasn't for March Madness, this story would be running 24/7 and not just on sports networks or radio programs. Why? Because never in the history of sports have we seen something like this unfold. On one hand you have Peyton Manning. Arguably one of the greatest to ever play the game. Manning was released because of an injury by his former team the Indianapolis Colts which created a firestorm of interest in his services from at least half of the other NFL teams.
On the flip side, you have Denver incumbent quarterback Tim Tebow. A player who is short on NFL talent but gifted with charisma to spare. He is beloved for his clean cut appearance, attitude and morals. Oh, and by the way, he just so happened to help pull the Broncos out of a 1-4 start, lead them to the playoffs and secure their first playoff win since 2005. His jersey sales ranked second among players according to the CNBC (1) in 2011.
Now, after taking all this into account, throw in the fact that legendary Broncos QB John Elway is the team's Executive Vice President and is tasked with all team personnel decisions. In the end, Elway decided to secure the services of Manning and part ways with fan favorite (just ask my wife) Tebow. The reaction couldn't be more split.
The choice to make Peyton Manning the QB in Denver came down to one factor. Winning. I will go out on a limb and say that John Elway has no hard feelings for Tim Tebow. In fact, I think Elway got a kick out of seeing Tebow's heroics last year. But I do believe that the desire to win ultimately forced Elway's hand in the matter and with Manning, there's a much higher chance of winning. There is a lot of risk involved with Manning – does the previous injury flair back up, is he too old, can he still compete at the highest level – but the potential reward far outweighs the pitfalls.
No matter what side of the fence you lean to, or if you even care at all, the saga that has played out over the last 48 hours is definitely entertaining. As I watched the whole ordeal unfold, it got me thinking more and more about just how much sports is a reflection of our everyday lives in business. We are faced with tough decisions and risk versus reward choices that are inherent in managing a business and people. Sometimes those choices are painful, like letting go of a long time employee or maybe moving your offices to another state. Whatever the case may be, make that choice with conviction. Will there be guaranteed success? I doubt it. But at least people can respect you for making decisions that you firmly believe are the best for the business as a whole.
Only time will tell if the Manning experiment in Denver will yield the reward that Elway hopes for. In the meantime, we can take solace in the fact that even the decisions of a two time Super Bowl champion and NFL Hall of Famer can be debated and scrutinized to no end. I guess we should just be glad our business decisions aren't played out in the national media like Elway's.
(1) http://www.cnbc.com/id/44789354/The_10_Best_Selling_NFL_Jerseys_2011?slide=10