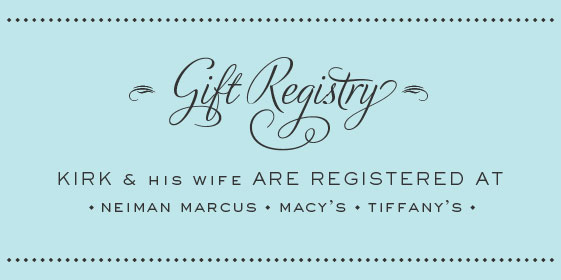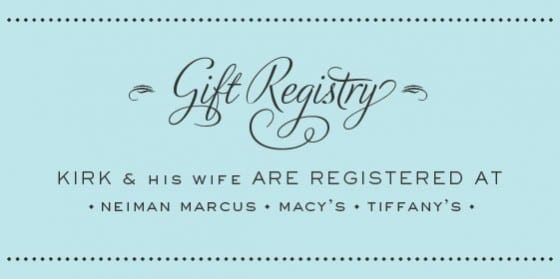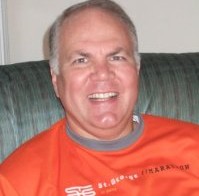 This is a rare guest post from the co-founder of Signs.com, Kirk Green. Kirk is not so much a guest blogger as he is a reluctant blogger. Occasionally, he has observations that we think need wider distribution than his personal mumbling. So, we convinced him to write down a few of his ramblings and we might publish some of them here. Most of Kirk's time is spent leading the teams at Ferrari Color, Signs.com and Stryde.

When my wife and I were married some thirty-odd years ago, many of our current friends didn't know us. The friends we did have (our friends not our parents friends) were all poor students. Facebook, Twitter and all of the other social media used to reach friends and potential friends didn't exist. In fact, the Internet in 1980 was only a gleam in Al Gore's eye.
We had a wonderful wedding, a memorable dinner and a reception that was quite nice. Like most couples, we registered for china, silverware and a few household items. Karleen's and ZCMI Department Store were the two retailers of choice. People were generous and we ended up with some very nice things including china that we seem to use once every three years.
I got to thinking that, with all the new friends my wife and I have, many are probably disappointed that they could not participate in our wedding. They missed a grand party and more importantly, to me anyway, they missed an opportunity to participate in our wedding registry.
So, we . . . really I, have taken it upon myself to re-establish a wedding registry. The random date of July 4, 2013 was selected, Independence Day – note the irony. Those who missed out on our wedding can now feel totally committed to our relationship. Those who have developed successful careers can buy the gifts they wished they could have purchased if only they had had the funds back then.
Just to be clear, we are not renewing our vows. Frankly I just do not want that type of risk. My wife said yes once and no one needs that kind of pressure. Nope, we are just . . . wait . . . I am just, renewing our registry.
We are easy to find. This happy couple is registered at Neiman Marcus, Macy's and Tiffany's. See, the thing is, our household has all the basics, so Target and Walmart are out and besides, we don't need more towels.
To all of our friends who want to wish us well on our wedding, you now know where to go. As Michael Scott once said, "Hey man, I love you this many dollars-worth".
P.S. My wife wants it known that she has no part in this.