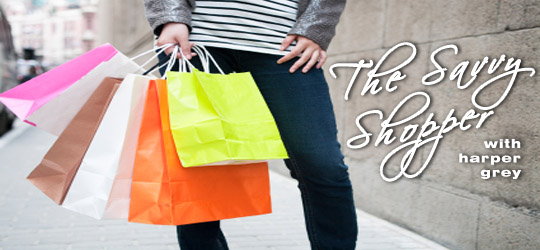 When I took my daughter back-to-school shopping this fall, it seemed like every retailer had a "Preferred Customer" program. I was encouraged to sign up for the free programs and assured that they afforded me special discounts several times a year. So I willingly gave three different companies my personal information, including my email address. I figured that it might be a wise idea to get "special discounts," given that I have a teenaged daughter that has turned out to be somewhat of a fashionista.
First, the joy!
At each store, I got an immediate discount by signing up. Yay! The lowest discount was 10%; the highest discount was 25%. I saved over $50 just by filling out some little cards.  I walked out of each store with a little plastic card that could be stuck to my key ring and the smug satisfaction of saving money.
Then, the annoyance…
The next morning I had six emails in my inbox: one from each company welcoming me to its Preferred Customer program and reiterating what great products and customer service it offered, and one from each company that offered me a new discount.
OK. Well, I'd just dropped hundreds of dollars the previous day on a slew of school clothes. I hadn't planned on visiting a teenaged retail establishment for at least six weeks, if not longer. Another 25% discount off accessories or socks or $15 T-shirts wasn't going to lure me back.
I figured that the next-day discount emails might just be offered to brand new program members. I was wrong.
Then, more annoyance…
The next day, I had three emails in my inbox in the morning (one from each company). Each had a new discount offering. That afternoon, I had three more emails, reminding me about the discount offering they'd sent a mere four hours earlier.
I was beginning to be grateful that I'd only filled out three cards and not six or seven.
Then, anger…
The following day, six more emails – three from each company. Twice a day. On Saturday, I got nine emails – three from each company, three times. The morning emails were offering a different tiny discount every day; the afternoon emails were "friendly reminders" to not let these fabulous deals slip away.
This was just ridiculous. I realize that the emails are sent automatically. So even if I went back to the store in the morning and bought something, I'd still get the "friendly reminder" email in the afternoon. And I could shop at the store four days a week, and still get the promotional emails every single day. Surely these companies didn't think I would really shop at their store every day. Or even every week.
Then, disbelief…
Oh, but it didn't stop there. Each company has online stores. It took them about a week to get me added to the online store email sysytem, but by the week after school shopping I was receiving three or four emails from each company per day: two with in-store discounts and one or two with online discounts.
Then…disgust
Every time I opened my email to find promotional emails from these three companies, I was freshly annoyed. And I finally took action. One morning I opened up all three emails and clicked the links at the bottom to opt out of the automatic emails. But later that afternoon, I had three more emails. And in the evening, three more.
Each email was set up on a different list. Which meant that I had to get in nine times and opt out in order to stop receiving emails. By the time I figured out that I had to spend a half hour to get rid of these companies I was completely disgusted.
Annoyance, Anger, Disbelief and Disgust…
…are not emotions companies should generate in customers. If you absolutely must send promotional emails, try a once-a-week approach. Or even once every two weeks. Every day, and especially multiple times per day is waaay too much.
Do some research on email best practices. It might sound like a good idea to set up automatic emails (especially when you are trying to manager 100 other things during the work week) but if not properly managed, you could be losing more business than you are driving. Repeat customers spend up to 67% more than new customer. Make sure you don't  send them through emotional turmoil with your emails!