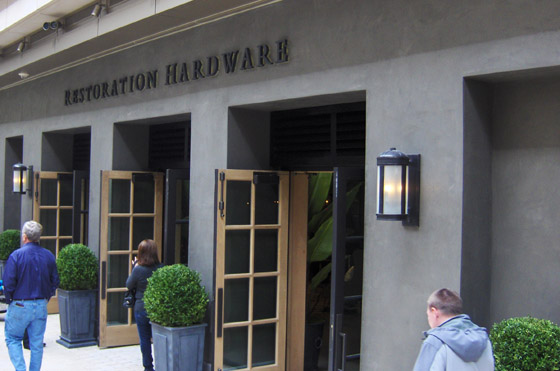 What differentiates a good store from a so-so store? Three principles: visual appeal, simplicity and ease, and an enjoyable shopping experience. All three of these components depend on one important quality: a professional image.
Visual Appeal
A great store is able to showcase its merchandise in a cohesive way. All of the fixtures call attention to the merchandise. The layout of the store allows the customer to easily see the product and decide how to navigate to it in order to take a look. The merchandising and signage calls attention to the products' benefits and adds brand awareness. The overall look of the store has a cohesive feel – everything including signage, décor and fixtures coordinate to create a specific, definable brand. This works for national chains. If you were shown a photo of a GAP, Ann Taylor or Banana Republic, you'd immediately be able to recognize the store just based on the fixtures and design. There's a reason that large companies design their stores this way: in addition to the visual appeal, the branding is immediate.
Simplicity
A great store offers the shopper an experience that feels easy and pleasant. For most shoppers, this involves a simplistic, clean design that minimizes confusion. Clutter is kept to a minimum. Product is placed on racks and shelving in a way that makes it easy to discern the offerings without being overwhelmed. Aisles are easy to navigate, and merchandise is easy to reach.
Enjoyable Shopping Experience
A great store provides a great shopping experience. Shoppers want stores that are clean, well-lit and comfortable. They want to find what they're looking for quickly and encounter pleasant clerks when they have questions. When it's time to pay, shoppers want a clutter-free environment and a straight-forward payment transaction.
It's easy to integrate all three of these principles into your store if you simply focus on conveying a professional image.
Clear out the Clutter
Clutter affects all three principles. Dr. Raymond R. Burke, professor at Indiana State University's Kelley School of Business says: "Clutter is the enemy of retail transparency. It interferes with the consumer's ability to visually and physically navigate through the store and to find desired goods and services. It distracts people from their shopping goals and reduces the efficiency of in-store communication. The best stores minimize clutter to focus customers on the unique value provided by the merchandise."(1)
Clutter at the cash register is a common problem. A professional image is most important here; you're asking customers to give you money and they're forming final impressions of your business. I've seen all kinds of clutter covering the counter at near the cash register: house plants, multiple containers asking for community donations, prize drawing boxes, business card holders, containers of pens, brochures, little ceramic bric-a-brac and cutesy plaques. It's all too much.
Clutter confuses customers and makes them uncomfortable. Clutter can even cause stress. One study reported that 47% of consumers experience, "significant levels of stress." (2) Another study showed that 45% of the reasons customers mention stress were related to in-store environment, including messy shelves and clutter. (3)
A Clean Store is an Appealing Store
Lack of cleanliness consistently ranks amongst the top irritation factors for consumers. (4) Your store should be spotless, inside and out. Some areas are easy to overlook: pay special attention to corners where dust accumulates, and shelving where cobwebs gather. Store windows need to be kept clean, too. Hire a window-washing company to come once a week. Fitting rooms have a tendency to become dumping grounds for stuff that you don't want on the sales floor. Remember, a fitting room is usually where the sale happens. If the customer doesn't feel comfortable or is more focused on the junk in the corner, they won't be comfortable with your product.
Create Cohesive Signage
The purpose of your sign is to attract customer attention, so make sure you're making the right impression. Your signage lets people know that your store is there, alerts customers about sales and helps direct them to different areas of your store. Your signage should be professionally designed and created.
Homemade signs are often found at the cash register. Remember that your customer's last impression of your business is formed during the few minutes he spends at the check stand. A handwritten sign scrawled on lined paper with a ballpoint pen probably doesn't leave the impression you'd like.
Dr. Burke notes: A common source of retail clutter is sign pollution. While a few signs can be helpful, more signs are not necessarily better. It's important to manage the visual load for customers and maximize the signal-to-noise ratio of in-store communications. Retailers should remove signs that provide irrelevant or inconsistent information and consolidate signs with redundant information.
Get Rid of Employee Clutter
Provide employees with space to store their personal belongings out of sight. Their coats shouldn't be draped across chairs and their purses and tote bags shouldn't be placed in a visible spot. In addition to looking messy, having personal items stored in public areas leaves them vulnerable to theft.
Your customers don't want to see employees eating on the job. I once approached the check stand in a small retail shop, only to find that I couldn't place my merchandise on the counter because the employee's sandwich wrappings were covering the counter. She quickly moved her wrapper, leaving behind bits of lettuce, and told me to go ahead and put my items down. Needless to say, I was hesitant to place my clothing items on a counter littered with bread crumbs and lettuce bits.
Pay Attention to Employee Appearance
Your employees inhabit all areas of the public space in your store. They act as your ambassador and determine whether or not your business projects a professional image. If your business doesn't provide employees with uniforms, a basic dress code is important. The appearance of your sales staff should be cohesive with the overall feel and design of the store, and match the demographic. Unless you own a nightclub, customers shouldn't be able to see your sales clerk's navel ring. A clothing store with a teenaged demographic might be able to allow employees to wear jeans and t-shirts and the latest version of a mohawk; a shoe store catering to retired people requires clean-cut employees dressed in khakis and button-down shirts.
Move Out Merchandise Clutter
To provide shoppers with a pleasant visual appearance, merchandising is important. Match the product with the display and provide signage to announce its benefits. Shelves should not be overstuffed in order to provide simplicity—keep overstock in a back room or in hidden compartments under shelves. Merchandise should not hinder shoppers' movement. Complete stocking tasks during slow times to avoid blocking aisle, and place racks far enough apart that shoppers can move freely between them.
1. Raymond R. Burke. "Retail Shoppability: A Measure of the World's Best Stores." 2005.
2. Datamonitor. 2005.
3. Sujan, Sujan, Bettman, Verhallen. "Sources of Consumers' Stress and Their Coping Strategies" 1999.
4. Alain d'Astous. "Irritating Aspects of the Shopping Environment." 2000.