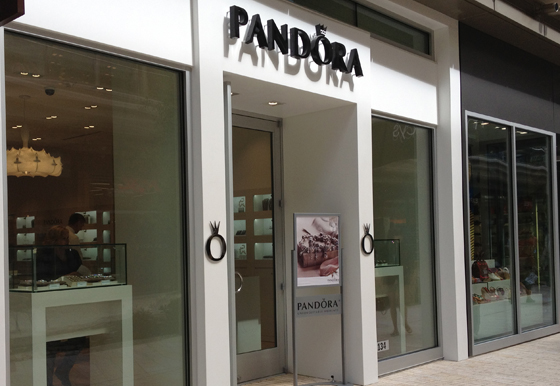 This week I had the pleasure of taking in the new City Creek Center development in Salt Lake City (read my review here). I had a couple goals in mind, but mainly I wanted to see how a brand new mall was utilizing signage in its various forms. As I mentioned in my review, City Creek did not disappoint. But I also wanted to get some perspectives from store owners, managers and sales associates to get their thoughts on the project and how they planned to market their stores. Initially I wanted a few quotes for this afternoon's post, but after having the privilege of talking with Randy Castleman, I knew that I had to share our entire conversation.
Randy is officially the Director of Field Operations for Wilkerson & Associates, a highly diversified company that specializes in the jewelry industry. Wilkerson's business models include contract marketing and sales, direct to distributor sales, appraisal services, inventory liquidation purchases and franchise retail store management – this is where Pandora comes in. It took me a while to wrap my head around all the activities that Wilkerson is involved in, but I soon realized that this was a very strategic company that was serious about identifying opportunities within an industry known for its stodgy nature.
Why Pandora?
Wilkerson owns multiple Pandora retail stores across the U.S. and Randy is charged with overseeing them all. Pandora is a Denmark based jewelry company well known for their charm bracelets. I asked Randy how they went about evaluating potential franchise investment opportunities and why Wilkerson picked Pandora. He replied, "We looked at the branding and the growth opportunity and Pandora is just exploding right now. But just as important we looked at the pricing structure and the affordability related to their (Pandora's) target demographics."
Pandora Marketing
Randy also says that operating a single brand store like Pandora has its advantages over multi-brand stores. Having a brand like Pandora, that not only has name recognition but product recognition as well, was a big draw. It simplifies marketing and sales efforts and allows Randy to focus on growing awareness over trying to move another brand's inventory. Since Pandora is a franchise, there are obvious restrictions when marketing the brand and working with an international company has had its complications. To overcome this, Randy helped develop an owners group that pooled their collective resources to develop higher quality marketing campaigns across TV, radio, outdoor, and in-mall signage. The result, according to Randy, has been much better than if each owner tried to go at it alone.
Why City Creek Center?
Now that I knew the answer to "why Pandora", I was really interested in why Randy decided to bring the brand to Utah and specifically City Creek. Foremost, Randy is a big fan of the Taubman Group, the retail property management company that runs City Creek. I have to say, this surprised me. I don't know many people who "love" property management companies. But Randy went on to explain that Taubman really does it right. He says that they place a premium on branding, which is evident by the cohesive building wraps, light pole signage and wayfinding signage. They are also committed to using technology to better the shopping experience. For instance, customer service agents were walking around on opening weekend with iPads, answering shoppers' questions. Randy also likes the outdoor mall concept, something that Pandora was originally skeptical of. City Creek even has shuttles that offer patrons rides to local attractions and restaurants.
He said that these factors, combined with the demographics and socio-economic mix in Salt Lake, lead him to believe that Utah was a prime spot to introduce a Pandora retail store. Randy says, "Utah is a family-oriented state and for us it's great because we can get generations of women to buy into the Pandora experience. Grandmothers, daughters and granddaughters can all have a bracelet that has meaning."
His Personal Mission
So what can we expect from the Pandora store at City Creek? Well, creating experience and meaning is a personal mission for Randy. See, Randy is old school, but old school in a Southern gentleman's way (I should know, we are both from Nashville). That charming hospitality courses through everything Randy does in business and just talking with him makes you realize that the art of customer service is not dead. He believes that every customer that walks in should be offered an experience – not just sold jewelry. Randy has been known to replace defective or broken merchandise at no cost to the customer. He's even given away bottles of wine or gift cards during the holiday season at some of his other store locations.
To ensure each store lives up to his expectations, Randy personally visits each one multiple times every year to make sure that employees are experts in the Pandora product line. Twice a year, he flies out all his store managers to a different location for specific Pandora training. Randy demands each employee treat every customer just as he would. And although Randy does look at the analytics – he installed walk-in counters at his stores to monitor traffic levels – and he does stay up to date with trends in retail, he feels that just talking with customers is the best way to gauge how a store is doing. He says, "If I have a bad experience, I am usually polite and I don't say anything. I just don't come back. The problem is, many shoppers do the same thing. And as soon as they walk out, you have no clue if their experience met their expectations." Wise words for any business, but "Ten Commandment" proportions for a retail space.
Randy is unique, to say the least. He has been in the jewelry business ever since he can remember – his father worked in the industry too. Most of his experience was in the local multi-brand brick and mortar stores, but when he joined Wilkersons, he knew he had found a great opportunity. It seems to be paying off. So if you are roaming around City Creek this weekend, stop by Pandora and say hi to Randy. I am sure it will be a worthwhile experience.