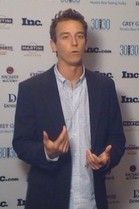 Matt Wilson and Jared O'Toole are two amazing guys with traditional backgrounds in business and finance. But while their backgrounds might be traditional, Wilson and O'Toole are anything but. It was quickly apparent that the corporate path was not for them; they were more interested in entrepreneurship. In 2009 they co-founded their company, Under30Media, to provide resources and inspiration to help other talented young entrepreneurs find their own paths. Their first venture, Under30CEO.com, took off quickly, gaining exposure on MSNBC and BusinessWeek. Subsequent sites include Under30Finance.com, Under30Careers.com and Under30Experiences.com.
I recently spoke to Matt Wilson, Co-founder and Adventurer in Residence, who was kind enough to share his story and give some advice to our readers.
Had you planned on being an entrepreneur or was that a shift in thinking for you?
Since I was old enough to sell lemonade, I always knew I wanted to be an entrepreneur.  Later, I sold golf balls I picked out of the pond on eBay, mowed lawns and sold my landscaping company before I went to college…
Did you have a background in entrepreneurship?
At Bryant University, I realized there were few resources for entrepreneurs at a well renown business school.  A team of five of us started a student run entrepreneurship movement that brought Ted Turner and Kenneth Cole to campus, hosted the world's largest elevator pitch competition, and  earned national awards from the Collegiate Entrepreneurs' Organization.  Being around such an awesome group of smart, young, innovative people, led us to realize the lack of resources for young entrepreneurs worldwide.  To solve this we started Under30CEO.com.
How did you guys excel in creating Under30Media, which is a perfect example of an ad revenue driven digital property, despite both having no previous experience in the industry?  (Jared's background is finance– Matt's is in Business Management)
We jumped in headfirst and figured it out.  We tested everything we could until we figured out a way to make it work.  We studied others who were succeeding in the industry and then added our own innovations running a media company.
Were there any reservations starting such a property without programming or online marketing backgrounds?
With a $175 website developed in India, we certainly had our challenges.  But as Thomas Edison said, "I have not failed. I've just found 10,000 ways that won't work."  Again, we used our entrepreneurial minds to come up with solutions to every one of our problems.
While wearing many hats as an entrepreneur what would be your advice to other entrepreneurs on when to outsource or hire and when to try and learn the new skill yourself? How do you effectively walk that line?
It all depends on the resources available to the entrepreneur at the time.  Time and money are your two biggest variables.  When you are first starting out you have to do most things yourself if you don't have the money.  As your time gets more valuable and you have more money to invest, then you can start to look to hire and outsource.
Matt, you were able to get Under30Media noticed by some pretty large media outlets by using social media. What were your strategies to make that happen?
Have a remarkable product.  Our travel company Under30Experiences was recently named Forbes one of Four Professional Retreats to Explore in 2013, and called a "summer camp for adults."  Because we bring young professionals on life changing trips, word travels quickly, and media outlets are eager to give us publicity.
What kind of knowledge or education do you think is important for an entrepreneur to have before starting a business? Is a college degree necessary?
Ambition and willingness to do whatever it takes to succeed are much more important.  A business degree certainly helps, but you don't necessarily have to go to a fancy school, or spend a lot of money on your education.  Most entrepreneurs learn better by doing. You also learn a lot faster when situations are real and your own money is on the line.
Did you have mentors that provided you with guidance and advice in the early stages?
The best thing about Under30CEO.com is that we interview so many of the world's most successful entrepreneurs.  Veteran entrepreneurs are always happy to help, and venture capitalists will always give you candid feedback from an investor's point of view.
How were you able to acquire the capital necessary to start your venture?
Bootstrapped– $175 website built in India.
What advantages do young entrepreneurs have that older entrepreneurs don't?
You have nothing to lose.  When you are young, you start with a clean slate.  You don't have kids, a spouse, a mortgage, or a whole lot of responsibilities.  The world is your oyster… you can do anything, so do it while you're young.  Live at your parents, eat peanut butter and jelly, pull all-nighters, go couch-surfing working from your laptop.
What's your advice to recent graduates facing a tough job market with entrepreneurial dreams?
Create your own future.  In today's day in age, you aren't going to walk across the stage and be handed a diploma and a job on graduation day.  Don't sit around and waste time looking for a job, figure out a way to make ends meet and start a business.
Matt Wilson is Co-founder of Under30CEO and Adventurer in Residence at Under30Experiences.