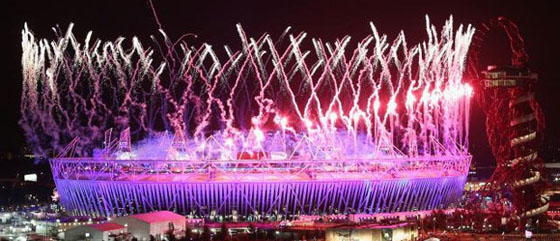 The 2012 London Summer Olympic Games came to a close last night with a boisterous, although slightly weird, tribute to British music, fashion and of course the unforgettable performances from the last 2 weeks. The highlights of the ceremony were definitely the athletes' entrance into Olympic Stadium and the Ugandan marathon runner receiving his gold medal. Note to self: if you want to win a gold medal, win the marathon. You become instantly famous because they give you the medal at the closing ceremonies, which is being watched by a billion people. Not a bad gig if you can last 26.2 miles and not die.
But we aren't here to celebrate the athletes or the moving portions of the closing ceremonies. Nope, we're here to poke fun at all the musical acts. Why? Because it's much more fun, of course. So please enjoy the Signs.com play-by-play review of the 2012 London Summer Olympic Games Closing Ceremony – or what I like to call a "long strange trip!"
Madness singing Our House – I was so uninspired that I really don't have much to say about their performance. I was a little concerned when the guy in the kilt got lifted up in the air. Not for his safety, but because the camera angle was getting a little too . . . shall we say "low" for my taste. While I'm talking about camera angles, what is up with NBC cutting to a new camera every 2 seconds? I was getting dizzy after the first verse.
Pet Shop Boyz singing West End Girls – I can neither confirm, nor deny, that those guys really were the Pet Shop Boyz due to the Wicked Witch of the East costumes. They looked like origami on steroids . . . oops, sorry IOC, I forgot I can't mention steroids when talking about the Olympics.
One Direction singing something about teenage girls – I have to be honest, I totally left the room when these guys came on. Diet Coke and apple pie were calling my name in the kitchen and those urges trumped any desire to see a boy band that has "one" hit. I was really hoping that the flat bed truck they were on would hit a speed bump and they would all fall off. That would have been good TV.
Stomp performing . . . well, stomp – Finally, something I can get behind. I have seen Stomp a couple times and loved it, so I guess I have a soft spot in my heart for banging on trash cans and push brooms.
A tribute to John Lennon – OK, I admit, even though the cute children's choir probably never sang a note in that performance, I liked it. It is such a shame he couldn't be there to sing Imagine himself.
George Michaels sings Freedom – For the first 30 seconds, I thought Michaels was MIA and we would be treated to a couple of unknown backup singers. I was wrong. Ol' George came out complete with a HUGE skull belt buckle that made everyone stare at his . . . OK, you get the point.
Kaiser Chiefs cover The Who's Pinball Wizard – Best performance so far. I'm not a big KC fan, but their motorbike rendition of The Who's classic was a breath of fresh air to an otherwise stale event.
A tribute to David Bowie – Like the tribute to Lennon, the tribute to Bowie made me wish he could have been there in person – wait Bowie isn't dead? Then where the heck was he? Did he really have another gig to go to? I seriously doubt it.
A tribute to fashiiiiiiiioooooooonnnnn – Huh, what? Sorry, I fell asleep after Ryan Seacrest mentioned Victoria Beckham in the same sentence as Burberry and Paul Smith. I was glad to see Naomi Campbell subdued, although I would have loved it if she took her high heel off and chucked it at someone!
Annie Lennox channels her inner Pirates of the Caribbean – Somehow, according to Seacrest, this represents Goth fashion. Sure, whatever. It must have been lost in translation. If I saw that fashion on the streets of London, I might have been inclined to jump into post-apocalyptic survival mode.
Bunch of guys doing Pink Floyd's Wish You Were Here – Long version or short version, long version or short version? Whew, short version!
Russel Brand not singing the Beatles' I am the – Ah, forget it. No comment.
Fatboy Slim relives 199something – You know when Seacrest says, "Your guess is as good as mine," the show might go off the deep end. Someone should have told Slim that they just got done with the "fashion" portion of the show and then burned his shirt in the Olympic cauldron!
Jessie J singing about changing the world and riding in a Rolls Royce – That was over before I could even think of a comment. Now, Tinie Tempah is rapping – I think. I even listen to top 40 radio and I can't understand a single word he just said. But who cares, his name is Tinie Tempah and that makes me laugh.
Tio Cruz singing Dynamite – Anyone else notice the light bulbs on the top hats of the extras? I kind of want one! Oh, right, the music. Well, the three aforementioned artists are collaborating on the Beegees' Dancin'. Not bad, but someone needs to tell Jessie J that Tonya Harding called and wants her outfit from the 1994 Winter Olympic Games Back.
The Spice Girls – Need I say more? The Sporty one does look like she just swam the 100 meter butterfly final and Posh looks, well, bored. At least the mayor of London is having a good time.
Oasis band members, in another band, singing an old Oasis song – Isn't brotherly hatred fun. Liam Gallagher gets the spotlight, Noel gets nothing.
The comedic part of the show – Please shoot the guy out of the cannon, please shoot the guy out of the cannon! Nope. But hey, look on the bright side of life. Besides, it's only a flesh wound. Sweet, they finally shot the guy out of the cannon.
A mini-tribute to Freddie Mercury of Queen followed by a guitar solo by former band member and another appearance by Tonya Har . . . I mean Jessie J. Actually, not a bad performance. We Will Rock You made me wish for more sporting events.
The Olympic flag is passed to Rio – And to no one's surprise, Rio's part in the closing ceremonies includes salsa music, the samba, and everyone making fun of white guys that can't dance. Throw in some crazy outfits, a Vegas-style lounge singer, super model Alessandra Ambrosio and Pele and we got ourselves a party. Looking forward to Rio 2016!
The Who singing their own songs – Looks like we are coming to the end. The Who have taken the stage and are rocking Teenage Wasteland (does anyone else think Roger Daltrey look like Seattle Seahawks coach Pete Carroll?). Wrapping it up with My Generation, a song about a generation that the current generation thinks is old and boring. I still like it!
So with that, we bid the games of the 30th Olympiad adieu. The flame is now extinguished and each country gets to take home its piece of flaming hot copper from the Olympic cauldron. I am sad to see the games go, but the memories and images from this Summer Olympic Games will live on for a long time. I hope you enjoyed them as much as I did. If you missed anything, check out the link below for a great recap of the events . . . if you like the U.S.A. It is from NBC you know. What did you expect, unbiased coverage?
http://www.nbcolympics.com/video/2012/lasting-images-of-the-2012-london-olympics.html