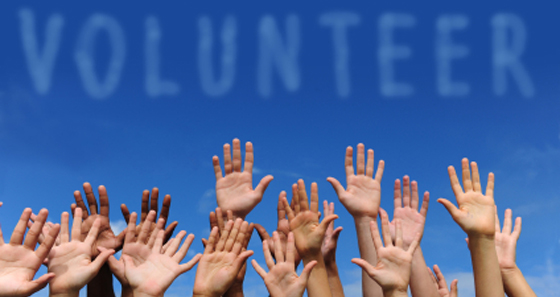 Imagine that your company could make a tangible difference in your community, improve employee morale, increase your employee's skills and project a positive image, all in the course of one day. This week, companies all across the country are doing just that as they become engaged in their communities through volunteer work as part of National Volunteer Week.
On April 9, 2012, President Obama issued a Presidential Proclamation for National Volunteer Week. He noted that, "Service is a lifelong pursuit that strengthens the civic and economic fabric of our Nation. With every hour and every act, our lives are made richer, our communities are drawn closer, and our country is forged stronger by the dedication and generous spirit of volunteers." (1)
As a business owner, you are a vital member of your community and your company and its employees can make a big difference for those in need. During tough economic times, small businesses often struggle financially and feel that they can't provide monetary donations to local community organizations. A company-sponsored volunteer project is a great way to give back and can be designed to fit any budget. In addition to the direct benefit to organizations and people in need, participation in volunteer activities strengthens your business in many ways. Here are a few examples:
Employee Morale
A survey of 156 companies found that employee morale was up to three times higher in companies that were actively involved in volunteer programs. (2)
Company Loyalty
A study conducted at Southwest Missouri State University found that volunteer programs are associated with greater company loyalty, particularly if the CEO was directly involved in the volunteer program. (3)
Favorable Image
The same study at SMS University found that, "One of the most effective methods of enhancing a corporation's public image is through the contributions of time and talent from corporate employees. Over three times as many individuals view "volunteering the help of employees" as a more impressive means of showing support for the community than "giving a large sum of money."
Strengthens the Local Community
Volunteer programs strengthen the stability of the local community and create a healthier environment where your business operates.
GE Healthcare: A Case Study
GE Healthcare's Salt Lake City, Utah office organizes a company-wide volunteer day every year. On October 10, 2011 over 500 employee volunteers participated in a project at Camp Kostopulos, a residential summer camp for children and adults with disabilities. I spoke to CEO Joe Shrawder, who told me about the company's planning and implementation of the volunteer day.
Initial Involvement
I asked Joe what specific traits GE was looking for when choosing an organization to work with. He told me, "Once we became aware of Camp Kostopulos, we became very interested in their mission. We also recognized that they had a facility site that would be conducive to the opportunity for hundreds of people to get involved and work together in one day. The organization also fit well for utilizing the kinds of skills that people on our team happened to have, such as landscaping, building, painting, electrical and plumbing."
Planning
Initial planning began with the top levels of management, who worked closely with Camp Kostopulos directors to determine specific needs. Joe said, "We looked closely at our budget and figured out what kind of needs there were that could feasibly be completed with our crew and skills in a day. We didn't want to leave Camp K to finish things we'd started."
The second phase of planning for the Camp Kostopulos project was conducted by a team of 20 employees. This more detailed planning included drawing up plans for projects, sending a group to Camp Kostopulos to take careful measurements and coordinating supplies and equipment.
Volunteer Day
Employee volunteers were bused to Camp Kostopulos and spent the day working on the campus. They painted four murals for the equestrian center, rebuilt the outdoor staircase of the main lodge, converted a lean-to structure to a fully enclosed shed, repaired and completed a yurt, made additions to the ropes course and rock wall, built benches, and much more.
Benefits for Everyone
The GE employee volunteers that participated in the Camp Kostopulos project received many benefits. Joe Shrawder said, "At a simple level, it was an opportunity for employees to do something other than their daily work and still get paid for it. They had the chance to apply skills in a different setting and take on different roles. We ended up with happier, more satisfied, engaged employees, who were refreshed after a day's break. At the end of the day everyone had a sense of satisfaction. It was 500 people in unity for a great cause."
For GE, the project simply reflects the company's philanthropic policy. Joe told me, "At GE we really mean it when we say that we're at work for a better world. It's not just a slogan about our products. It's about how we use the opportunities and good fortune of what we have to give some of that back."
Of course, Camp Kostopulos and the kids and adults they serve benefitted from GE's volunteer efforts. Gary Ethington Executive Director of Camp Kostopulos said, "We were amazed at how much they were willing to do and the number of people they were willing to provide for the volunteer day. Working with their company was a great experience and the benefit was incredible. The work that was completed during that day will continue to benefit our organization and the many people we serve for years to come. We were extremely pleased."
Considerations for Your Own Company Volunteer Project
It's important to get a good idea of your budget, the number of people who will be volunteering and volunteers' skills when considering which organization to work with. Ask for feedback from employees to determine what type of volunteer work sounds promising and find an organization whose mission and needs coincides with your values.
Involvement at the highest level of the company is essential for your volunteer program to work, no matter what its size. At GE Healthcare, CEO Joe Shrawder's commitment and leadership drove the company's volunteer day program forward. Heledd Jenkins' paper, "Small Business Champions for Corporate Social Responsibility" points out, "In order for social responsibility to work in a company, it must have an internal champion. In small businesses the owner-manager is often both the driver and implementer of values." As a small business owner, your commitment will be the key to implementing a volunteer program that is successful.
A successful employee volunteer day hinges on participation. As the owner/manager of your business, it's your responsibility to provide motivation to get employees onboard with the project. Dr. Peterson at Southwest Missouri State University offers the following recruitment strategies:
1) Publicize information concerning the needs in the community and the opportunities to volunteer.
2) Organize team projects in which employees work together as a group on a volunteer project.
3) Recognize employee volunteer contributions through articles, awards and commendations.
4) Encourage participation in volunteer projects that develop job related skills or benefit the company and acknowledge the participation in job performance evaluations.
5) Offer release time or hours off from work to participate in volunteer activities.
Your company may be much smaller than GE Healthcare, but that's OK—maximize the skills and abilities of your team and you can still make a big difference. Mr. Ethington told me, "At Camp Kostopulos, we work with any volunteer, whether it's one person or many. We have projects of many sizes that involve maintaining the buildings and grounds: repairs, painting, landscaping and building fences. A small company with just a few employees can come in and complete a specific project and see something tangible at the end of the day. They can look at their work and know that their efforts will have a lasting impact."
Are you or your company doing something this week to show some volunteer spirit? Inspire us by sharing it below or go over to our Facebook page and post your volunteer plans.
1. President Barak Obama, Presidential Proclamation – National Volunteer Week, 2012. April 9. 2012.
2. D. Lewin, "Community Invovlement, Employee Morale, and Business
3. Dane K. Peterson, "Recruiting Strategies for Encouraging Participation in Corporate Volunteer Programs" Journal of Business Ethics, 2004Performance" IBM Worldwide Social Responsibility Conference, 1991.