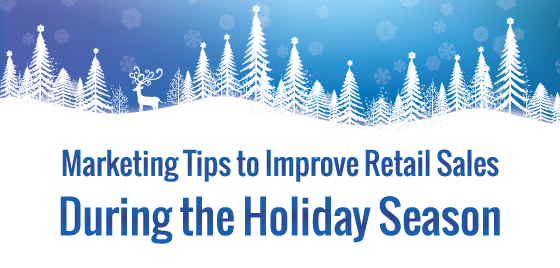 It's that time of year again! Time to ramp up your marketing to improve your holiday sales. I know what you're thinking, but don't sigh with angst yet. As a small to mid-sized business, you may be thinking that time and money stand in your way of implementing new and effective marketing tactics. You have a valid concern, but you might want to consider the quick and affordable ways to better market your store that we've provided below.
Online Strategies
There is no debate that the holiday shopping season has become a very digital one. More than half of consumers plan to do their holiday shopping online, and online shoppers expect to spend 20% more than other shoppers for the holidays. With this in mind let's look at some digital strategies to use to generate more sales this holiday shopping season.
Promote Your Website
Not only should you have a well designed and easy to use website, it's crucial to make your website known. The tactics that one can use are many but at the very least you should be following best practices of search engine optimization (SEO), leveraging maps optimization if you're a small local shop and using pay-per-click (PPC) advertising weather you're a big or small retail store.
Having said that, the quickest way to promote your website for the holidays would be to use a PPC campaign. It's a fast way to get your holiday site found on the search engines. It's also something you can turn off quickly when the holiday season is over. But needless to say it also comes with a potentially high short term cost. So if you decide to use PPC as your main tactic make sure you do so in a way that generates a positive return.
Discount Coupon Websites and Apps
Besides your website, consumers will be visiting discount coupon sites as well.
In a recent survey, consumers gave online coupons a 3.4 out of five for their impact on their purchase decisions. With many people still feeling the impact of the down economy, there's still an increased tendency to seek coupons and sales. Give those seeking discounts what they want but be sure to not discount too deeply since not everyone is price sensitive.
Consider posting discount coupons on sites like RetailMeNot.com, Groupon.com and LivingSocial.com, each of which provide an app for mobile users; mobile shopping being huge these days.
Facebook Sponsored Stories
If your business has a Facebook page you might want to consider a Facebook Sponsored Story ad since they receive 52% more clicks than the standard Facebook ads in the right column.
A Sponsored Story ad is an ad that appears in your News Feed whenever a friend Likes a branded Facebook page. It's word-of-mouth at the click of a button; word-of-mouth being more powerful than anything you can tell the consumer yourself (more on this soon).
With 80% of consumers saying they're more likely to try new things because of a suggestion from a friend through social media, A Sponsored Story ad will definitely help your holiday sales.
Offline Strategies
If you're fully immersed in digital marketing, you may see offline publicity methods as old fashioned, but the old methods of gaining publicity via offline channels can still be very effective. Consider implementing a more personable approach into your holiday marketing strategies this year by trying a couple of the methods outlined below.
Appeal To All The Senses
This is a special time to show off your store as more people are passing by with the aim to come in and buy! Entice new and old customers alike with snacks and hot beverages, preferably something that gives off an aroma. Cinnabon in particular does this well. The smell of fresh cinnamon rolls drives customers to buy something they never planned on buying. For retail stores the usage of different senses can play a big role in getting people into a store where they can make a purchase.
Support a Charity
Around this time of year, there is ample opportunity to give back and support a charity. Research a local charity event that your business can get involved with or start your own. Invite partners, employees, and customers to participate and be sure to designate a photographer to document it all. Your customers will appreciate your values during the season of giving. Not only do you help a local charity and build good will with current and potential customers, but there should be a secondary digital impact of being mentioned in local press and media outlets.
Show Your Thanks
Recognize the faithful customers and clients who keep you in business. Send out small holiday gifts to those on your mailing list and keep a stash on of extras in the store for your regular customers that you'd like to thank. These gifts may lead to more sales as people often reciprocate kindness. Though even if your gifts don't lead to purchases right away it is another method to build good will for the long term health of your store.
Promote Face-to-Face Word-of-Mouth (WOM)
More powerful than social media WOM is face-to-face WOM. Getting a product suggestion through a face-to-face chat with a friend or family member influences more purchase decisions than any other purchase influence.
As the holidays approach, ask your customers to refer you to their friends and family. Provide them a discount if they do so as well as an easy way to facilitate the referral. Try giving your customers discount cards they can pass along to their friends.
Increase Your Staff
One quarter of all retailers plan to increase their in-store staff as compared to last year. Even if this is just one person, you can make a difference in peoples' purchase experience.
Some consumers want to be left alone and never ask for help while shopping. Others want product input, advice or just someone to acknowledge them. Having enough people on hand during hectic shopping times can make the purchase experience that much better which can lead to more purchases and even return purchases.
Use Signs
Did you know that 85% of your customers live within a five mile radius of your business? Did you know that 50% of new customers learn about your business from your on-premise signs?
Signs are crucial for small to mid-sized retailers and they're extremely affordable. Having banners, window decals or vehicle decals in place is a quick way to spread the word about your holiday offerings.
Find a print shop that can not only print quick, quality work but has the ability to help design your content. This will get your signs to you sooner since you don't have to design them yourself.
There you go! You're on your way to implementing new and effective marketing tactics that will improve your holiday sales quickly and affordably. Sigh with relief.