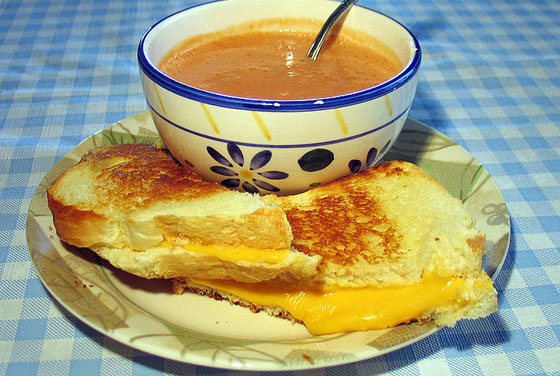 Happy National Grilled Cheese Day! At Signs.com, we have special love in our hearts for grilled cheese goodness. Those tasty sandwiches evoke memories of childhood rainy-day lunches with grilled cheese and a bowl of tomato soup, and college days when all we could afford was the neon-orange "processed cheese product" slices on day-old bread. If we could offer you signage made with grilled bread and melted cheese, we would. But that would be kind of messy, so instead, we're offering two things: a marketing tip and our favorite grilled cheese recipe so you can munch while you learn.
The World's Best Grilled Cheese Sandwich (according to Catherine)
Two slices of whole wheat bread (to make it healthy)
Softened butter
Sliced gouda or havarti cheese
Fresh basil, finely chopped
Slices of ripe tomato
Butter one side of each slice of bread. Place one slice, buttered side down in a heated skillet (not too hot!). Place slices of cheese on top, followed by tomato slices, basil and another layer of cheese. Top with the other slice of bread (butter side up). Let everything slowly grill and melt until toasty, then flip the sandwich and grill the other side. Yum…
Now for the marketing tip:
If you're a restaurant with grilled cheese on the menu, you should be promoting today's holiday. Hang a banner or place a yard sign in front of your store to alert passing customers about National Grilled Cheese Day. Send out Tweets about your celebration, put a posting on Facebook and other social media sites. Send out a press release.
And here's the big secret . . . there are countless crazy national holidays to fit any business. Here are some more crazy holidays in April (we didn't make these up!):
For Every Business:
April 19th Get to Know Your Customers Day
April 25th Administrative Professionals Day (Secretary's Day)
April 25th National Red Hat Society Day
For Restaurants:
April 13th National Peach Cobbler Day
April 14th National Pecan Day
April 15th National Glazed Spiral Ham Day
April 16th National Eggs Benedict Day
April 17th National Cheeseball Day
April 19th National Garlic Day
April 23rd International Macaroni Day
April 23rd National Zucchini Bread Day
April 24th Pig in a Blanket Day
April 27th National Prime Rib Day
April 29th National Shrimp Scampi Day
For bookstores:
April 12th Drop Everything and Read Day
April 12th Support Teen Literature Day
April 14th Dictionary Day
April 27th National Haiku Poetry Day
April 23rd Talk Like Shakespeare Day
April 23rd World Book & Copyright Day
April 26th Poem in Your Pocket Day
For Clothing Retailers:
April 12 Walk on Your Wild Side Day
April 17th Nothing Like a Dame Day
April 18th National Wear Your Pajamas to Work Day April 20th Husband Appreciation Day
For Pet Stores:
April 17th Bat Appreciation Day
April 18th Pet Owners Independence Day
April 21st Bulldogs are Beautiful Day
April 25th International Guide Dogs Day
April 26th National Kids and Pets Day
April 27th National Hairball Awareness Day
April 28th World Veterinary Day
April 29th National Pet Parent's Day
For Candy Stores:
April 12th Licorice Day
April 21st National Chocolate-covered Cashews Day
April 22nd National Jelly Bean Day
For Stores with Children's Products (clothing, toys, educational):
April 13th Scrabble Day
April 18th International Jugglers Day
April 22nd Earth Day
April 24th National Teach Your Children to Save Day
April 28th Eeyore's Birthday
For Sporting Goods Stores:
April 20th Husband Appreciation Day
April 27th Babe Ruth Day
For Movie Theaters:
April 23rd Movie Theatre Day
For Music Stores:
April 21st Record Store Day
For Beauty Salons and Spas:
April 17th National Stress Awareness Day
April 25th Hairstylists Appreciation Day
April 28th World Tai Chi Day
April 29th National Dance Day
April 30th Hairstyle Appreciation Day
For Plumbers:
April 25th Hug a Plumber Day