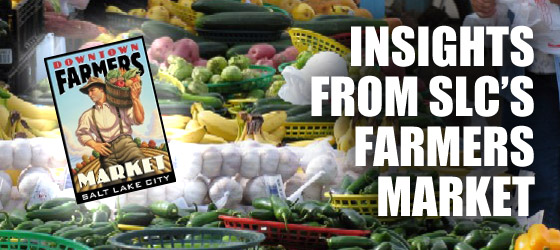 One of the best things about summer is the fresh produce. Juicy watermelons, sweet corn, ripe red tomatoes . . . I could survive on just those three food items all season long! Here in Salt Lake City, we have a weekly Farmers Market every Tuesday evening and Saturday morning. The market has evolved over the last 20 years, and now it includes an Art & Craft market. With the addition of dozens of crafts vendors, the Salt Lake City Farmers Market is now one of the largest community markets in the Western United States, with over 250 booths.
I recently spoke with four vendors at the Downtown Alliance Farmers Market. I asked them about their businesses and how their participation in the market increases sales.
Manis Home Spa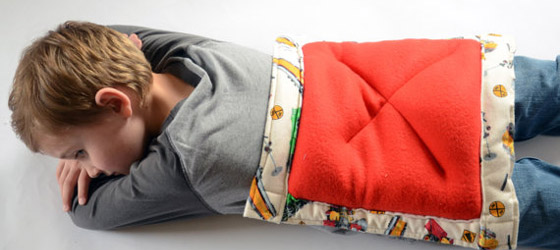 Amanda Philips has been in business since March. Her company, Manis Home Spa, sells hot/cold rice therapy packs in a variety of unique shapes and sizes.
Catherine: How did Manis Home Spa get started?
Amanda: I was injured at work last December. I bought a rice pack, but quickly found that all the rice fell into one end of the pack. So I designed and made my own pack that was stitched into smaller sections so that the rice would stay in place.
I made some for the girls at work, and the business just took off from there. People loved the packs and told me I should sell them. I set up an Etsy site and started doing custom orders for people.
Catherine: When did you get involved in the Downtown Farmers Market?
Amanda: I applied at the Downtown Farmers Market last spring and started displaying when the market opened in June. I'm slowly getting my product out there. In addition to Manis Home Spa, I work part-time as a surgical tech and have two kids at home.
Catherine: How does the exposure from the market help you with your business?
Amanda: It's done well for me. I'm more than breaking even.. but you have to start somewhere. I'm trying to pay attention to what people are asking for. I take in everything that people at the market say and make a log of what people are wanting, so I can be sure to create products that sell.
The farmers market helps me get my name out there and gain insight from potential customers. It's a learning experience.
Catherine: What kind of signage do you have to advertise in your booth?
Amanda: I have a big vinyl banner on the front of my booth. My sign is actually one of the mistakes I've made with my business. Instead of putting information about what I sell, I just put my name. So people often come up to the booth and ask me about what I do and I have to spend time explaining that instead of talking to them about how the product can benefit them.
You can check out Manis Home Spa at Etsy: http://www.etsy.com/shop/ManisHomeSpa and on Facebook.
Star Gazer Designs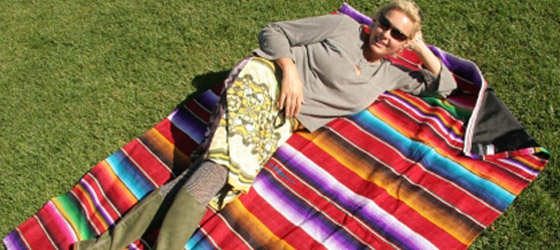 Heidi Keilbaugh has been in business for 2 1/2 years. Star Gazer Designs creates and sells Concert Comfort™ All-Purpose Waterproof Blankets. The blankets are bright, colorful Mexican Satillo blankets that are lined underneath with a heavy duty waterproof liner.
Catherine: How did Star Gazer Designs get started?
Heidi: We attended many outdoor concerts at Red Butte Gardens. At the concerts, everyone shows up early, spreads out a blanket to stake out their territory and eats a picnic dinner. We bought a concert blanket but it was far too small for us and our friends to spread out and eat. I went through my closet and picked out an old Mexican blanket and lined it to make the first prototype. We started taking it to concerts and all our friends wanted one. Eventually we started a website, and it's been slowly growing. This is our second year at the Downtown Farmers Market.
Catherine: How does the exposure from the market help you with your business?
Heidi: I look forward to going to the market every week. It's a great place to get exposure. Even if you don't sell a ton, everyone is interested. Customers purchase blankets for themselves and for gifts. Most of my business is still online, but people see my booth and the bright blankets and eventually many of them check out the website.
Catherine: What advice do you have for new business owners who might be interested in displaying at a farmers market?
Heidi: Don't give up if you get denied. It can be tough to get accepted at the Downtown Farmers Market; my application was denied the first year. Make sure you get good pictures of your products for application. It's also important to plan ahead, especially if you know you'll want to be participating in shows. I did a lot of product testing and research, so that by the time I was accepted with my second application, I felt confident that the blankets were durable and that my customers would be satisfied with the quality.
Visit Star Gazer Designs at: http://concertcomfort.com/
Beehive Soap and Body Care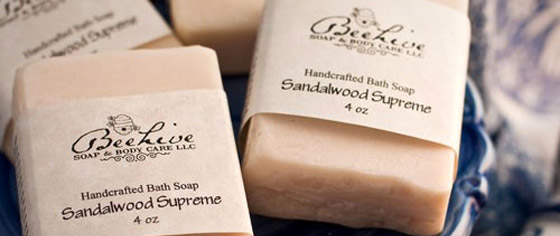 Tami Thornton started Beehive Soap and Body care three years ago. The cold process soaps are handcrafted and come in a variety of frangrances for men and women. Other products include shampoo, lotion, body scrubs, bath salts and lip balm.
Catherine: What are some of your goals for your booth at the Downtown Farmers Market?
Tami: There's two main things I'm trying to do: conduct market research and sell product.
The Farmers Market is a great way for me to interact one-on-one with customers and figure out what people like. I can try a new fragrance and get an immediate reaction from people. It's great to do test marketing before I offer a new product on my website.
I sell a lot of product at the market. If I can get the product in someone's hands, they're likely to order again or think of me at Christmas when it's time to buy gifts.
The Farmers Market is great marketing exposure to get my brand out there, whether it's retail customers or wholesale accounts. When people think of handcrafted soap, I don't want them to just think of any soap, I want them to think of me.
Catherine: You're also involved in some of the smaller farmers markets. Tell me about that.
Tami: I started with the Herriman Farmers Market. It was much smaller, but I was too late to apply for the Downtown market. The small markets are great, though. At the Sugarhouse market, I even got on the morning news! A station was highlighting the farmers market there and the governor even stopped and bought soap from my booth.
Catherine: What kind of signage and branding do you have in your booth?
Tami: My sign is nice and bright with my logo and a tagline: "Soap so nice.. you'll want to lather up twice!" I wear an apron in my logo colors that has my logo on the front. I have a stack of business cards handy and also offer people a brochure that is produced by the Handcrafted Soapmakers Guild that explains why people should buy handcrafted soap and what makes it special. I also have a sign-up sheet so that people can sign up to receive my newsletter. I'm always branding with my colors and logo.
Catherine: What would you say to a business owner that is thinking about joining a farmers market?
Tami: I would definitely encourage someone to get involved with farmers markets. It seems like there's a real trend over the last couple years to support local businesses and people who attend farmers markets are really all about supporting local. You don't have to try to sell your goods cheap; people aren't necessarily looking for cheap prices; they want to feel like they're making a difference and they like supporting local crafters.
My advice is to make sure that the farmers market offers produce. There are craft markets out there, but they don't have as large a turnout. Many people come for the produce and buy craft items while they're there.
Learn more about Beehive Soap and Body Care at http://www.beehivesoap.com/
Green Bus Bags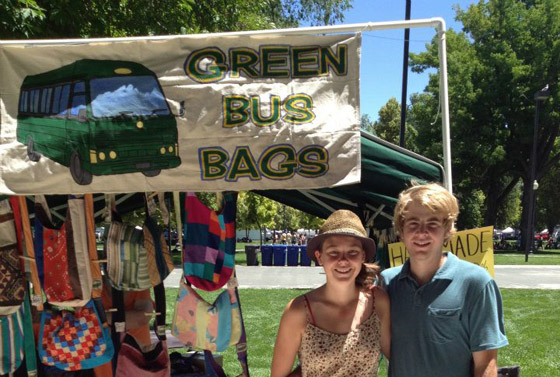 Brooke Larsen and Jake Heiner are local college students who create environmentally sustainable bags and accessories from recycled fabric from clothing found at thrift stores. They spend the winter creating the bags, then sell them in the summer during their break from school.
Catherine: How did Green Bus Bags get started?
Brooke: We visited a relative in Australia last year and while we were there we met some people who were making similar bags from recycled fabric. Those people drove around Australia, selling the bags out of their green bus. They were the inspiration for our bags, so we named Green Bus Bags in honor of them.
We started last year by selling bags in order to fund a trip to India. Then we got the idea to make it into a business and see if we could sell bags at the farmers market.
Catherine: How does the exposure from the market help you with your business?
Brooke: Since we're college students and don't have a lot of time, we are only selling the bags through the Downtown Farmers Market, but business is good. We sell 7-8 bags at the market every weekend. We also have a Facebook page.
Catherine: What kind of signage and marketing do you have in your booth?
Brooke: We have a large hand-painted sign made of canvas, which goes well with the bags. The sign features our Australian mentors' green bus and we get a lot of questions about that. People love the bus.
Check out Green Bus Bags on Facebook.