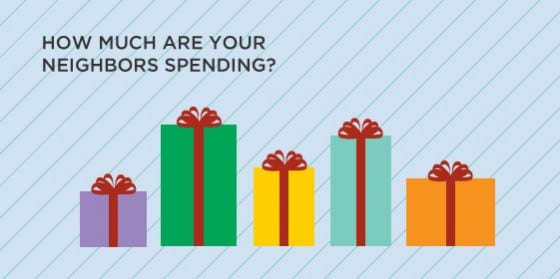 OK, let's be honest. On Christmas morning, after everyone has torn asunder the wrapping paper and you're sitting in the middle of a huge pile of consumer goods, two questions come to mind: How long is it going to take to pay off the Visa? And, How much do the neighbors spend? Today you get the inside scoop. I spoke to eleven people who were willing to be honest with me about what Santa is bringing this year and how much it's all costing, as long as I promised to keep their identities anonymous (the names I've used aren't the real names of my interview subjects).
Santa Is Confident in the Economy
Several of the people I interviewed told me that they were feeling pretty confident about the economy. Mike said, "I've still got my job. Not too worried about losing it anytime soon; I'm in a field that always needs good people. And I do OK. So I did do a lot of shopping this year." Mike estimates that he's spent about $2,500 on presents for his wife, kids and grandkids. And he plans on giving another $250 to charity.
Jocelyn was also feeling pretty good about her economic situation. She's a stay-at-home mom with four kids. She said, "We're really lucky. We have a nice home. We just bought a new van. And everyone pretty much has what they want. This year we're getting new family room furniture. The teenagers are getting the iPhone 5 and the little kids are getting a bunch of toys. It's a good year." Jocelyn thinks she's spent around $6,000, which includes the new leather furniture, but not the new minivan.
"We're getting something priceless for Christmas!" said Brooke. She and her husband Tim are adopting a baby. "It's not exactly priceless," remarked Tim, "She's costing us about 20 grand. So Christmas presents? No. Formula, diapers, a crib. And a baby. We couldn't be more thrilled."
Santa's Bringing Toys with Motors
While a minivan might not be your neighbors' idea of a great Christmas gift, other motorized toys are. "We're finally getting new four-wheelers," said Rob, a father of three who works for Union Pacific. "I've wanted to upgrade for a long time, and this is the year. I got a killer deal on two new side-by-sides and a new trailer." The cost for these toys? "Somewhere in the neighborhood of $20,000. I'd rather not think about it," said Rob, who admitted that he had financed the purchased at a low interest rate offered by the dealer.
Michelle told me that her son is finally getting the dirt bike he's wanted for several years. "My husband got a bonus at work this year, and that will pay for my son's dream present." The cost? $4,500. Plus another $550 for the safety gear and helmet.
Some Santas Have Lower Budgets
Not everyone is feeling quite as flush as Rob, Michelle, Jocelyn and Mike. Pat says that he's feeling the strain of bills and debt, so he'll be having a smaller Christmas this year, "I'm still paying off the bills from last year's fiasco," he said, "This year it's a cash-only Christmas. I'll drop around $500 on gifts for everyone on the list. Which means that they won't be getting much. But I won't be killing myself all year to pay for their goodies, either."
Nora, a young mother with two kids, says she never spends much on Christmas gifts. "We like to focus on the real reason for the season; the birth of Christ," she told me. "We get the kids a few toys and we usually make something homemade for family members. We usually spend around $250 total on everything. I just don't think that the holiday is meant for spend, spend, spend."
Christine, Nora's friend, agrees. "It's not about the getting. It's about the giving. The giving of your time. Your love. Your compassion. I spend the year crocheting hats and booties and making quilts for the children's hospital and donate them at Christmas. I think it's a good time to remember what you already have… not think of all the things you can buy." Christine says she'll spend about $100 on gifts for family members.
A Smaller Christmas by Necessity
While Nora, Christine and Pat all chose to spend less money during the holidays, some people were having a smaller Christmas by necessity.
Marshall lost his job in the insurance industry six months ago. He has five children: four teenagers and a seven-year-old. Despite sending over 300 resumes for jobs all over the country, he has yet to find work. He told me that his family won't be buying anything this year. "Instead, we'll just have a nice dinner and be thankful that we have each other," he said.
Jean will also be having a fairly austere Christmas. "There isn't much under the tree this year," she said. "We owe over $75,000 in medical bills and I'm sure there's more on the way. I'll bake some cookies for the neighbors and get my niece a toy. Otherwise, we'll be sending money to the hospital."
What Really Matters?
I asked everyone who spoke with me what they thought about their neighbors' spending habits over the holidays. They unanimously agreed that they didn't really care about what the neighbors were getting for Christmas. Even those who were spending large sums of money were circumspect about their purchases. Rob said, "This year is a huge year. I spent a ton of money. But other years we've only spent $500 or so. It's not that we want to be all flashy and say, 'hey neighbor, we got cool stuff this year!' I thought about what my family loves to do and figured that life is too short not to go for it. Next year, we'll be back to a much smaller budget."
Those who were having small Christmases, whether by choice or circumstance, told me that they welcomed the opportunity to think about the other reasons for Christmas.
For Nora, the holiday is about the birth of Jesus and has great religious significance. For Christine, who admitted that she's not particularly religious, the holiday is about giving back to those in the community.
Marshall and Jean both said that, while times are tough right now, their family is what really matters. They'll focus on other things this year, like baking cookies, reading Christmas stories and watching Christmas movies on television. "It's about being together," said Marshall, "Who cares about having the biggest TV or the most presents under the tree? We have each other and that's what matters the most."
We agree. So no matter what your holiday budget, we hope that you have a meaningful, fabulous holiday. And the neighbors? Bake 'em some cookies. And if you're nice, maybe they'll take you for a ride on their new four-wheeler.