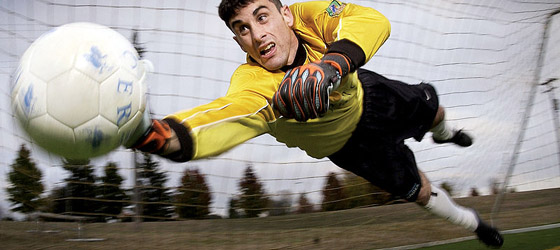 When my daughter, who will be a freshman this year, wanted to try out for the high school soccer team this summer, I was concerned. This is the year her grades really start counting toward college admission. And she has a tough schedule: all honors classes plus an orchestra extra-curricular (she plays the violin). In addition, she'll be adjusting to the high school environment and will be getting a learner's permit to drive this fall. The stress and pressure of athletic performance might prove to be too much. But then I read a recent article in the Los Angeles Times.
Student Athletes Compete Academically, Too
In June, reporter Eric Sondheimer wrote that a new study by the Los Angeles Unified School District found that students who participate in high school sports have better attendance and higher grades. A memo by Barbara Feige, the commissioner of athletics for the district stated, "What was proven is that students in our schools who participate in athletics attend school significantly more often, have higher GPA's and score higher on the [California Standards Tests] in both English and math, when compared to the rest of the student body." The 35,000 students in the district who are involved in high school sports attended school an average of 21 days more than other students during the 2010-2011 school year. And their GPAs were between .55 and .74 higher than non-athlete students.
Support Matters
The study didn't have definitive answers for why student athletes are performing better academically than their peers. But high school sports teams require a minimum GPA for participation, so kids have to pay attention to their grades if they want to play. And if most parents of high school athletes are like me, I imagine they're keeping a close eye on the homework to ensure that sports involvement isn't affecting academics. Support is critical to all high school students, but high school athletes will benefit from your support of their sport, too. Here are a few ideas to help you rally at game time:
First, Learn the Rules
I'm a writer, not a sports fan. When my daughter began playing soccer I had no idea what "off sides" meant or what a yellow card was. If you're going to be the supportive parent in the stands, you've got to learn the rules of whatever sport your kid is playing. Mainly so you don't look stupid by cheering at an inappropriate time, but also because the game is much more interesting when you know what's actually happening.
Attend Every Game
This can be tough for some parents who work evening shifts or travel a lot for their jobs. But if you're not there, who's going to cheer for your kid? Do your best to attend every game. Your daughter might not say that she wants you there. And if you ask, she'll probably just roll her eyes and say, "whatever." But secretly, she likes the idea of you sitting in the stands, watching her shine.
If you can't attend a game, come up with an alternative. Have someone videotape the game and when you get home, host a game review party with popcorn and snacks.
Signs of Your Support
Every die-hard sports fan owns multiple signs for their team. You should be no exception. Think of all the different kinds of signs you can design, and the different ways you can use them to show support.
Design a window decal (or several) for the family car. Include your son or daughter's name, number and school. Window decals can also be placed on the windows of your home.
On game days, add car magnets to the car, refrigerator and any other magnetic spot (the garage door, perhaps?)
Place a game-day custom vinyl banner on the front lawn.
Yard signs are lightweight and waterproof, so they make great stadium signs. Create several and pass them out to friends and family during the game. Keep them in the trunk with your stadium blanket and seats so they'll always be handy.
Start a Blog
Keep friends and relatives in the loop by starting a blog for your high school athlete's team. You can post interviews from the players, video of great game moments and play-by-play commentary. If you don't have the time or desire to write about every game, get other parents involved so they can post articles, too.
Social Media
Share your high school athlete's triumphs on Facebook. Send out Tweets with updates during the game. By using social media to support your student, the net of support widens and your student will have even more people rooting for his success.