Yesterday we posted an overview of our new design tool. Today we wanted to show you a few more of our new features, including our personalized account management and checkout process.
With the launch of the new website, Signs.com is now able to bring our customers an easy to use e-commerce platform complete with personalized account management tools. Through an account, customers will be able to create, permanently save and view their sign designs, see all of their order history, and edit their account information.
Creating an account is easy. Once you save a design, hit My Designs in the upper right corner. On the next screen just select Create An Account. Fill out the information and you are ready to go.
The first thing you see once you create an account or log in to an existing account is your Saved Designs. From here you can edit the sign, remove it from your designs or add it to your cart.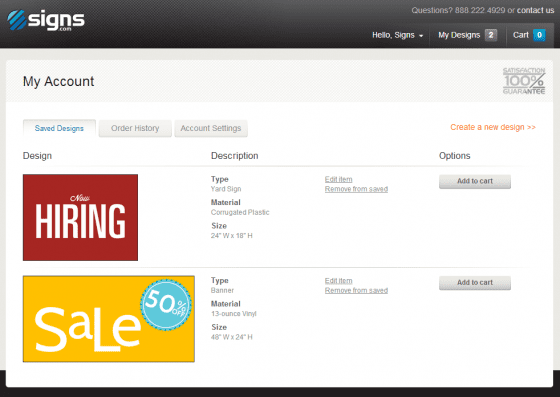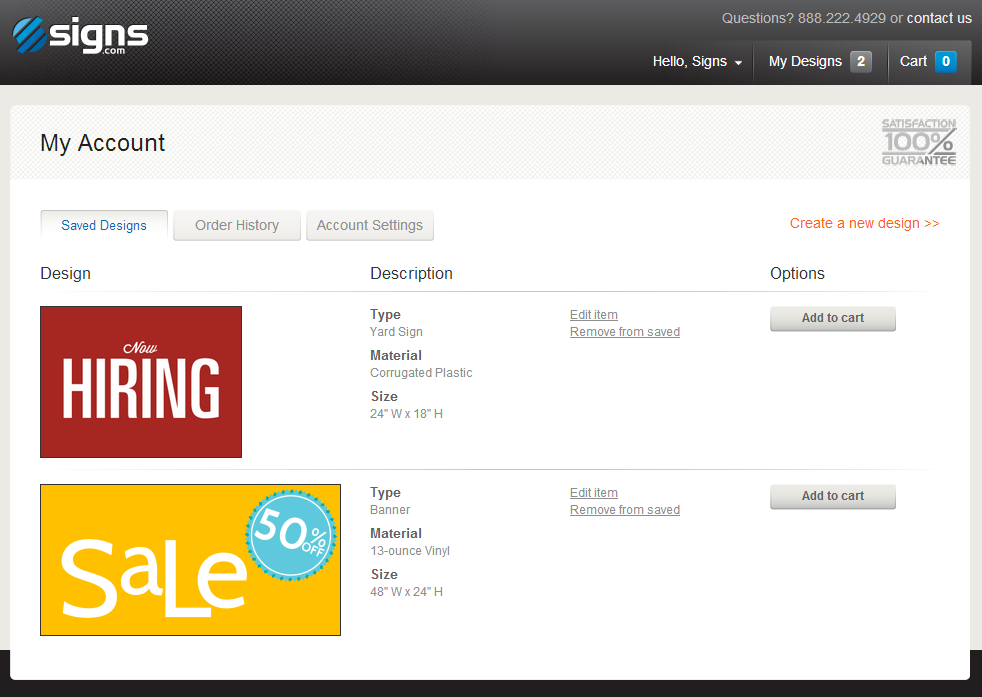 The next tab is the Order History tab. From here, you can review any order you have placed through our site, including order number, the date the order was placed, the total amount of the purchase and the status of the order.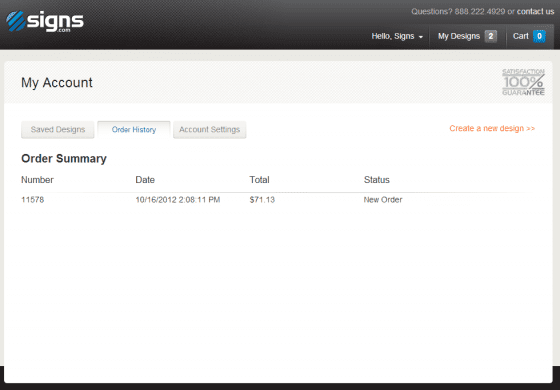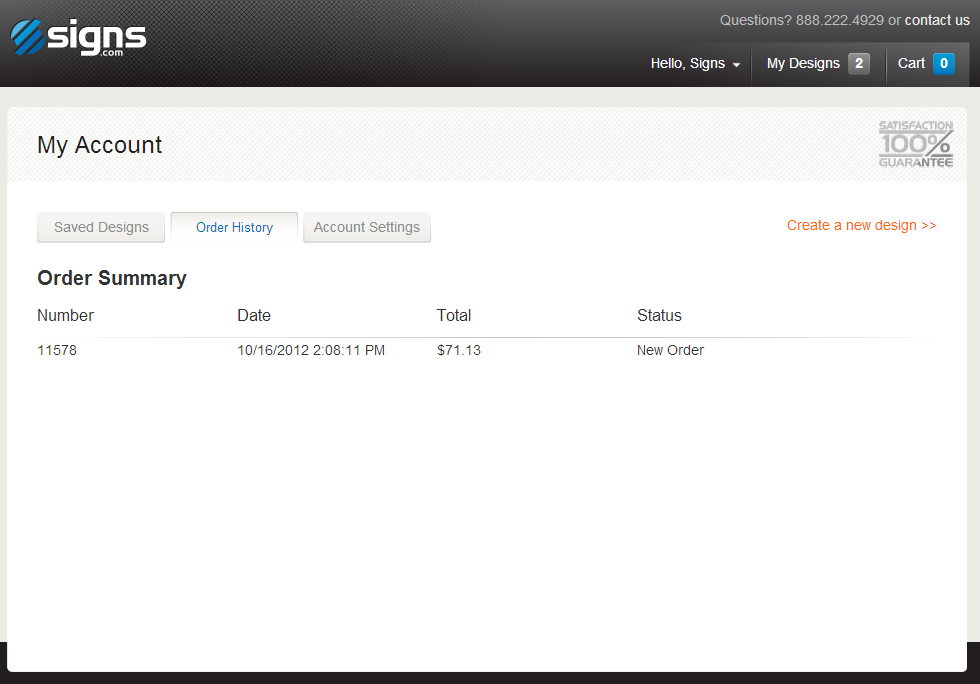 Want to see more details? Just click on the order number and a detailed summary will open. Now you can see the design that was purchased, along with the sign type, material, size and the quantity ordered.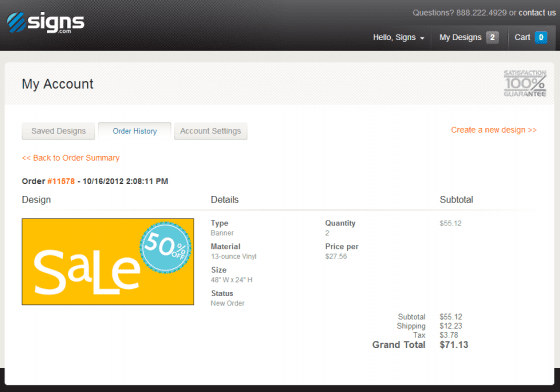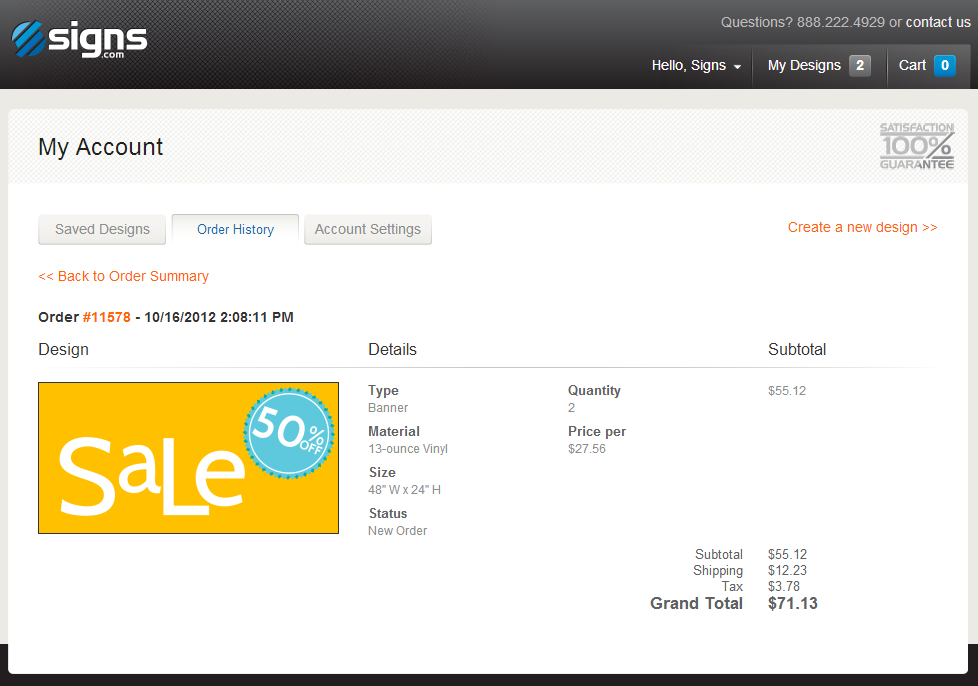 The last tab in the account management screen is Account Settings. On this tab, you can update your personal information and your default shipping address. You can also manage your Signs.com email newsletter subscription (no, we won't be mad if you unsubscribe, but you will miss out on great news, articles and deals). If you need to, you can delete your account by hitting the Remove Account link, but seriously, we can't think of a good reason to do that.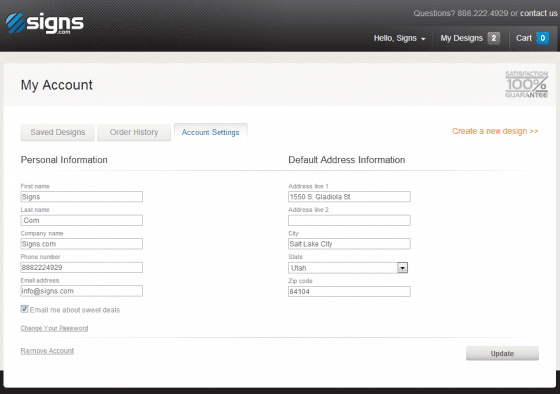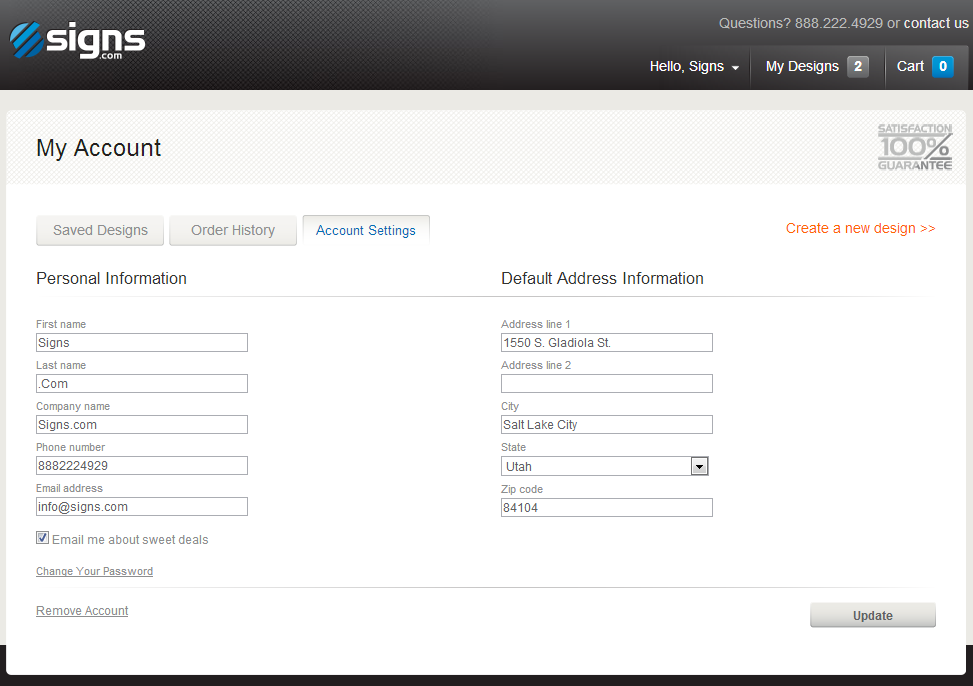 So now you are ready to check out. You can check out easily without creating an account, but our system will not save your designs or allow you to review your order history. Add your design to your cart or click on the cart icon in the right hand corner. This will take you to your shopping cart page. From here you can remove items, edit current items in your cart and change the quantities you would like to order. Once finished, just hit the Checkout button.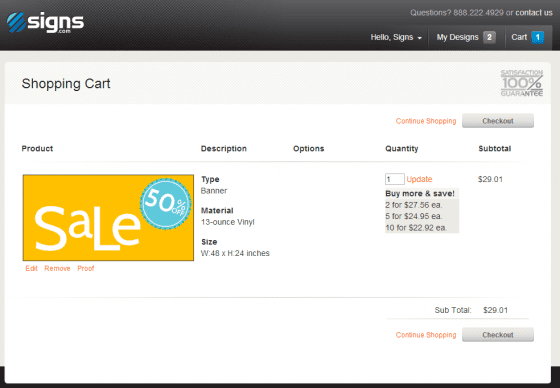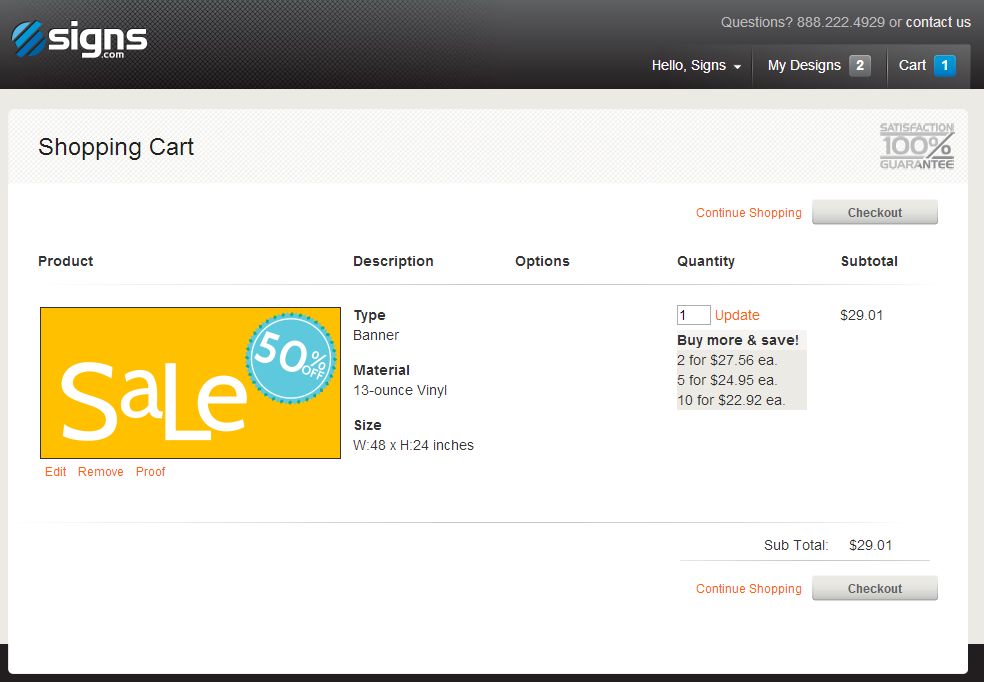 If you have created an account, you will notice that the Shipping Address is prefilled with your default shipping address on Step 1. If everything looks good, just hit the submit button and proceed to the next step.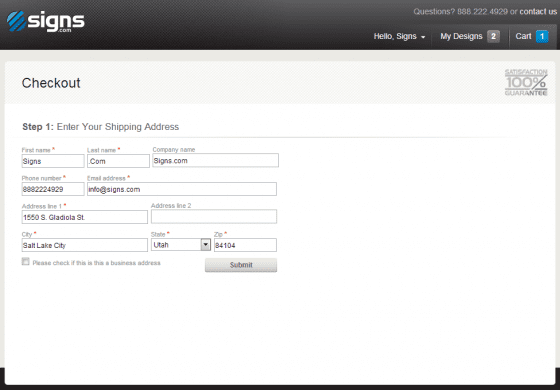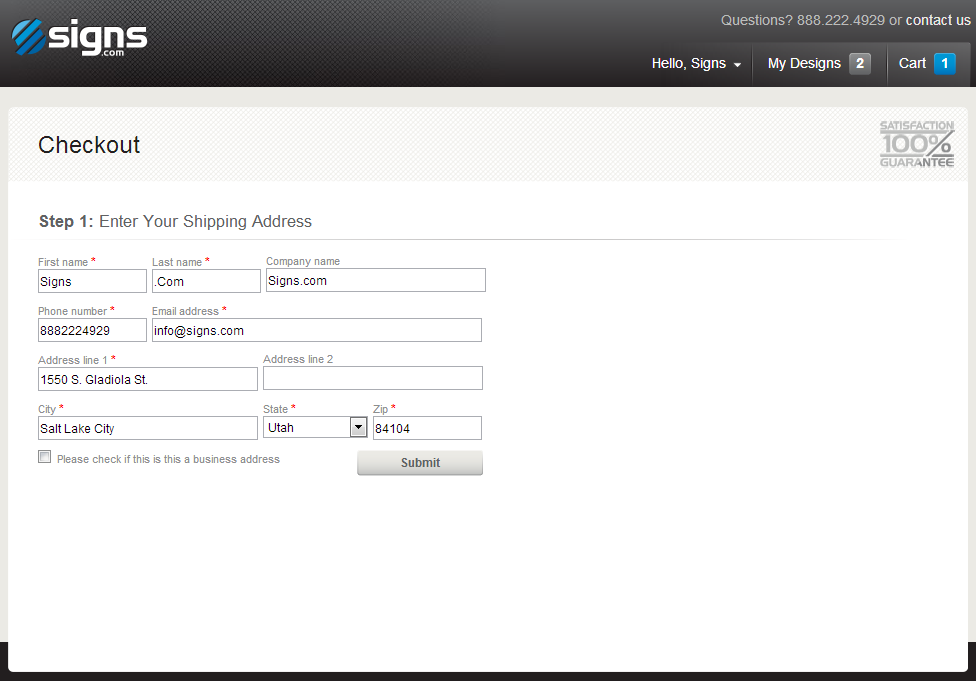 Step 2 of the checkout process allows you to select your shipping options and upgrade your purchase to a "Rush" order.
On Step 3, you can enter your payment information and change your billing address if needed.
Finally, Step 4 shows you a detailed view of your order. Once you are ready, hit the Submit Order button.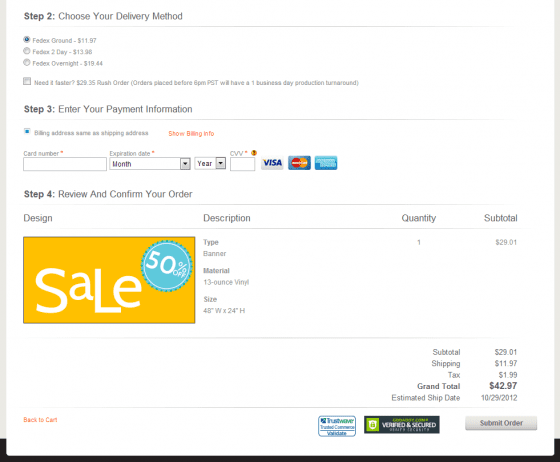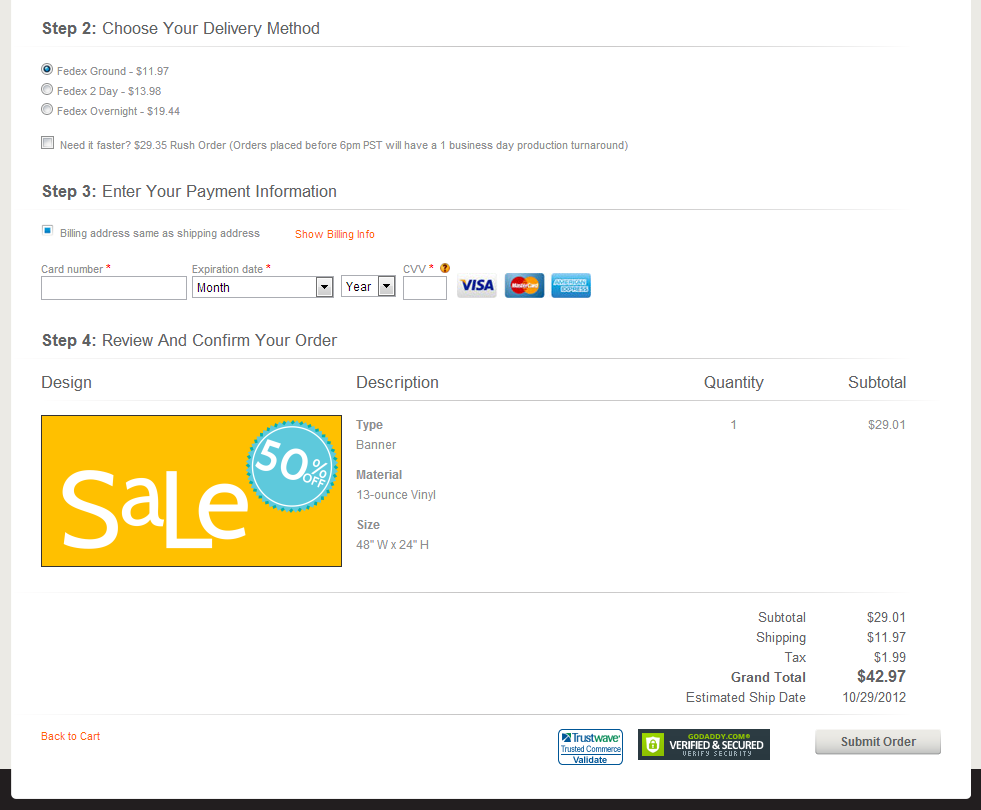 And that's it! You just purchased a sign from Signs.com. Now you can sit back, relax and know that your sign is being produced with the highest quality materials, on the highest quality printers in the industry!