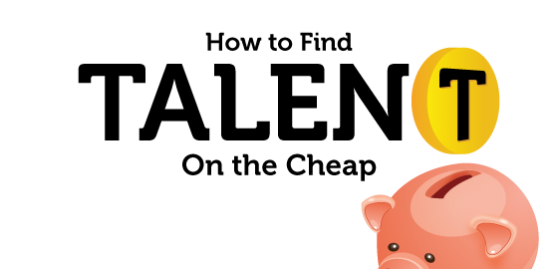 Finding and hiring the right employees is crucial, especially for small businesses. Small business owners can't afford to waste their time, resources or money on hiring the wrong person.
There are numerous ways to find and recruit potential employees. However, a lot of those ways require businesses to spend the big bucks on advertising, and that's something many small businesses just can't afford to do.
Finding talent doesn't have to drain your business' funds. There are plenty of cheap — and even free — ways to find and recruit new employees. You just have to know what they are and how to execute them correctly.
Exterior Signage
One cost-effective way to find the right talent for your small business is displaying "Now Hiring" banners and exterior signs. This is a great form of advertisement for restaurants, smaller retail stores or any small business that's in a location with heavy foot or car traffic. You just need to decide how many you want and then do your research to find the best place to make or purchase your signs at a good price. Some places offer special deals when you buy multiple banners or signs so keep your eye out for any deals or sales. Not only is this a cheap option, it also requires little effort on your part. After purchasing your "Now Hiring" banners or signs, put them up outside your establishment and/or in a window. Then, just go about your normal routine and wait for those who come into your business or pass by it to reach out to you about job openings. Another advantage of using exterior signage is the ability to reuse them and as detailed below, always have potential employees in the queue for unexpected departures or peak holiday needs.
Word Of Mouth
One way to hire cheaply that costs you nothing is word of mouth and employee referrals. Word of mouth hiring has been around for decades. Even with all the recent technological advances and word of mouth type social networks, current academic studies and research still say about half of all jobs come through connections such as colleagues, family and friends! So as a small business looking to find and hire good employees at little cost you should tell family, friends and those in the community that you're looking to hire, and they can help you spread the word. Your employees can also spread the word for your business. Even when you incentivize external or internal help with monetary compensation for applicants who eventually get hired, this method is still a very affordable way to hiring good people. Word of mouth really is unparalleled when it comes to finding new talent on the cheap!
Make It Easy
Making it easy for potential employees to find and contact you is another budget-friendly way to find the talent your business needs. Some companies only allow potential employees to contact them by phone or by coming into their business during their regular business hours. That's not enough. Especially in a day and age where people are constantly connected and used to being able to interact digitally. People need ways to contact you after your business hours. Many people use the Internet to search for jobs and do so during their evenings and on the weekends. If your small business gives potentials the ability to contact you online, as well as by phone and by coming into your business, you have a much better chance of finding the right candidate. This doesn't mean that you still can't ensure they are a good fit through the interview process, it simply provides you with a bigger pool of potential employees to draw from. Your exterior banners and signs can also follow this advice. If you put information on each one on how they can contact you, then you make it an easy, standout way for potential employees to do just that.
Potential Employees Pool
Another inexpensive way to finding and recruiting employees is taking the marketing approach. All this means is doing your recruiting 24/7. When you wait until you absolutely need someone, the time crunch puts a lot of pressure on you and businesses usually end up missing out on the right people expressing interest. Another consequence of this approach is having to pay top dollar to recruiters or job portals to quickly fill a role within your company that can't be vacant. Businesses that wait until people leave to start looking for employees tend to not be as selective when it comes to hiring employees. Don't let this happen to you. Keep your website fresh and updated daily, use social media and again, use exterior banners and signs to your advantage. Make it so when your business is ready to hire someone, you've got the right people expressing interest, you can afford to avoid the expensive forms of advertising openings and have enough time to select the best candidate.
Best In Class
Sometimes you don't even have to go out of your way or spend any money on finding new employees. Sometimes, the talent comes to you. If you've provided a great working environment and your business has a good reputation, people will come to you saying they're interested in working for your company. One of the greatest examples is Google. They've built such a unique culture with a ton of benefits that they attract 2.5 million applications a year, or 6,849 per day! While small businesses often can't offer the same type of benefits, building an awesome culture and workplace will lead to awards that recognize this and attract top talent.  So make sure your business is constantly striving to provide a place employees love to be.
Finding the right talent for your business is extremely important. If you follow these cost-effective ways on how to find employees for your small business, then you'll be able to find, recruit and hire exactly what you're looking for.