Billboards. Everyone has seen them. From highways to downtowns, to the middle-of-nowhere ghost town that you've inadvertently stopped for gas at, there are billboards. Some might call them eyesores but, to businesses and advertisers they're beacons for brand awareness. At least, that's what they're designed for; but do they actually work? With 25% of overall revenue and over 800,000 daily impressions attributed to billboard advertising, Homie – an innovative real estate startup in Utah – is proving that outdoor advertising works.
Click to download the full Homie Infographic
In an age where ad spend is primarily spent on television and digital channels, it's astonishing to hear of company leaning on the effectiveness of traditional advertising through billboards. But that's exactly what Homie is doing; within 18 months they've climbed to the number two realty spot in the state and disrupted an industry by providing a solution that cuts out the traditional real estate agent and their steep fees, while growing the brand in large part due to their ubiquitous and funny billboards across Utah's Wasatch Front.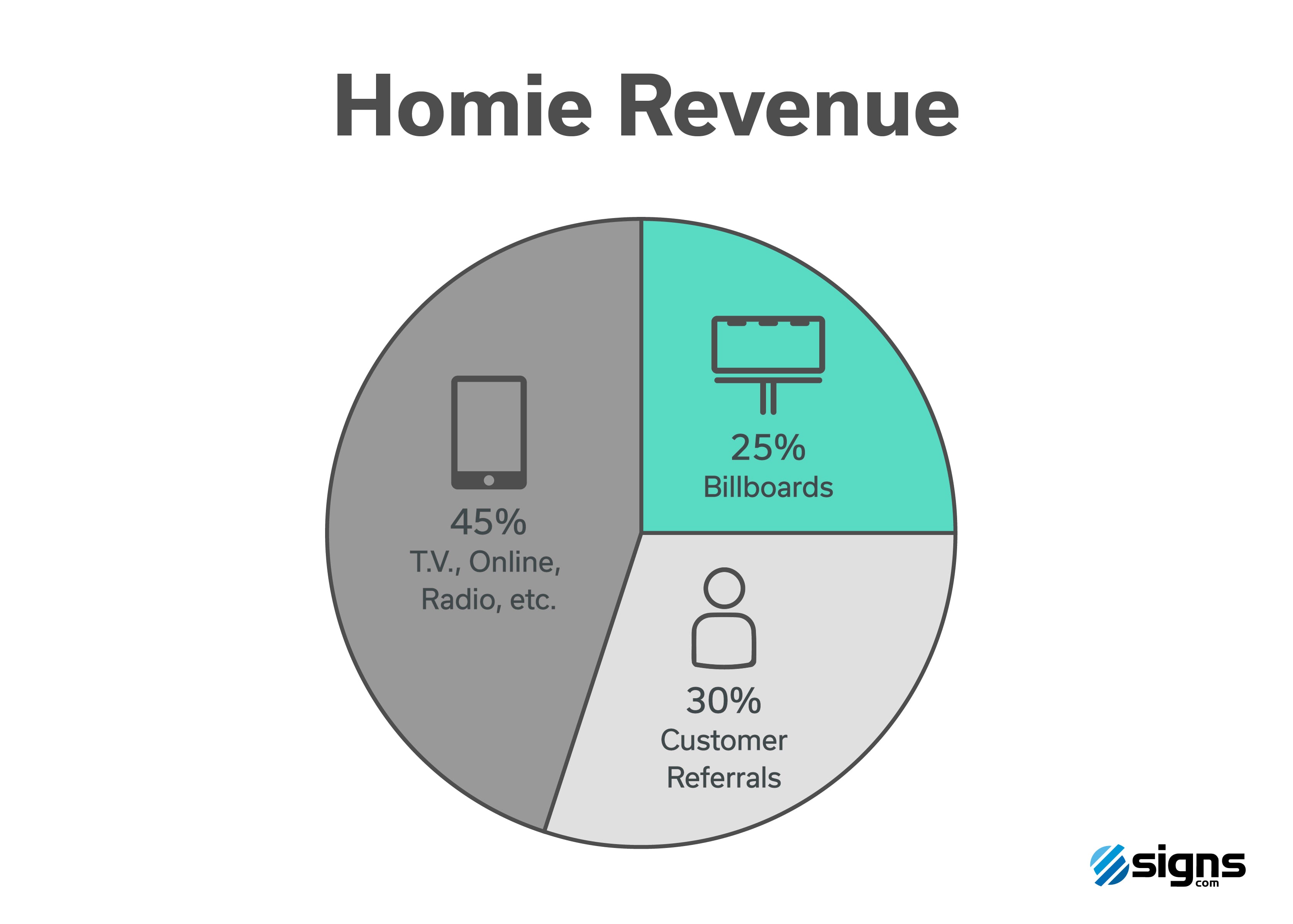 Dave Bascom, Homie's VP of Marketing chatted with us about Homie's billboard strategy, the risks involved, and the high return that can be had by effectively implementing outdoor advertising into a bigger marketing strategy.
Expenses and Tracking
"I was very hesitant. I didn't think it would pay off for us," Dave said about how he initially felt about billboards. "I come from a digital marketing background, where we can track ad spend much more closely. I was doubtful that we could track the effectiveness of billboards. Plus they are expensive so it was a big risk for a startup with a limited marketing budget."
Tracking billboard effectiveness and allocating the funds to maintain a consistent campaign typically deter most small companies and startups. On average, billboard spending in America can range from $1,500 to $30,000 per 4 weeks, per billboard (again, this is on average and can vary depending on the size of the market you're advertising in). Higher-priced billboards are located in larger metropolitan areas and along high-traffic routes. Typically, prime billboard real estate in the Salt Lake City area ranges from $1,500 to $5,000 per 4 weeks, per billboard.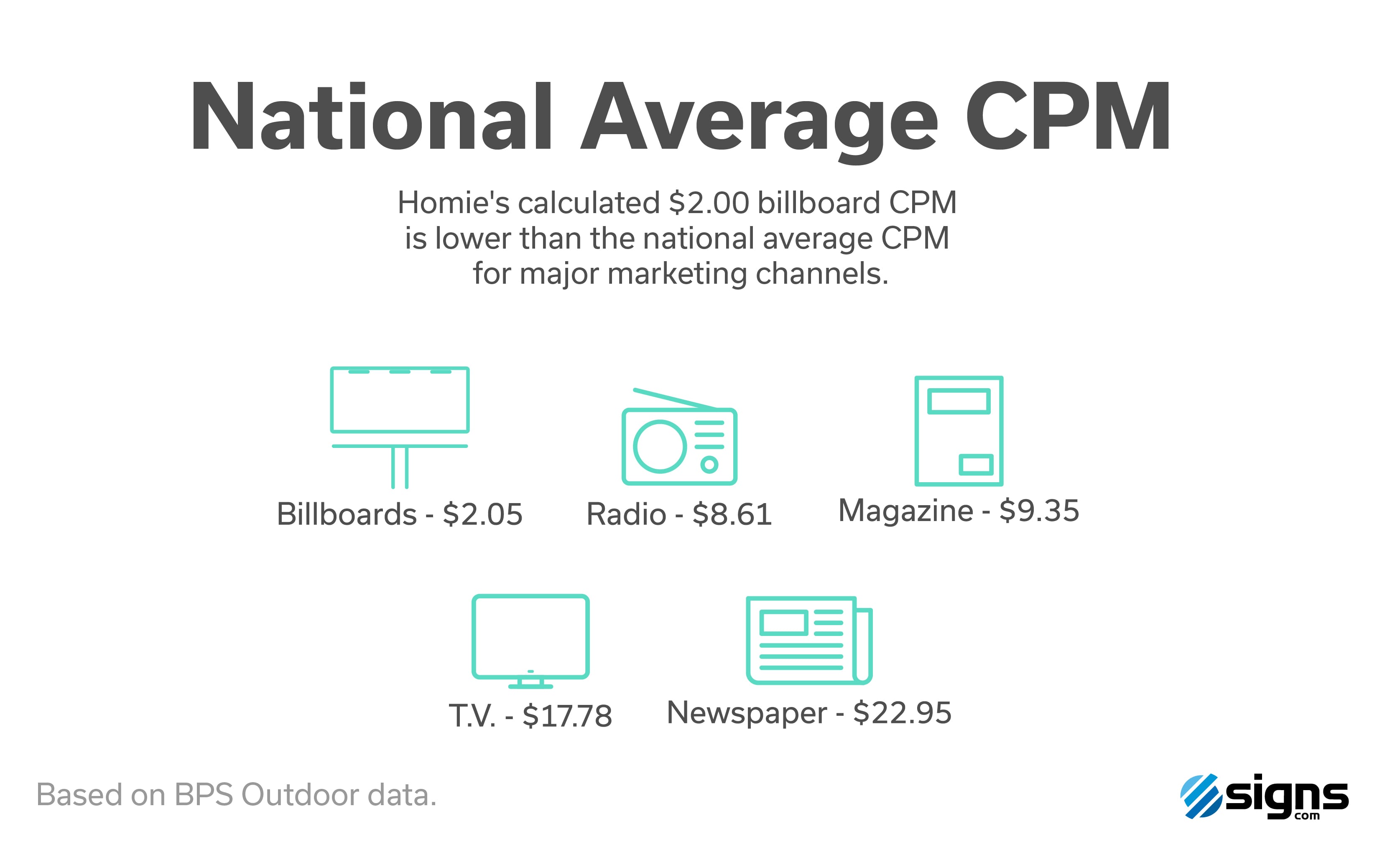 With 15 billboards in circulation along the Wasatch Front (from Provo to Ogden – an 80 mile stretch), Homie has the tall task of measuring billboard performance over a wide geographic area.
"We ask each new customer how they heard about us. A lot of the time they say billboards. In addition to tracking the source of how new signups heard about us, we also do quite a few events and I always ask people if they've heard of us," Dave explained. "Most of the time, they'll say something like, 'yeah, I've seen your billboards.' It's pretty anecdotal, but it has happened so often, it's clear that we are kind of known for our billboards."
It's not a perfect process to acquire data on billboard effectiveness (for obvious reasons), but it is possible to obtain a general idea of how they are performing. Most billboard numbers are  built off of assumptions of number of impressions and trends based off of department of transportation statistics and census data (ie. number of vehicles on the road during a typical timeframe and population size). Brand awareness surveys and URL performance tracking (see below) are viable methods to help track billboard effectiveness.
URL Performance Tracking
The gist of tracking any offline advertisement is being able to attribute an action (in Homie's case, sign-ups and real estate transactions) to someone seeing or interacting with an offline media spend. Analytics can help track engagement with your website from the area surrounding your newest billboard.
Most companies will include a unique URL on the billboard in order to gauge how many people see it and then take a specific online action. As noted elsewhere, Homie intentionally chose not to do this. Thus, for Homie, one way to gauge success is to track a percentage increase in listings or transactions happening in a given area surrounding a new billboard. This can be done in Google Analytics by using "City" as a secondary dimension for site traffic. Further, an overall increase in direct or branded site traffic beginning at roughly the same time or just after an offline advertising campaign is also a general indication on how the campaign is performing.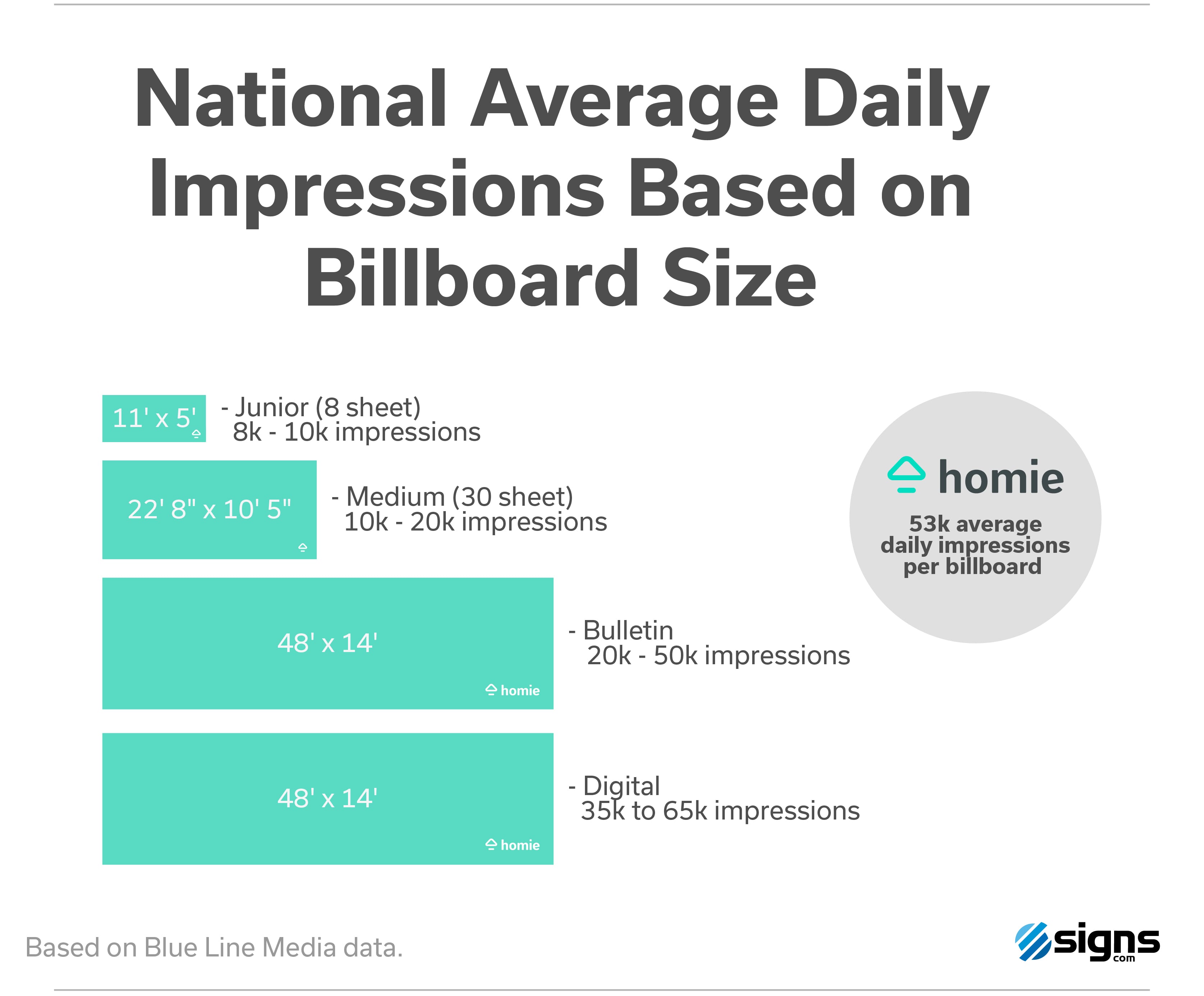 "We started doing billboards pretty early on, so it's probably not fair to pin all of our growth on billboards, but we definitely saw a spike right from the moment we put up our first billboards. As we've expanded the footprint of our billboards, we've seen more listings up and down I-15, mirroring pretty closely where we put up the billboards."
Homie experienced a 100% spike in traffic and listings after implementing their video campaign, in conjunction with the concurrent billboard advertising. The billboards create awareness, which results in online interaction that can be used to attribute or track the effectiveness of the billboards.
The 'mirroring' effect that Dave mentioned can also be used to help attribute some of Homie's astronomical brand growth to billboards and ultimately the unprecedented rise to real estate royalty in the state of Utah.
Finding the right location to place billboard advertisements is up to the mercy of billboard ad companies; available billboards in prime advertising locations can be hard to come by, especially in larger markets.
Not all billboards are owned by the same ad company, meaning that prices and availability can fluctuate depending on the will of the company. Finding available billboards requires contacting billboard companies (usually by submitting a form on their website or by calling in). Typically, companies will give you a quote or estimate on the cost and location of advertising; quotes are based off of your budget, how long you want to display, and where your ideal location is.
Billboards located along highways, major thoroughfares and streets, and heavily trafficked areas are obvious choices for best locations. The map below depicts general locations for Homie billboards; Homie is known for its well-placed billboards along the I-15 corridor (Utah's main freeway), including consecutive billboards in some areas. Dave touched on this placement strategy in our interview.  
"Our first billboards on I-15 were actually those three in a row at point of the mountain. One of the billboard vendors had the three boards in a row open up right on the border between Utah and Salt Lake Counties. Those areas just south and north of point of the mountain are really hot real estate markets right now, so we figured it was a great location for us."
It's not everyday that three billboards in a row open up in a prime location but, to credit Homie's good fortune they were able to pounce on the opportunity. Typically, billboard contracts range from 4 weeks onward, with the ability to renew your contract after a set period. Renewing a contract won't guarantee a company will get the same billboard they've been advertising on but billboard companies will usually give them higher priority. Homie was fortunate in finding billboards in advantageous areas considering the timing on billboard contracts and the demand from other companies.
A sample of a billboard contract can be found by following this link. Again, it's important to mention that not all contracts are created equal, so there may be variations depending on the billboard advertising company's terms.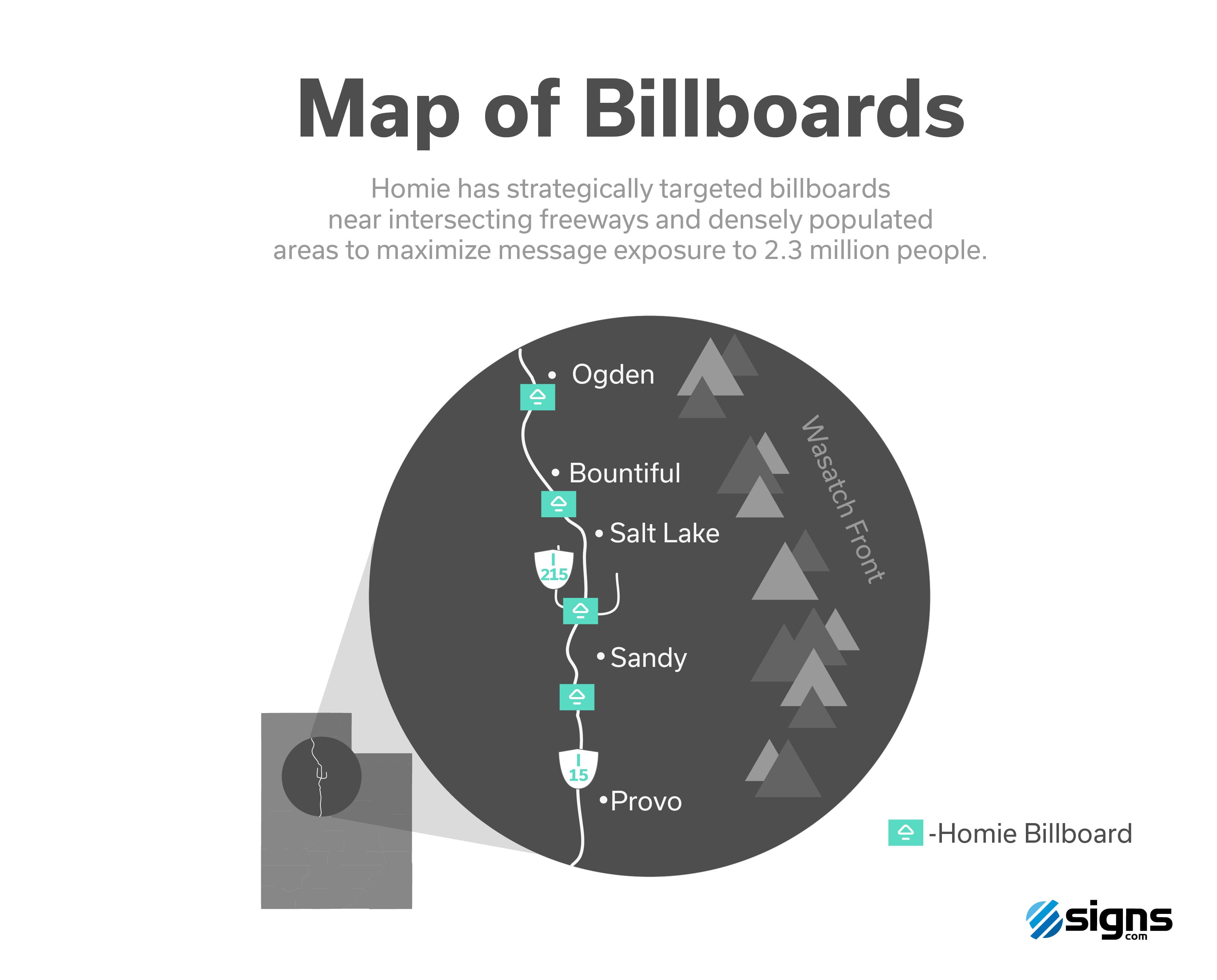 Map does not represent the total amount of Homie billboards
Great locations can vary depending on the industry you're in or the market chosen to advertise in. Homie chose areas with hot real estate activity in Utah, which as a state is thriving in business and home growth. If Homie decided to put billboards up in areas where the housing market was crumbling or stagnant, there likely wouldn't be much of a positive response.
Location planning has not only helped Homie target its audience in specific areas, it has also opened the way for consistent brand exposure across the Wasatch Front. Instead of oversaturating an area with branding, Homie has strategically spread out the billboards to increase daily impressions. A greater area of coverage means more impressions, which in turn leads to more customers.
This is where Homie begins to break away from the field of other real estate agencies. Unlike the competition, Homie's widespread and consistent advertising – with the help of billboards – leaves a lasting impression on potential customers.
Consistent Messaging
Homie's effective billboard advertising revolves around consistent, straightforward messaging which leaves little doubt by viewers what the company is all about.
No fluff, no confusion. It's brilliantly simple. In a few short words, you know what you're going to get when you work with Homie – all from a billboard along the freeway. In an industry with lackluster slogans and overly professional (and bland) marketing, Homie's cleverly memorable branding shines.
Along with simple messaging, the company is known for advertising on multiple billboards in a row. This unconventional method for billboards – known in digital advertising as brand storytelling or sequential advertising – contributes to Homie's approach of simple storytelling and captivating call-to-actions that leaves an impression on viewers.
"Multiple boards are awesome because you can tell more of a story across two or three boards versus just a single board. It also makes a bigger impact because it's relatively rare to see one company on multiple boards like that, so they're more memorable. It's surprisingly hard to get even two, let alone three boards in a row. When opportunities for multiple boards have come up, we usually jump on them," says Bascom.

A prime example of Homie's clever messaging spread across multiple billboards.
Implementing storytelling on billboards has created an impactful marketing campaign that entices potential customers to continue learning about Homie online. In an interesting twist, Homie excludes URL links to their site on most of their billboards; this may seem counterintuitive, but it helps to further prove the point that simple messaging converts.
"We included a URL in our first billboards, but we tried a few without the URL and actually saw our traffic go up. Organic search traffic for our name has grown every month since we started the billboard campaign. We have a memorable name and people can find us pretty easily using Google, so we usually leave off the URL."
Homie's organic search traffic has grown each month since the implementation of the billboard campaign. While this growth isn't solely based on billboards, it does show that interest is being raised without a direct link displayed on advertising. Having a memorable and easily remembered name like Homie helps feed this increase in organic searches.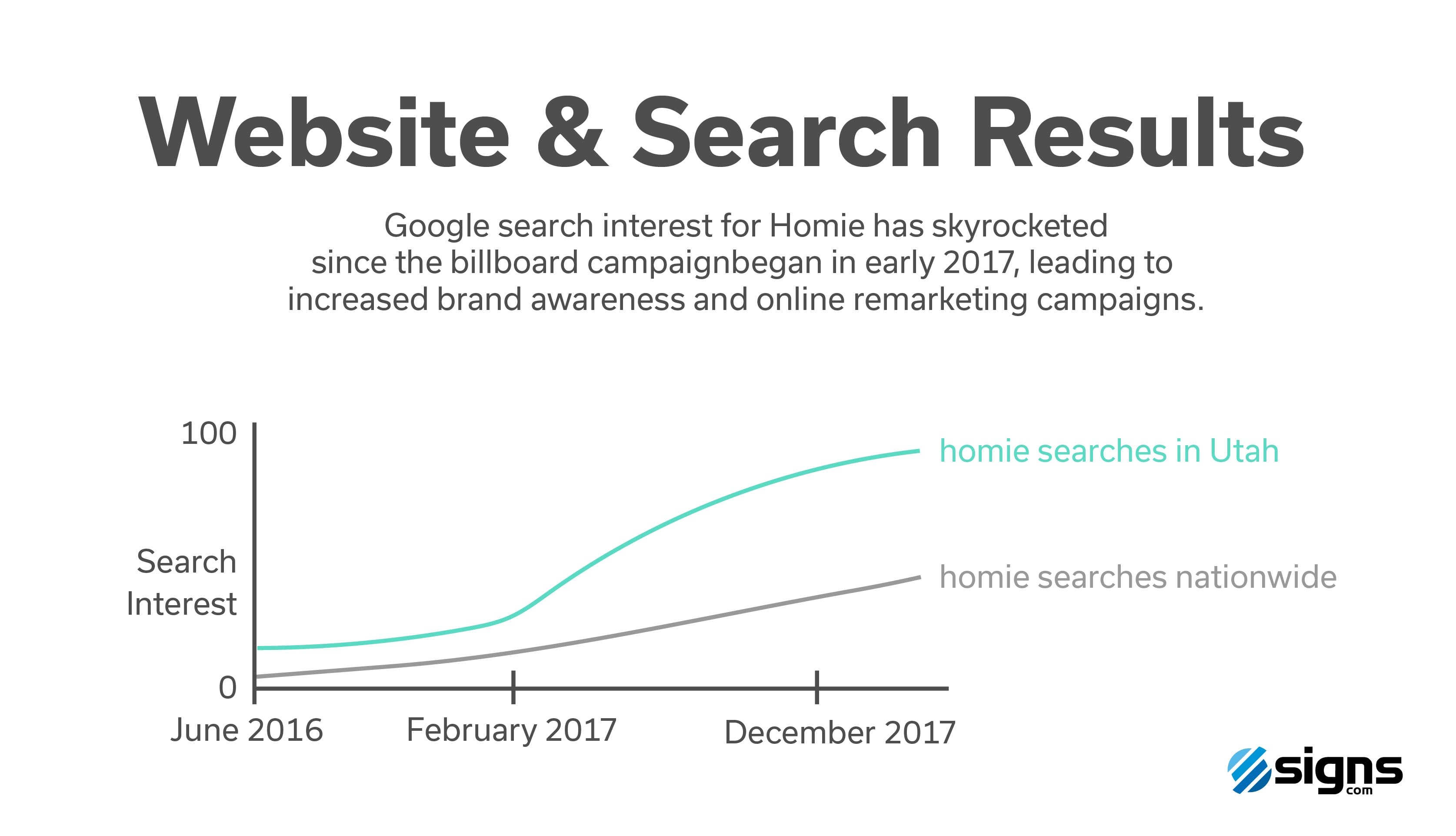 "We do a lot of direct response with our digital ads, but not with billboards. Buying or selling a home is such a big decision, it usually takes multiple touches before someone will pull the trigger and sign up. The goal of our billboards is to create awareness and a bit of curiosity so they'll go check out our website. Once they hit the site, we try to capture their information and move them through the funnel to become an actual customer. We feel like the billboards have been good to spark people's interest and get people to check us out."
Nielsen's Out of Home Advertising Study found that 35% of billboard viewers nationwide were highly engaged – meaning they looked at the entire message either all or most of the time – with outdoor advertising. Consider this percentage along with the 800,000 daily impressions Homie receives from billboard advertising; Homie is reeling in 280,000 'highly engaged' viewers of their billboards. With effective, creative marketing, it's no surprise that Homie's messaging is sticking with billboard viewers.
The Homie Way
Though billboards have played a big role in the rise of Homie, there's much more to the company's growth and disruption of an industry than outdoor advertising. As Dave mentioned, billboards are only the beginning in a customer's journey with Homie. Raising awareness and creating curiosity is the essence of billboard advertising, motivating people to continue the 'customer journey' through online channels. This journey encapsulates the AIDA model of marketing – commonly known as the marketing funnel –  which maps out the customer's journey from brand awareness to interacting with the company.
"We've tried just about everything including Facebook ads, Google ads, online video, direct mail, radio, content marketing, social media, TV, retargeting ads, email, video testimonials, and events. We try to be consistent across all channels, but it's easier to iterate and tweak messaging and creative on other channels more quickly than billboards, so sometimes it ends up looking like a bit of a hodgepodge. Overall, though, it's all pretty closely tied together with this overarching concept of not taking ourselves too seriously while focusing on all the money you save by using Homie versus a conventional real estate agent."  
While Homie isn't the only success story when it comes to billboard advertising there is plenty that can be replicated from their success. A good feel and tracking of effectiveness, prime locations and simple messaging around Homie's narrative has propelled the company to resounding success in Utah. While there are undoubtedly other factors propelling this success and disruption — a historical hot real estate market, innovation in a stagnant industry, etc. — there's little doubt at Homie that the billboards have been a huge part of the success.
"We were the first real estate company I've seen use billboards as aggressively as we have, but I think it could be replicated in other industries," says Bascom. "Successful billboard campaigns need a few key factors: smart creative, simple execution, memorable name, unique offering. If you have all of those, you can expect to see similar results."