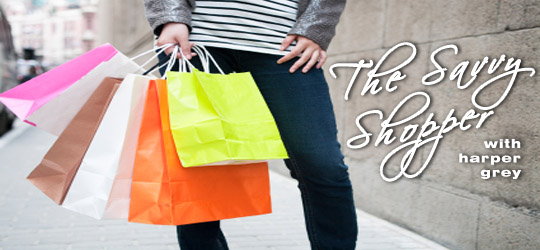 Summer is in full swing and budding entrepreneurs seem to be everywhere. There are a lot of kids in my neighborhood getting experience at running their own businesses. I think it's great – kids get pretty bored in the summer, and running a business is a much better way to spend time than playing video games.
When I was a kid, I had several businesses. In addition to babysitting and an occasional lemonade stand, I once painted rocks and went door-to-door with my little sister, selling them as "decorative items." My mom was mortified once she found out what we were up to, but by then we'd make several bucks and spent it on treats from the ice cream truck. And I'm sure the neighbors enjoyed the decorative aspects of their new purchases (or maybe not. But they were very kind and supportive of our business enterprise).
Here are a few examples of great kids in my home town and their brilliant business ideas.
Trusted Helpful Services
Hannah is nine. She's a smart, savvy kid who can't imagine spending the summer watching television and sitting around. So she opened a business. Trusted Helpful Services offers… you guessed it . . . services! Hannah will help you water your lawn, walk your dog, organize your closets and whatever else you can think of that you might need.
Hannah's dad owns his own business, so she witnesses first-hand what it's like to be an entrepreneur. She's lucky to have a great mentor. When she introduced herself and her business, she did several things right.
She was clean and cute. Little kids get kind of grimy in the summer. Which is perfectly fine and even desirable (kids should be kids, after all). But kids who are business owners should portray a sense of professionalism (kid-type professionalism). Hannah had a clean face, her hair had been styled into a pony-tail and she had reasonably clean shorts on. First impressions count—even for kid businesses.
She had a business name. She didn't just offer to come over and do odd jobs for me, she had a business: Trusted, Helpful Services. She had actually thought through her business idea to the extent that she came up with a name. When I asked her why she chose that name, she told me, "Well, I thought about what people would want. And I decided they wanted someone honest, that they could trust. And I'm really helpful. And I offer services. So . . . Trusted, Helpful Services!" Yup. Makes sense to me. Many adults opening businesses could do worse.
She had an "elevator speech." It's always a good idea to have a clear, succinct description of your business, so that when people ask what you do, you can tell them. Hannah clearly had a speech memorized. She reeled off a list of potential services, and then said, " . . . and whatever else you need!"
Lemonade Stand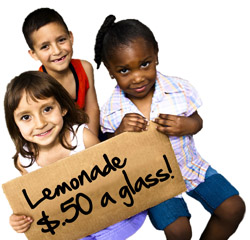 Every kid should have a lemonade stand at least once during the summer. I see a lot of stands in the neighborhood, but one really stood out last week. I stopped and got a cup of delicious, ice-cold lemonade from two little kids a few blocks from my house.
Sam is seven; he's the big brother and marketing director. Jen is five; she is the sales force and lemonade manufacturer (my titles, based on the job descriptions they gave me). They were both very professional. Here's what they did right:
They stood out from the crowd. One of the ick factors about a lemonade stand is that grimy plastic pitcher sitting on the card table. Don't you always kind of wonder if anyone thought to wash it out before putting lemonade in it? Sam and Jen had a large, clear glass dispenser on the table. Slices of lemons floated in the lemonade. Patrons could easily see the tasty product, which looked delicious. The lemons were a really nice touch – most kids just throw in some Kool-aid and add water.
They had clear signage with a brilliant marketing twist. Their sign, which Sam had obviously penned himself, was on bright-colored poster board and was mounted to the front of their table. It had a price listed (50 cents), then an "X" through that price. Underneath, in large letters, it said, "Lower Price! 25 Cents!" I asked Sam if he had experienced a lack of sales at the higher price. He said, "No. I wrote that at the beginning. I thought people might like it if they saw they were getting a lower price." Brilliant. Sam, at age seven, had already figured out the power of a discount.
They had kittens. Ok, not a typical business strategy. But both kids (who were also clean and well-dressed) were adorable. And they were holding tiny little kittens when I pulled up (Jen passed her kitty to Sam while she dispensed my lemonade). While animals don't usually pass Health Department standards in the grown-up food service world, at a lemonade stand they just add to the overall adorableness. How many commercials do you see with cute baby animals? It works, after all.
Softball Fundraiser
A little girl knocked on my door yesterday, selling tickets to a car wash fundraiser. I'm always a sucker for a fundraiser, so I was ready to buy one anyway. But I have to say, if Kylee's softball pitch is anywhere near as good as her sales pitch, she'll be an all-star player. Kylee was about eleven years old. Her team needed money for an overnight trip to a tournament, so they were hosting a car wash. For $10 you could get a wash, dry and vacuum. I bought two and I won't even be in town on the day of the event. Here's what Kylee did right:
She differentiated her team's offering from the standard. Kylee explained that, "most car washes only wash your car with a hose. We hand wash your car. And we hand dry it. And we vacuum it. So we give you a lot of value." She's right. Usually you just get a kind of crappy wash job with a quick rinse. The softball team was indeed going above and beyond.
She focused on community support. Kylee told me that she thought I would probably want to buy a car wash because, "our team is from this neighborhood and if you buy a car wash you will support youth softball here." Whether this line was given to her by the coach, or she came up with it herself, I'm not sure. But either way, she used it. To great effect. Small businesses and non-profit organizations should always work closely with their communities. They should support the community and the community should support them. Which Kylee very clearly pointed out.
She asked for referrals. It was hot outside and it was the middle of the day on a workday. Kylee had tried several houses, with no luck. One neighbor told her no and others weren't home. After I paid her for my two car washes, she said, "Do you know anyone else who might be interested in a car wash?" I pointed out several homes where I thought she might have success. I also told her to go back to a few of the houses she had tried with no answer, because I had a feeling that those neighbors would be pretty likely to spring for a car wash, once they got home from work. A smart business person always asks current customers if they know others.
Encourage Your Kids to Start a Business
The next time you hear, "Mom! I'm boooored," put your kids to work. Encourage them to come up with a business idea. They'll learn a lot, make a little bit of cash and get out from in front of the TV.