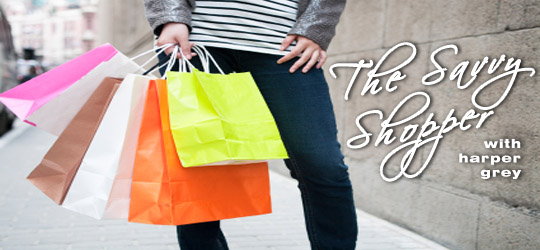 Since it's Small Business Week, I thought I'd take a moment to tip my hat to all the small business owners out there. I spent some time thinking about just why I love certain small businesses in my town, and came up with three reasons.
Personalized Service
There's a fabulous little candy shop in my community. The decor is adorable: much of the candy is displayed in large glass jars reminiscent of an old country store. Brightly colored jelly beans, gummy fruit wedges coated in granulated sugar, glistening red and black licorice vines and pillowy pink and green mints all beckon from the shelves. The glass case near the register is full of hand-dipped chocolates of every variety.
The owner is there every day. Well, I assume every day. I'm not in there every day. Really. The moment I enter, she smiles and greets me by name (OK, I'm a regular. And she's smiling because she knows I'm about to drop another wad of cash on hand-dipped caramel-and-cashew turtles). I love the fact that she knows what I want the minute I walk in. I love that she knows my name. And, I love the fact that I know her story.
Beth's husband died unexpectedly several years ago, leaving her a widow in her mid-thirties. With two kids and a large mortgage she knew she'd have to get a job. She had spent the last decade doing volunteer work and raising kids, so she wasn't exactly prepared for the job market. She looked through job listings and found that she lacked, "Proficiency in Word, Excel and Powerpoint." She didn't have, "Seven to ten years of experience in a fast-paced healthcare setting." What Beth did have was some serious chocolate candy making skills. As a child, she'd learned how to make chocolate dipped caramels in her grandmother's kitchen.
Over the years she had become somewhat of a legend in her neighborhood – people were always asking if they could buy some of her caramels to give as gifts. So Beth decided to start selling her chocolates. The business quickly escalated to the point that opening a retail store made sense. Beth loves her business and it shows. We were talking about her shop one day and she told me, "When my husband died, I thought I'd never find something that made me happy again. But this shop and my customers showed me that life could be good – even amazing, every day."
I could buy chocolate turtles from a number of stores. But I love buying them from Beth because she's a real person—not some huge corporation with executives who earn six-figure bonuses.
The Sense of Community
Small businesses have a real stake in the success of their community. If the people who live in a town aren't thriving, the business isn't going to thrive, either. I've found that most small business owners get involved in the continuing success of their community.
There's a little diner in town that's popular for breakfast. It serves up big platefuls of heart attack-inducing fare: fluffy waffles drenched in butter and syrup, thick slices of bacon, homemade blueberry muffins. Yum. If you want breakfast on the weekend, you'd better get there early – the place fills up fast.
The best thing about this diner (besides the bacon) is that Walter, the owner, is very invested in various organizations in our community. Every Thursday evening, he hosts a fund raiser for a charity, local little league team or the food bank. He donates a portion of the profits to the organization.
Walter throws several big parking lot parties every summer. He offers inexpensive hot dogs and hamburgers served up on a BBQ grill and gets local bands play to play for free. He usually rents a bouncy house and has a "dunk the mayor" booth and other fun games. The diner doesn't clear a profit on these parties – the price of the food (and the ticket sales for the "dunk the mayor" booth) pay the overhead expenses. But while these events don't make Walter a rich man, they're certainly worth the hassle. The diner is seen as "The Place to Go" for breakfast in my town. Walter and his pancakes are identified as permanent fixtures in our community.
I could get pancakes at the national chain restaurant down the street. But why would I? Walter's diner is an integral part of my neighborhood. And I'd rather give my cash to my neighbors.
Trustworthy Reputation
The thing about small business owners is, they can't hide. If you're going to do business, especially in a town the size of mine, you'd better be an upstanding, trustworthy citizen. Otherwise, you'd better not stop by the local barbershop . . . you might get a different haircut that you're expecting.
We have a mechanic shop in town that's been there forever. Well, probably not forever. But through at least three generations. Mike's grandfather opened the place in the 1930's. His father ran it until about five years ago when he retired and turned it over to Mike, who had been hanging out at the garage after school, handing wrenches to his dad and learning how to fix cars since he was eight.
The shop is old and dusty and the waiting room is just a couple folding chairs you're not sure you want to sit on. The auto industry association magazines are from 1982, which doesn't really matter because who wants to read articles about spark plugs, anyway? And don't drink the coffee in the waiting room. If the burnt coffee smell doesn't give you proper warning, the horrible taste will.
So when your car breaks down, why should you go see Mike? Because Mike has a reputation in our town. He's the third generation of a family that has always been known for being fair and honest. His kids go to school with everyone else's kids. His wife works as the receptionist for one of the local dentists. Mike's grandpa was a pillar of the community. Mike has the family honor to uphold and he's been taught to do business the right way.
When my car was making a horrendous noise, I took it to Mike. I'm always really nervous when I have car trouble – I don't know the first thing about mechanical stuff and I've heard that women can really get fleeced at the mechanic shop. I dropped the car off and waited by the phone, hoping that the repair wouldn't be more than $500. Mike called about an hour later. "I fixed your car," he said, "Come get it." "How much do I owe you?" I asked, wondering if I'd need to stop at the bank for a large loan first. "Just come on down," he replied, rather abruptly (mechanics are not known for their grace and decorum during telephone conversations). When I got there, Mike walked over to my car, popped the hood and grinned. "See that shiny bolt over there? The old one must have fallen out. I put a new one in." The charge? Nothing.
Given my complete lack of expertise in all things automotive, Mike could have changed out my entire exhaust system, put in a new starter, alternator, new brakes and completely overhauled the engine. I certainly wouldn't have known the difference. But instead, he was honest. I know that when my car does have a more serious issue (and I'm sure it will), he'll won't overcharge me or do unnecessary work.
The national chain shop has a much cleaner waiting room, current magazines and passable coffee. What they don't have . . . my business. I'll stick with Mike, thanks.