So what do we mean when we say 'business partnerships?' We're referring to two businesses agreeing to help one another promote and build their brands. This partnership can also include business to business (B2B) advertising or sales. Of course, we're not ones to limit the extent of a business partnership; we're here to help you understand what you need to do to get the ball rolling in starting a business partnership.
What's the Point?
Creating a partnership with another business opens the door for your own business to flourish. This can lead to opportunities for an increase in marketing resources and brand exposure, while providing you with a support network of fellow owner(s) that can guide you on the path of running your business.
A great example of this is Pretty Pallets, a family-owned small business in Washington. Pretty Pallets incorporates business partnerships into their operations to build a reliable connection with local breweries, wineries, and craft rooms. These partnerships allow Pretty Pallets to host public parties to build brand awareness, while also developing relationships with and helping other local, small businesses. Public parties are smartly planned on days where the host establishment has slow business, giving an increased boost in sales for host locations.
Partnering with breweries and wineries allows Pretty Pallets to offer food items along with the pallet painting service. Attendees are able to experience two businesses at once, making it a win-win partnership. Jesse, the owner of Pretty Pallets, explains her small business experiences and how she utilized partner acquisition to build her business as part of our Small Business Success Stories series.
We've also included an easy-to-follow map (found below) with all the key points in establishing a successful business partnership.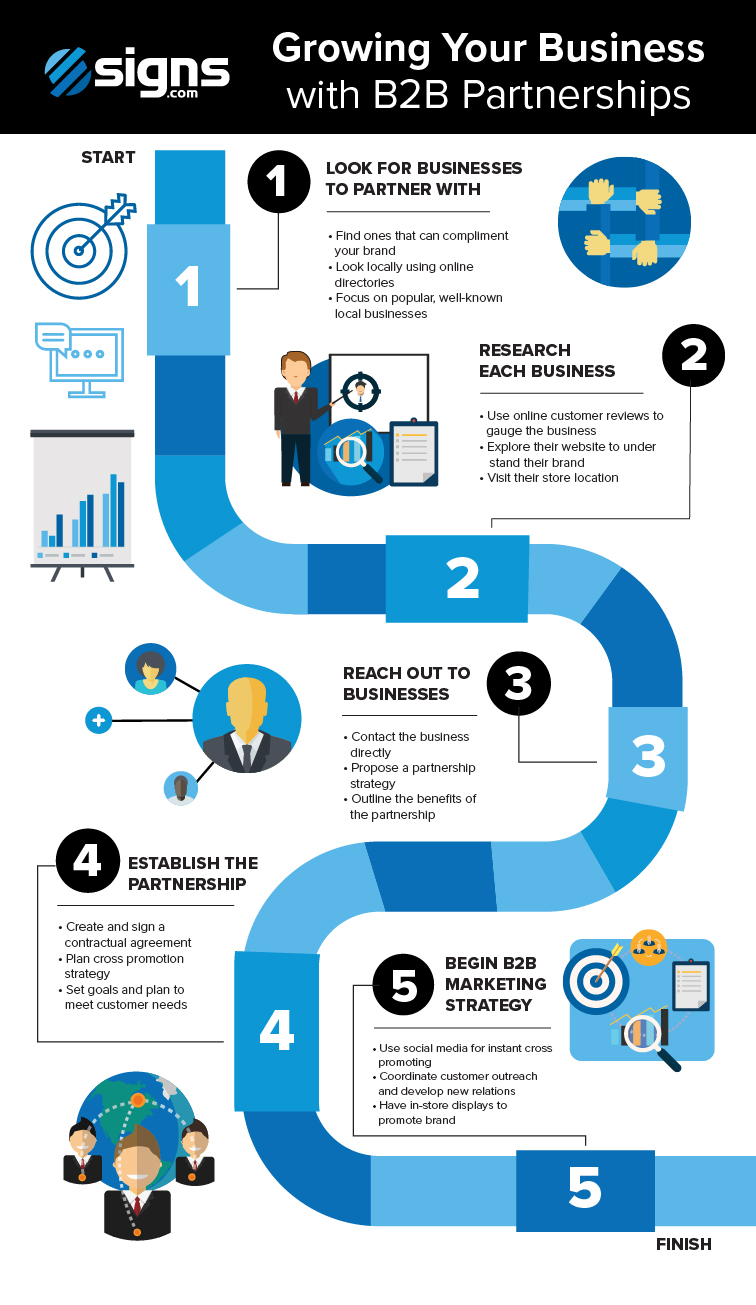 Finding the One
You're a small business looking for a compatible, established business to partner with. It may sound like an online dating profile which, if you think about it, is similar to what you'll need to do when searching for the right business to join forces with. It's a delicate process that requires you – as a business owner – to analyze other businesses to find the one that will benefit your brand the most.
Start your partnership quest by researching other local businesses. We recommend looking for ones that can compliment your own business (say, if you're a flower shop, find a chocolatier or sweet shop to partner with) to create a cohesive union that can benefit both parties. Ask other local businesses owners how they were able to build their brand through partnering with other businesses. Asking for assistance will not only help you find the right path to take, it can also help you establish a healthy relationship with other businesses.
There are many routes you can take when looking for a partner. The most common is searching through a directory of businesses of your town or city. These directories are usually found on your city's government page, or simply by doing an online search for your local business directory. Local business networking groups are also ideal resources to collaborate and seek after potential partners.  The local Yellowpages is also available for you to use to find compatible businesses. Focus on businesses that are established and popular in your community; such businesses will be a springboard for success when partnered with.
Check Them Out
Once you find a handful of potential businesses to partner with, begin researching each in-depth to find out their business practice and who they are as a company. Here are a few points to look at when vetting a business:
Their website

– websites are a great indication of how the company presents itself. You understand a company's reputation based on the website. A well-designed website with customer friendly content is what you want to find when looking for potential partners. Analyzing their website will show you how effective they are at digital marketing and if they optimize their site for ease of use and conversion. It can also be a great litmus test as to whether the company understands digital marketing and its online channels that are critical to most businesses these days.
Online reviews

– look at review websites (Yelp, Google Places, Angie's List) to see what their customers think about them. Customers are honest, making reviews a valuable resource in researching a business.
Personal visit

– visit the business yourself to see firsthand how they operate. Talk with the manager or owner, ask questions about the business (goals, current success, customer trends) and if they would be willing to discuss partnership opportunities.
The Proposal
With a general idea of the company (or companies) you are looking at, begin reaching out to them to offer a partnership with them. We say 'offer' because it's recommended that you present a proposal to the business to show that you are willing to work with them to succeed. A partnership proposal can include similar information to a request for proposal (RFP), as can been in the in the list below, to establish clarity and direction with potential partners.
What your business has to offer. This can include services, manpower, research, and products.
Does the partnership make sense? Explain how practical it would be creating the partnership and the resources required to do so.
What you're looking for in the partnership? What is the partnered business looking for? Find common ground on how each business can benefit the other. Explain your goals and how you want to accomplish them through working together.
How you can work together to achieve both business' goals? Come with a plan on how to implement strategies to reach goals. This will require extensive planning, but will ultimately translate into a close-knit partnership.
How will this benefit your customers and the partnered business' customers? Does the partnership make sense from a customer standpoint? Always keep in mind how you can accommodate their needs through a partnership.
Potential Innovations or improvements that can be created in your partnership?
A

contractual agreement

that will protect your business and your partner's business from legal issues. Though not necessary, having a lawyer on hand to help make sure the agreement is sound and beneficial for both parties is recommended. Otherwise, clearly state (and write out) your conditions for the partnership and make sure both parties understand the terms for moving forward or, if necessary, ending the partnership if it ends up going south.
Seal the Deal
Unifying marketing efforts with your newfound partner is one of the first tests. Letting the public know that you're joining forces is necessary; send out a press release (via email and social media) to explain your exciting new partnership. Immediately begin cross-promoting your brand with your partner (this will require some planning), allowing customers to know that your partnership is the real deal.
Constant collaboration is key to implementing a unified marketing strategy. Consider the following strategies when discussing cross promotion with your business associates.
Pinpoint the target audience

– with two businesses collaborating, there will certainly be an overlap of target audiences / markets. It's best to pinpoint who you want to reach out to with your messages, taking into consideration current customers of both businesses. With a new pool of potential customers, we recommend creating strategies to target this group specifically. This will require you to know demographics and buying habits; consult with the partnered business to obtain this information for you to use.
Channel collaboration

– In conjunction with marketing, social media integration within your newfound partnership will allow transparency of marketing initiatives and open the door for interacting with customers from the partnered business. Social media can be used for cross promoting of products / services, content promotion and a platform for guest posts from the other business.
Online advertisements – Use online ads to offer exclusive deals and content. Ads should be centered on the cross-promotional services offered from your partnership. For example, you can offer a "buy from our store and save 15% at our partner's location." The general idea is to incentivize customers to interact with both businesses.

In-store advertising

– Include cross-promotional material that advertises the partnership within your store and the other business' location. Similar to online ads,

in-store signage

can showcase sales and promotions.
Social interaction

– Interacting with customers from your business and the partnered business will allow you to build trust. Provide opportunities for customers to meet you and your business partner by using a 'grand opening' style of event to usher in the new partnership. Social media is ideal for frequent customer interaction; respond to customer inquiries, encourage customers to share their thoughts and experiences of the new partnership.
Customer satisfaction

– plan ways to give the customer the best experience between the brands. Giving them a memorable experience will translate to loyalty for both businesses. Strategize with customer needs in mind with these questions:
What stops them from moving down your conversion funnel? How can the partnership make it easier for customers to navigate towards purchasing or using your services.

How can you motivate them to purchase from your business and your partner's business?

Do you take reviews from customers into consideration when planning your business strategies?

Would potential customers go to your partner's business and not yours? Why? How can you prevent this?
Set goals

– It's a given, but goal setting is a must when strategizing with your partnered business. Focus on goals that are easily measured; whether that be website traffic, sales, or in-store visits, it's up to you to find goals that can actualize success in your partnership.
A Breakup
In some cases, a partnership may not be heading in the direction you want it to. Evaluating the progress of your business during the course of the partnership should give you an idea of how healthy the partnership is and whether or not it's beneficial for you to maintain it. If your business is not growing at a steady pace or if the other business is not cooperative in the agreement, then it's time to make an exit.
Discuss the state of affairs of your partnership with the owner before leaving, reviewing your concerns and seeing if they are willing to make changes to accommodate your needs. If there's no hope in that, don't be afraid to stand your ground and leave. It's better to end a problematic relationship than to allow your business to suffer.  
Focus on the Future
We like to think positively, so let's not dwell on failed partnerships. The future of the partnership and your business success depends on the effort you put into the relationship and the willingness to adjust according to your local market and circumstances. Creating a partnership isn't for every business, but we recommend looking into it if you're seeking a creative and effective way to increase your reputation within the community, ultimately leading to business growth.