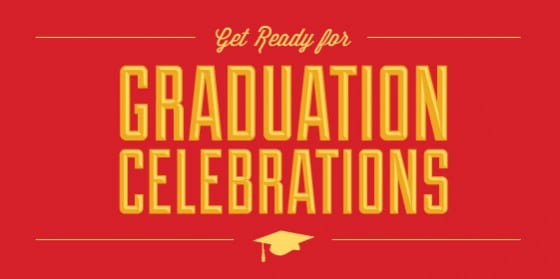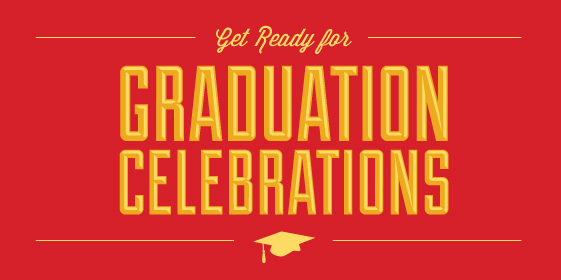 It's a moment you've probably been planning for years—the day your child graduates from high school or college. Now your son can take his degree and get a real job and his own apartment! Now your daughter will go off to college and you'll finally have hot water for your morning shower. Now your house will be quiet and clean. It's definitely time to celebrate.
To help you get ready for graduation celebrations, we've come up with some to-do (and NOT to-do) items for your party.
Bonus: Sprinkled throughout, you'll find some of our coolest new graduation templates.
Ask the Graduate
While you may have visions of a huge party at the country club, your kid might have other ideas. And after all, it's really her celebration. Yes, you birthed the child. And suffered through listening to her sound out every letter of every single word while she learned to read. And you stayed up late that time in third grade, making a Native American tipi diorama out of toothpicks after she forgot to tell you about the project until the night before it was due. But she's the one that passed the AP chemistry test with a '4' and earned a scholarship to NYU, so she should have some say.

Sit down with your soon-to-be graduated child and go over some ideas. Decide:
Who to invite
Where to host the party
What food to serve
What activities to offer, if any
When to hold the party
Once you've got those decisions made, you're ready to do the real planning.
The Top 8 Things You Must Do for the Perfect Graduation Party
There's no need to make this party complicated. After all, it's really about having friends and relatives show up to congratulate the graduate and offer love and support (and, if we're really going to be honest here, give him a gift).


Start by making a list of things to do to get ready for the party. Your list might include:
Reserve a venue
Mail invitations
Order food or hire a caterer
Buy decorations
Design and order signage
Plan fun games and activities
Arrange a photo display of the graduate
Buy the kid a present
The items on this list were all offered by several graduation party planning sites I visited in order to do research for this article, so I figure they must be integral to the perfect graduation party.
Now, Simplify
We're going to go through your list and cross half of it off right now. Let's go step by step:
1) Reserve a venue. No, no, no. Unless you have 150 rich relatives who are going to write the lucky kid checks for large sums of money, you don't usually need a "venue." Host this shindig in your backyard. Or in your family room. If space is really an issue, make it clear that the party is an "open house" and don't invite more than you can fit.
2) Mail invitations. Again—nope. How old is your kid? Unless he's been living in your basement for the last 20 years and just finally got the ambition to graduate from community college, he's likely younger than 25. Which means that he does that Internet thing. You know? With the social media "friending" and "liking" and "Google plussing." Get your kid to email/Facebook/Google+/etc. invitations to everyone on your list. If Grandma doesn't Facebook, he can drive over to her house and ask her in person.
3) Order food or hire a caterer. This is an item to keep on the list, unless you want everyone to stage a coup. Go simple, though. Host a barbeque and serve hamburgers and hotdogs. Or stick to finger foods and hors d'oeuvres. Or just go over to Costco and get a couple of ready-made trays of veggies and cheese and stuff. If you're rich, hire a caterer… that's why you got that MBA, right? For times like this when you want other people to do the stuff you don't feel like doing.


4) Buy decorations. If you're really simplifying, go with a few bunches of balloons and a streamer or two. If you want the party to look super cute, call that friend—you know, the one who has a million boards on Pinterest? Ask her to do a bunch of cute stuff for the party. Or if you have loads of time on your hands, and you're a Martha Stewart kinda person you can go to Pinterest yourself. You'll find a million great ideas for decorations, party favors and cute little treats. This might delight your graduating daughter (depending on her personality) but will definitely horrify and embarrass your graduating son.
5) Design and order signage. This one's easy—you can use our design tool to easily change any of the templates you see in this article. Switch out the color to match your kid's school and change the text. Get a vinyl banner for the front yard. Add some directional yard signs if you've invited people who don't already know where you live.
6) Plan games. Unless you're one of those "love to play charades kinda families," playing games is probably a non-starter. I did find one party planning website that suggested that the graduate and his buddies play "water balloon toss" or "pin the mustache on the teacher." Go ask your kid what he thinks about those ideas. When he stops laughing hysterically, cross this item off your list.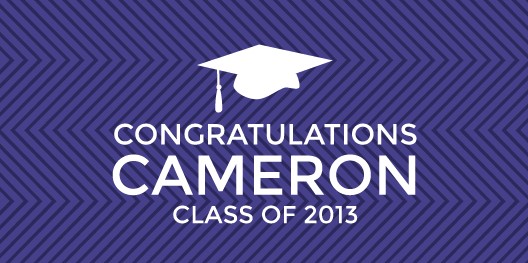 7) Arrange a photo display of the graduate. Yeah, it's actually kind of fun to have a "Cameron Through the Years" poster or photo montage. It embarrasses the graduate, and delights the relatives who are dying to share stories about the time he peed his pants at the park when he was five. For this project, call Grandma. She already has that photo frame full of all his past school pictures and she's retired, so she'll have plenty of time to create a photo display.
8) Buy the kid a present. As long as he's actually graduating, you should probably get him a gift. And now that you've greatly simplified his graduation party, maybe you can even afford one.
Congrats to all the Grads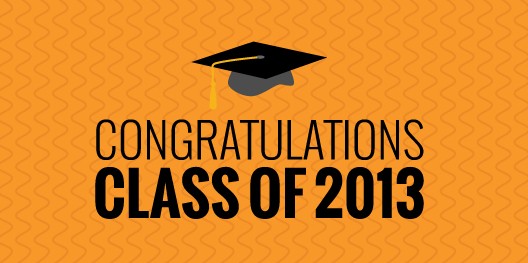 Signs.com would like to congratulate all the new graduates out there. We'd offer forth some platitudes about how you're venturing into new horizons and how your opportunities are like fruits ripe for the taking, but to be honest, that kind of empty, meaningless drivel makes us a little queasy.
Instead, we'll just say this: Get out there. Go to college. Or, if you've finished college, get out there and get a job. Be a productive member of society. Because someone has to do it, so it might as well be you.