My favorite day of summer is today. Why? Not because there's a great outdoor concert at Deer Valley Resort. My family's reunion isn't today. We don't head to the lake for our annual jet-ski party. Nope.  July 11th is the best day of the summer thanks to 7-Eleven.
Free Slurpee Day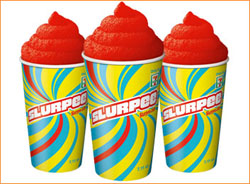 Every year, on July 11th, 7-Eleven celebrates its unofficial birthday by offering free Slurpee samples to every customer who comes in (no other purchase necessary!) The free Slurpees are 7.11 ounces and are only offered between the hours of 11:00 am and 7:00 pm. Seeing a theme here? They even created a Facebook event so that you can RSVP.
This year 7-Eleven is running their free Slurpee promotion twice. On May 23rd, they offered free 7.11 ounce Slurpees to promote their new Slurpee Lite low-calorie treat.
Why Give Freebies?
All that free frozen goodness must cost 7-Eleven quite a bit of money, wouldn't you think? So why do they do it? There are several reasons why having giveaways are a good idea:
Free Slurpees get customers in the door. Once they're there they might buy a hot dog, candy bar, etc.
Once customers get a taste of the sample, which is small in size, they often want a larger portion, which they then pay for.
Customers who receive a free sample often feel obligated to buy. Susan Krauss Whitbourne, a psychologist, says, "Why does this work? You've been given something, seemingly for nothing, and now you feel obligated to reciprocate by buying the item."
Customers who consume the free sample are much more likely to return and buy the full-sized product later. A 2004 study in Marketing Science showed that giving free samples to customers increased sales of the product for up to 12 months after the giveaway.
The free Slurpee day promotes 7-Eleven as a community business that rewards community members with free stuff. The event gives 7-Eleven some fabulous PR, which might impact consumers' choices when they have to decide between patronizing 7-Eleven or some other convenience food store chain.
Other Models
Many retailers have figured out that the Free Sample promotion is very lucrative, even when the cost of the free product is factored in.
Costco

Visit Costco any day and you'll find various tables with free samples throughout the store. Visit on a Saturday and you can feed your entire family for free. Aisle 3: free tiny cup of orange juice. Aisle 4: free hotdog sample. Aisle 5: free cheese on a toothpick. Aisle 10: five free Jelly Belly beans. Aisle 11: two free crackers. Aisle 7: free tiny cup of soup. On my last visit to Costco, they were giving away full-sized Creamies (frozen yogurt treats on a stick). Yum! Nothing like free food, right? Once you get to the check stand, take a look at your cart. How many of those "free" sample items are now sitting on the conveyer belt, adding $10 each to your total. Did I buy a case of Creamies? Of course!
Ben and Jerry's

On a recent trip to San Francisco, we were pleasantly surprised to see a "Free Ice Cream!" sign in front of the shop near the Wharf. Ben and Jerry's has long been running their Free Ice Cream promotions to help non-profit organizations earn much-needed cash. The charity provides the labor; Ben and Jerry's provides the ice cream. We went in and each received a single-scoop cone with our choice of four yummy flavors. Volunteers were scooping the ice cream, handing out napkins and holding donation boxes for their non-profit that provided art classes to inner-city kids. I doubt Ben & Jerry's receives much money in sales that day; a full sized cone pretty much fills you up. But what they do receive is the great publicity that comes from helping charities while giving neighborhood residents a tasty treat. And, of course, they also have to feel good about helping organizations raise money for good causes.
IHOP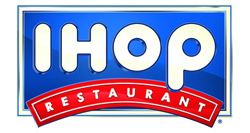 IHOP celebrates National Pancake Day every February by offering customers a free short stack of buttermilk pancakes. The pancakes are free, but you are encouraged to make a donation to the Children's Miracle Network. The restaurant chain reported that it raised more than $3 million on February 28, 2012. This promotion is similar to Ben & Jerry's in that it serves a charitable organization. But how many times in your life have you eaten a stack of pancakes without a cup of coffee or juice? I'm willing to bet that most people order additional items while they're at IHOP. And of course, they come back for more once they taste the absolutely perfect pancakes.
Get in on the Free Sample Action!
How can you capitalize on the free sample profits? Think about what you can give away as a sample. It doesn't have to be edible; samples for hair products, household cleaners, office and school supplies and car care products are all examples of things to give away to your customers. If you sell something that absolutely can't be given away in a sample size, consider teaming up with another business or buying a product to give away. Free slushy treats or ice cream on a hot day will go a long way toward goodwill with your customers.