As companies and consumers across the U.S. (and around the world) hunker down in an effort to stem the tide of the coronavirus/COVID-19, we recognize that many businesses may be struggling when it comes to appropriate signage that delivers critical messaging to customers, clients, employees and others.
To assist you, Signs.com is launching a new coronavirus signage page on our site that will provide an array of free, printable templates to help in getting out those important messages. Our team of professional designers has created 50 printable signage templates, all addressing various needs and messages specific to the coronavirus/COVID-19.
Signage needs and details will vary by type of business and locale. Here at Signs.com we're seeing many companies look for signage with messaging such as:
Take Out/Delivery Only – For restaurants that have been mandated to/chosen to temporarily close their in-house dining, but still offer take-out and/or delivery services.
Social-Distancing Signage – Encouraging employees to work from home, not shake hands, stay several feet away from other people, avoid crowds, and stay home when sick. Many restaurants that are continuing to offer in-house dining are also placing "table closed" signs on adjacent tables.
Washing Hands – Do this frequently. Use soap and hot water, ensure you're spending at least 20 seconds each time you do so, and dry thoroughly.
Temporarily Closed – Be sure to indicate a "We will re-open as soon as possible" message, along with your website.
5 Things To Do Now Messaging – This list typically includes: 1) washing hands, as noted above; 2) avoid touching your face, eyes, nose, and mouth; 3) disinfect surfaces and objects that are frequently touched in offices and home; 4) social distancing, as noted above; and 5) stay home if you're sick.
If you would like to use one of our free, printable Coronavirus (COVID-19) Sign Templates, all you have to do is visit this page and choose the template you would like. We will then email the template to you within the hour. In the email we send you, you will receive two things: 1) a link to download the PDF file of the template – you can use this to print the sign on your printer; 2) a 10%-off discount code good for a one-time purchase of any sign(s) offered by Signs.com. When signing up to receive your template, you can also choose to opt into Signs.com's email list; subscribers to our emails will receive exclusive deals on relevant products in the future.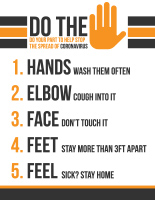 The template designs that are available to download and print for free are also available to be printed onto a variety of materials if you require a longer-lasting sign. You can choose any material on Signs.com. We recommend printing the sign on an opaque window decal or plastic sign as a good starting place. Feel free to use your 10%-off discount to order your long-term sign.
We hope that everyone remains safe and calm in this environment of increased risk! We thank you for your continued business and support of Signs.com.