We are excited to share that Signs.com has been recognized by MountainWest Capital Network as one of the Emerging Elite companies in the state of Utah for 2017! We are honored to have been included in this exclusive group that shows our rapid growth we've experienced this past year.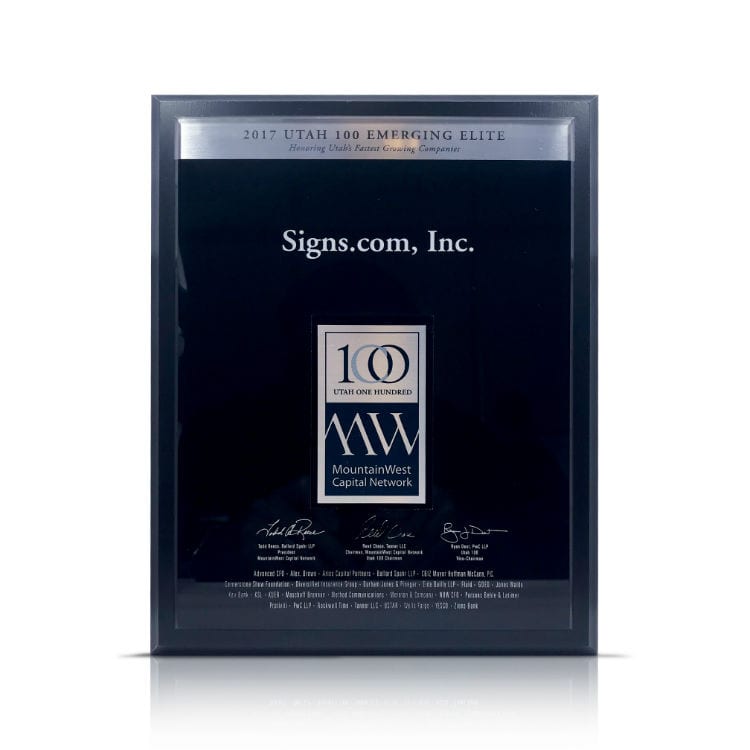 All Emerging Elite businesses were recognized for their achievements at an event on Tuesday, October 10th at the Grand America Hotel in Salt Lake City, Utah. Some other noteworthy companies included:
Chatbooks, Evelar Solar, Grow, Owlet Baby Care, Podium, Rags to Raches, SureCan, Inc. and TaskEasy, Inc.
We believe that the customer's experience and their satisfaction should be the top priority of any company; such focus has propelled us to a record-breaking year and numerous other awards including multiple Stevie Awards for outstanding customer service and our recent #100 ranking on the prestigious Inc 500.
"Our goal is to provide the best possible experience for our customers by giving them the highest quality products at an affordable price," says Nelson James, Co-Founder and COO of Signs.com. "By focusing on and refining our industry leading customer experience we expect to have continued success and many more happy customers in the years ahead."
We look forward to continuing our growth as a company and providing the best sign buying experience for our customers. We would not be an elite company without our amazing customers and can't thank them enough for their support!
About Signs.com
Signs.com was founded on the principle of offering the best customer service possible coupled with the easiest online sign experience. Founded in 2012, Signs.com has grown from a small group of design, marketing, and tech nerds into the leading online company for custom signs and prints. Award-winning customer service, one-day production, free design services and a 100% satisfaction guarantee has pleased everyone from small business owners to Fortune 500 companies looking to grow their businesses and all types of individuals looking for home decor prints.
About The Emerging Elite & MountainWest Capital
The Emerging Elite list is comprised of companies with less than five but more than two years of operation that show significant promise for future success. MountainWest Capital Network is Utah's first and largest business networking organization devoted to supporting entrepreneurial success, and dedicated to the flow of financial, entrepreneurial and intellectual capital.