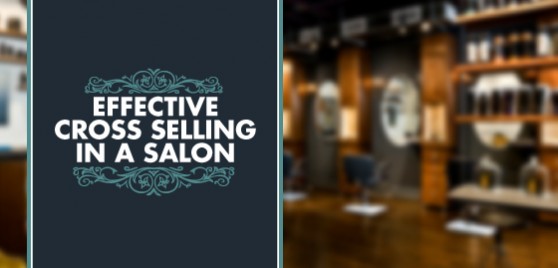 In a salon, the customer comes first. You have to give your customers what they want and keep them satisfied if you want them to keep returning for your services.
But don't forget that you have a business to run and a profit to make. Keeping your customers happy and returning is one way to make a profit, but another way is cross selling with your salon products and services. While this marketing method is really beneficial to you, in the end it's also valuable to your customers.
Cross selling doesn't mean manipulating or tricking your customers. Some use cross selling and upselling interchangeably, but the two differ. Cross selling is when a salesperson tries to get a customer to buy additional products or services to what they've already purchased or are considering purchasing, while upselling is when the salesperson only cares about selling the more expensive product or service to the consumer. Needless to say this is a crucial difference in that the intent is vastly different. The intent of the former is to help the customer and the latter to help yourself.  But few realize that by putting the customer's needs first you'll in turn help yourself and your salon grow!
Every salon benefits from cross selling so long as they correctly use some of the best practices for cross-selling. Below are four salon specific cross-selling techniques and how your salon can use them effectively.
Set Up an Eye-Catching Display
One of the easiest ways to sell a product is by clearly showcasing it in a display. A beautiful display of salon products, either in a window or toward the front of your store, is a sure-fire way to grab a customer's attention and get them thinking about a product they might need. Or, if they already intend on buying, simply bring to their attention where the product is within the store. Make sure your display and shelves, no matter how small, stay stocked and that you keep the same type of products grouped together. Give the display area an open feel. If it's crowded because of styling stations or the receptionist's desk, customers are less likely to go over and browse because they'll feel uncomfortable and in the way. Another thing to remember is that with salon displays "eye level is buy level". If a customer can't access or easily see a product, they are highly unlikely to buy it.
Properly Train Staff to Cross Sell
When a customer asks you a question or for a recommendation about one of your salon products or services, you want to be able to answer them without hesitation. You also need each of your staff members to have a complete knowledge of potential products so they can help customers naturally and easily. Salon owners should provide training for new employees so they have a complete knowledge of all the different products offered or available to order for customers looking for something beyond services.
Another good way for you and your staff to know your salon products is to use them. Regular use of your products allows your staff to personally and honestly recommend useful products and ones that work for them. Your customers will better relate to your staff and be more willing to buy certain products from your salon this way.
Employees should also be trained not just in product knowledge but actual sales techniques. By knowing basic sales techniques and etiquette you can rest assured your employees will effectively offer related products without straying into the "upselling" or "pushy salesman" territory.
Provide product and sales training, be sure those you hire are good communicators, have positive attitudes and aren't afraid to greet customers and offer cross selling items and you'll be amazed at the success with a few basic steps.
Try Products on Your Salon's Customers
A great place to try and cross sell products is as you're using them on your customers. When you wash their hair, tell them what shampoo you're using and how wonderful it works for their hair type. You can do this with all other salon products as well. You can also try to cross sell a related treatment to them. If they're getting a manicure suggest also getting a pedicure, or if they come in to get beautified before their wedding, suggest an eyelash tint along with their scheduled eyebrow wax. Be sure to choose and use products you believe in so you feel comfortable recommending them. Also, don't be super pushy or overdo it when suggesting a product or service because customers won't appreciate that.
Host a Beauty School Night
This is not only a fun idea but also one that's going to increase your retail sales and your clientele. Hold a party at your salon one evening for a couple hours and do this about 2-4 times a year. Promote your event in advance through signage, (vinyl banners or decals within the salon) word of mouth, as well as encouraging your clients to bring a friend. You can teach your clients and their friends the importance of skin, nail or hair care — whatever your salon specializes in — and then demonstrate how to properly do some at-home beauty and hair basics. On these nights you can show off your knowledge and skills and educate your clients on these topics, which helps you earn their trust and creates a desire in them to buy the products you use. This is also a great time to put together goodie bags full of samples for your visitors to take home and try, which hopefully they like and return to buy. While this isn't purely cross selling it accomplishes the same goals and also can fit nicely with a referral program for your salon.
With just a few simple tactics your salon can significantly increase product sales. This can be a much needed lift for a business that is typically solely dependant on the services side of the business. Just remember that cross selling is more about the customer and not about your salon and you'll make it a win-win situation!