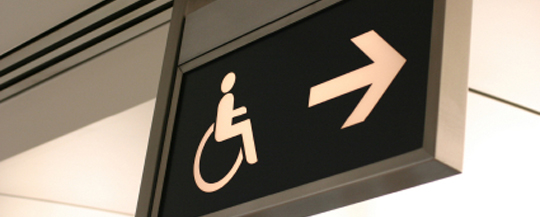 The Americans with Disabilities (ADA) Act of 1990 was designed to make public buildings and businesses accessible for individuals with physical disabilities and prevent discrimination against the physically challenged. Although the guidelines were comprehensive, the law created many confusions when it came to ADA signage. In 2010, the Department of Justice, along with the U.S. Access Board, developed updated guidelines that were enacted into law on March 15, 2011. The law gave a one year grace period for businesses and public buildings to comply with the new regulations. Today marks the end of that year and it is very important that as a business owner, you understand and comply with the new regulations.
For the most part, the new regulations (section 216 of the 2010 ADA Standards for Accessible Design) refer to signage used in a couple very specific ways:
1. Interior and Exterior signage that identify permanent rooms and spaces. Examples include restrooms, floor numbers, room numbers or letters and room names.
2. Directional and informational signs relating to interior spaces and facilities. These could be signs giving directions to specific rooms or spaces.
3. Signs for means of egress. This includes exit signs, areas of refuge and directional signs when relating to exits.
4. Parking signs with the exception of lots with 4 or fewer spaces or residential parking.
5. A sign as it relates to indicating the nearest entrance.
6. Signs that clearly identify elevators.
7. Signs identifying the location of the nearest toilet or restrooms.
8. Directional or informational signs relating to telecommunications devices for the deaf or hard of hearing.
9. Informing patrons of assisted listening areas like at ticket windows.
10. At locations where more than one check-out isle is available.
11. Directional or informational signs when relating to amusement rides.
You might find the guidelines to be overwhelming and you might be wondering if they apply to you. It is important to note that most of these new guidelines apply to businesses that provide goods or services to the public (also known as public accommodations). These types of businesses would include restaurants, hotels, theaters, doctors' offices, pharmacies, retail stores, museums, libraries, parks, private schools, and day care centers. Religious buildings and private clubs are exempt from the ADA guidelines.
If your business does fall into the category of public accommodations, it is a good idea to look into the new ADA guidelines in closer detail. Some of the regulations may not apply, but if they do and you don't make the necessary changes, there could be costly repercussions. The ADA states, "The Department of Justice may file lawsuits in federal court to enforce the ADA, and courts may order compensatory damages and back pay to remedy discrimination if the Department prevails. Under Title III, the Dept. of Justice may also obtain civil penalties of up to $55,000 for the first violation and $110,000 for any subsequent violation."
For more information on the new regulations, visit www.ada.gov.