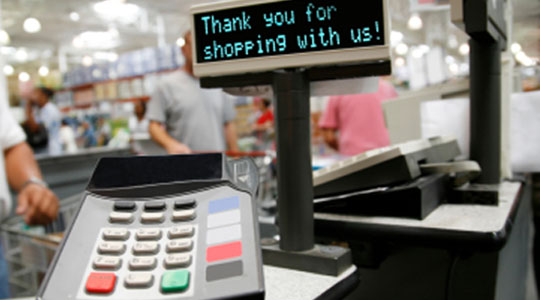 Imagine you have two customers, both of whom are looking for the same product. One customer plans to pay for his purchase with a credit card; one with cash. Should your sales pitch vary for different payment methods? The answer is yes.
It has long been known that offering credit card payment options leads to higher sales over offering cash only options. Consumers love the allure of buy now and pay later. One study concluded that consumers who were exposed to credit card paraphernalia (such as the MasterCard logo at the checkstand) demonstrated a substantial increase in spending (1). Now that online retailers offer to store your credit card for future purchases and in-store sales associates walk around with credit card apps on smartphones and tablets, it seems even easier to spend, spend, spend.
New information shows that what consumers look for in a product is also based on their payment types. A recent study in the Journal of Consumer Research shows that customers care about different aspects of products depending on if they pay with cash or credit. Consumers tend to pay greater attention to the benefits and features of the product when planning on paying with a credit card. However, when a cash payment option is encouraged, consumers pay greater attention to the cost-related features of a product (2).
Another study, by Promothesh Chatterjee and Randall L. Rose, was conducted to see if there were differences in shopper behavior (besides spending less money) depending on credit card or cash payment. They were surprised to see that cash shoppers could be influenced to spend more if marketing was targeted to them in a different way (3).
Shoppers paying with cash are concerned about the value they're getting for their money. Credit card-toting shoppers are more concerned about the benefits of the product – does it have an innovative new feature? Will it help them look more attractive? Make them more popular? With proper marketing, businesses can sell the exact same product to both kinds of shoppers.
For instance, let's say that you're selling a high-end suitcase. It has lots of features: it's lightweight but durable. It has easy-roll wheels and special straps that compact the contents of the case so that it will fit in the overhead bin of the airplane. The zipper is extra-strong and won't break. And, of course, it's stylish. When selling to customers who plan to pay with a credit card, your advertising should focus on all these features, and it won't matter that the case costs $250 (three times more money than the discount-store suitcase).
However, you can convince a cash-paying consumer to choose the same suitcase. Have you ever owned a cheap suitcase? It's heavy and cumbersome and the wheels are horrible, so you end up fighting the thing all through the terminal as it threatens to tip over. The zipper is low-quality and breaks if you try to over-stuff the case, which means that you might be forced to check your bag since it won't compress enough to fit on the plane (the cost of checking a bag can be as high as $50, depending on the airline). The cheap canvas is easily stained and quickly looks dirty. Your cash-paying customer might be interested to find out that he will end up saving money because the nicer suitcase will outlast the cheap one. Instead of buying four suitcases over the next five years, he'll only need the one. And he'll save money on baggage fees. As an added bonus, a 10% off coupon can further the sale.
Some small business owners may not be able to offer credit card payments as an option. Credit card companies charge fees per transaction, and there is a cost associated with credit-card acceptance equipment. If your business is struggling with this problem, consider advertising directly to cash-paying consumers by focusing on cost benefits instead of product features.
1) Hirschman, Elizabeth. "Differences in Consumer Purchase Behavior by Credit Card Payment Systems." Journal of Consumer Research, 1979.
2) Feinberg, Richard A. "Credit Cards as a Spending Facilitiating Stimuli: A Conditioning Interpretation." Journal of Consumer Research, 1986.
3) Promothesh Chatterjee, Randall L. Rose. "Do Payment Mechanisms Change the Way Consumers Perceive Products?" Journal of Consumer Research, April 2012.