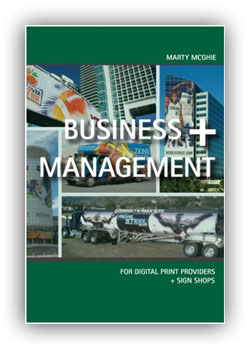 Marty McGhie's book, "Business + Management: For Digital Print Providers and Sign Shops" is a comprehensive business book focused specifically on the sign industry. But business owners from every industry can benefit from Mr. McGhie's business acumen.
The book offers advice and insight about every single aspect of running a business. Topics include hiring management and staff, choosing software, attending tradeshows, growth, bills and collection, marketing and production, just to name a few. But the book, published in 2012, was certainly influenced by the country-wide recession; many sections deal specifically with ways to cut costs, stay lean and manage a business during tough times. Today we'll explore some of Mr. McGhie's tips for staying afloat during a downturn in the economy.
Find Hidden Cash
Is cash tight? Time to search under the couch cushions for some spare change. Marty McGhie points out that many businesses have hidden money waiting to be uncovered. He suggests that business owners look in the following places:
Accounts Receivables: Stay on top of account payments. Once an account is 7-10 past due, start calling to collect. For large receivables, call right before the due date to remind customers about payment.
Extend Accounts Payables: Negotiate with vendors to lengthen payment terms when possible. The longer the money stays in your hands, the better. But keep your word and pay according to the new agreement in order to remain in your vendor's good graces.
Cut Expenses: Can you economize on the company Christmas party this year? Perhaps your marketing department can come up with some new ideas for customer gifts that will save some money but still be impressive.
Identify Your Moneymakers: Many businesses offer a variety of goods or services, but find that a few consistently provide the bulk of the income. Identify those moneymakers and focus on them in order to maximize profit.
Pay Attention to the Little Things
Are you missing opportunities to save money? Mr. McGhie's chapter, "Watching, and Cutting, Your Company's Expenses" shows business owners a few ways in which they can save money by doing a little homework in advance.
Energy Credits: Contact your utility carrier to see how you can qualify for special incentives available to businesses.
Cell Phone Services: Contact your provider to see if you can get discounted rates for larger blocks of minutes. Negotiate contract lengths and shop around for better deals at the end of every contract period.
Credit-Card Processing: Fees for processing your customers' credit cards can be pricy, but with a little legwork you'll find that companies are competitive when you review your plan and negotiate rates. Also, make sure that employees entering credit card information fill out all the requested fields; the processing company can add fees on for each bit of missing information.
Travel: Research hotel/airline frequent customer plans. Choose a hotel chain and airline, then procure credit cards that offer rewards. When you pay vendors using these cards, you'll earn free hotel stays and airfare, which significantly reduces travel costs.
Keep Employees Happy Without Going Broke
Keeping quality employees is crucial to keeping your business running smoothly. But some expenses, such as health care and retirement, continue to require more and more outlay of cash. Mr. McGhie offers the following solutions to help your company do right by employees without going broke.
Health Insurance: Shop around. Make sure your broker is working with more than one health insurance company, so that he or she can bring you the best deal. Consider increasing deductibles or office visit amounts in order to keep costs reasonable. Discuss increasing the length of time between renewal dates (every time your policy renews you might be faced with price increases of up to 10 percent).
Retirement: Plan administration fees can vary; again, it pays to shop around. Mr. McGhie also suggests combining sick pay and vacation pay into PTO (Paid Time Off). With this strategy, all employee time off is paid in the same manner (as opposed to sick time, which is often a use-it-or-lose-it pay, and must be tracked differently than vacation time, which might accrue).
Keep Productive Sales Staff: Your sales staff is the bread and butter of your business; you want to do everything you can to keep high-producers at your company (and not the competitor's). Reward high-producers with great incentives and give them plenty of attention.
Keep Other Top Employees: In addition to competitive pay, offer other great benefits for working at your company. For instance, company parties and celebrations keep morale high and make employees feel like they're part of a family. Open communication with company executives is also important (everyone should feel like they can voice opinions and address problems without fear of retribution). A profit-sharing plan is another way to keep employees motivated and interested in staying at your company.
When Times are Tough
Mr. McGhie offers five lessons learned from recession woes in his book:
Manage cash flow. Keep track (daily) of cash flow. A previous chapter in the book outlines Mr. McGhie's specific strategy for daily cash flow management.
Budget capital acquisitions. While some outlay of new equipment is necessary, be careful about spending during tough times. Make a "wish list" off all the equipment you'd like to have, and assign priority to each item. Choose expenditures accordingly.
Deal carefully with employee costs. Take time when hiring a new employee and don't rush to hire when you can make do without another person on staff.
Operate efficiently. Pay close attention to production and minimize mistakes and rework orders, which add substantially to costs.
Take care of customers. Offer more value without dropping prices. Maintain customer relationships and find ways to offer increased support at minimum expense.
Marty McGhie is the VP of finance/operations and part owner at Ferrari Color, an award winning large-format photo, inkjet, fabric and UV printing company. In addition to his new book, he has written for The Big Picture Magazine and is a regular presenter at various conferences in the signage industry. Check out his book, "Business + Management: For Digital Print Providers and Sign Shops" to learn more.