"Remember to look up at the stars and not down at your feet," physicist and cosmologist Stephen Hawking once said.
Which is all well and good when it comes to providing an inspirational or motivational message, but when it comes to signage someone else might have said: "Yes, look up at the stars – but don't forget about what's right down at your feet."
Case in point: floor graphics. A well-designed and printed floor graphic – whether it's placed on a wood floor, carpet, or exterior asphalt surface – can enable your customers and visitors to not only read your message, but also walk right into it, so to speak. If you've only been thinking of signage as something for your walls, it's high time you think about your "fifth wall" – the floor.
Choices for the Indoor Floor
Let's first take a look at the two primary types of indoor floor graphics, shall we?
Floor decals: This is probably the first thing that comes to mind when you think of any graphic for floors. Made from thin, adhesive-backed vinyl, floor decals feature a slip-resistant surface/front face. They're designed for indoor use only, and can typically be installed on just about any interior flooring – but keep in mind that they will not adhere to carpeted floors (see below if you need graphics for carpet), unsealed concrete floors, and a few other surfaces. Too, they are probably one of the easiest signage types to install: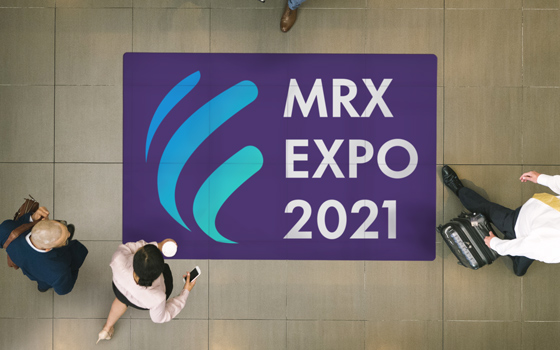 All you do is remove the liner from the decal's adhesive side, and then use a squeegee to adhere the decal to the floor surface; just clean and dry the surface before beginning installation of your new floor decal.
Signs.com's Floor Decals are printed with fade-resistant UV inks, directly onto 3.4-mil vinyl; a laminate coating adds slip-resistance and protection. You can use these on hardwood, tile, laminate, sealed concrete, and any smooth, non-porous surface. They're available in a variety of shapes – square, rectangle, oval/circular, custom, and others – and in sizes from 3 x 3 inches all the way up to 50 x 240 inches. Our Floor Decals will continue to showcase your message for 6-12 months in heavily trafficked areas (3-5 years in areas with little or no foot traffic).
Carpet stickers: As the name indicates, carpet stickers are specifically manufactured to adhere to carpeting and rugs. And just like with floor decals, they feature a non-slip surface, are made of adhesive-backed vinyl, and should be used indoors only. Most carpet stickers are aimed at the commercial market, hence low-pile, short-nap carpets versus any kind of deep-pile or shag carpet you might find in a residential setting.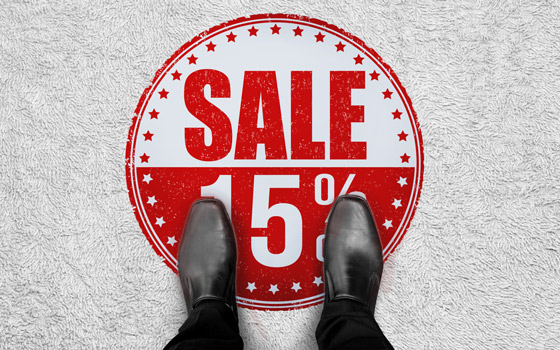 Our Carpet Stickers at Signs.com are made of 3.4-mil vinyl with a high-tack adhesive backing. As noted above, they're designed for low-pile commercial carpets and rugs, as well as vehicle carpet. A clear gloss laminate is added to provide the essential slip-resistance (UL-rated). We offer our Carpet Stickers in sizes from 4 x 4 inches to 50 x 240 inches. Intended for short-term usage, they'll typically have a lifespan of 3-6 months in normal foot traffic and with low exposure to UV light.
The Great Outdoors
Perhaps you're seeking a floor-type graphic for the great outdoors – sidewalks, parking lots, and the like. Yes, you could opt for a sidewalk-chalk solution or even painting your parking lot, but the former is likely too temporary while the latter is probably too permanent. And maybe you want something engineered to accommodate not only foot traffic but a graphic that can also withstand limited vehicle traffic.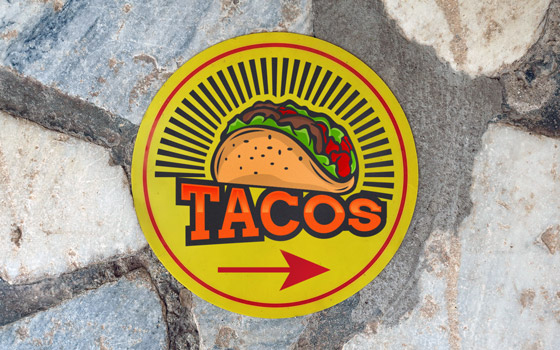 Signs.com's Street & Sidewalk Decals are made from a rugged, aluminum foil-based material with a slip-resistant, textured surface. Conforming and holding to the texture of the surface they're applied to, these decals will hold up to heavy pedestrian traffic as well as rolling vehicles (although traffic that stops, turns, or grinds its wheels on the decal can have adverse effects).
Available in sizes from 6 x 6 inches to 50 x 240 inches, they can be applied to outdoor as well as indoor floor surfaces (heavily textured and non-textured), including sealed and unsealed concrete, asphalt, tile, brick, terrazzo, and vinyl flooring. You can even install our Street & Sidewalk Decals at the bottom of a swimming pool (provided the pool is drained and dry prior to beginning the installation work), and on vertical surfaces, too. Plus, the decals are environmentally friendly (no PVC or hazardous materials); they can be disposed with aluminum recycling.
One thing to keep in mind when it comes to sidewalk and other outdoor surface graphics: Whereas many municipalities allow for "chalking" a sidewalk with art, poetry, etc., most regulations stipulate that the chalk/graphic must be temporary. How a municipality is defining "temporary" might be something to look into if you have plans on installing printed graphics on a city sidewalk or other public surface.
More for the Floor
Consumers have likely become much better acquainted with floor graphics since the COVID-19 pandemic began. Retail stores, restaurants, and other businesses began integrating floor graphics into their social-distancing campaigns and other COVID messaging in early 2020 – customers and just about everyone else quickly learned that keeping their eyes peeled to messages at their feet was one more way to ensure safe spacing while in a queue.
Beyond social-distancing messaging, of course, floor graphics – indoor and outdoor – can be utilized for a range of purposes, including:
Sales/promotions – For your next big holiday sale or when promoting a new product/menu offering, floor graphics can help draw attention to a particular section of the store or nudge customers to expand upon their lunch selections.
Directional signage – Ensure that visitors can easily find their way in your facility and not end up in an employee-only area.
Events – It will take a while for in-person events to kick back in post-Covid, but once they do, floor graphics are a great way to augment the messaging on your pop-up displays, step & repeat banners, and table throws.
Safety messaging – Why limit safety warnings and alerts to just your facility's walls? Whether it's for workplace, construction, school, or other usage, floor graphics are one more way to make sure critical notifications are readily seen.
Specialty uses, "fifth wall" space – Garage floors, parking lots, and certain restricted areas are just three other areas that can benefit from floor graphics. Plus, if your store or facility has limited wall space for signage, keep the floor in mind as your "fifth wall."
If your store's floor is crying out for some graphics, or maybe your parking lot is desperately seeking messaging, check out our Floor Decals, Carpet Stickers, and Street & Sidewalk Decals. And, of course, if you need assistance with your design – logo format conversion, image retouching, sketch-to-design, and more – don't hesitate to take advantage of our free Design Services.