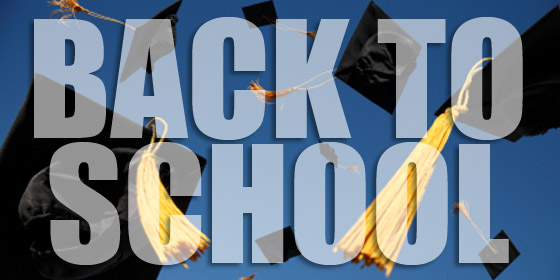 It's August – time for kids across the country to start getting ready to go back to school. I love the smell of those new crayons, the bright, un-sullied canvas of the new backpacks, the anticipation of new knowledge being imparted to tomorrow's leaders. This time of year, not only do I eagerly await the kids' return to the halls of academia, I also start feeing like I need to be adding knowledge to my own lexicon.
They say you should never stop seeking new knowledge. Especially nowadays, with new technology popping up every few months, it's essential to stay abreast of new happenings in your field. Here are a few ways to "go back to school."
Your Local University
Your local college or university has more to offer than just degree programs. Continuing education classes are offered at most state-funded schools. For instance, at the University of Wisconsin-Milwaukee, the Small Business Development Center at the School of Continuing Education offers a host of classes to help you start or improve your business. Seminars on starting a business, growing a business, learning QuickBooks, improving communication and exporting products are all available for nominal tuition.  The school also offers a host of certificates in project management, Six Sigma, team building and training and more. Some can even be obtained online.
Community Education
Look even closer to home to find some great learning opportunities. Your neighborhood elementary or junior high school may offer community education through the Community Education Program at the school district. They often offer classes on small business development, computer programs such as Word, Excel, QuickBooks, etc. Classes typically begin in the fall, spring and summer. Fees can be as low as $10.
Business Development Centers
Some cities and states have business development centers where you can learn new skills and get help from mentors in your industry. The New York State Small Business Development Center's website notes that they have worked with 351,583 businesses that have created 156,929 jobs. New business owners can make an appointment to work with a business advisor. Locally-held workshops offer training on everything from how to get a business up and running, to energy efficiency and regulatory training.
Community Writing Centers
Written communication is one way in which your business makes a first impression. If English wasn't your strongest subject in school, now's the time to brush up on some basic writing skills. Community writing centers are typically run by local community colleges or universities and offer free or very low cost writing tutoring. For instance, at the Salt Lake Community College Community Writing Center here in Salt Lake City, Utah, people can take classes to learn how to write a business plan or resume, improve writing for the company website, blog or press releases. In addition to scheduled classroom instruction, any person who wishes to improve writing skills may make an appointment for a free one-on-one tutoring session with a skilled writing tutor.
Chamber of Commerce
If you haven't already joined your local Chamber of Commerce, now's the time. In addition to some great networking opportunities, most chambers offer extensive new business development programs (see our article on why you should join a chamber of commerce).
The Denver Metro Chamber of Commerce notes that in 2010, it provided consulting services to 1,074 clients, helped clients obtain more than $16.9 million in capital and helped clients secure more than $32 million in government contracts. Classes and consulting are offered on a host of business-related topics including: financial analysis, marketing, proposal writing, government contracting, and loan packaging.
Even small-town Chambers offer some courses on business strategies, regulation and other operational aspects of opening a new business.
Small Business Groups in the Community
You can learn a lot by hanging out with other business owners. Share stories about mistakes and successes, share tips and tricks and get the latest info on new suppliers, potential business partners, etc. Find a local small business group by checking out sites like Meetup.com or Craig's List. If you can't find one in your town, start one!
Online
If you're one of those people who stay up all night working, a subscription site like Lynda.com may be the best way for you to learn new skills for your business. For a small monthly fee, Lynda.com offers unlimited access to hundreds of training classes in subjects ranging from accounting programs to Photoshop, Excel, html, CSS and more.
The U.S. Small Business Administration offers free online classes on starting, managing and financing a business. Go to SBA.gov for details.
Other Kinds of Education
Several of these resources also have classes on subjects that are non-business related. Sign up to learn pottery, martial arts, painting, writing or anything else that you find interesting. As a new business owner, learning things that don't relate to business is still well worth your time. You'll increase your creativity and get some stress relief . . . and your black-belt martial arts skills might come in handy when dealing with unruly customers!