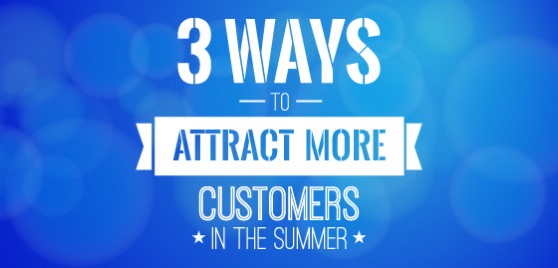 Summer can be a slow season for many retail stores, unless of course you sell swimsuits and sandals or pool supplies. Many people spend their summers going on vacations so businesses, typically smaller businesses, tend to experience slower days both from a revenue and store traffic perspective during these few months.
But this unfortunate trend doesn't have to be experienced by your business. While other retail stores have decreases in customers, online traffic and revenue, you can have increases. And while summer sales can be a great tactic for retail stores, you can't always have a sale!
So follow these three creative ways below on how to attract customers — and their money — to your retail store this summer.
1. Put Summer Into Your Marketing Strategies
Summer is a time of bright colors, changes in wardrobe and eating habits, when people feel happy and positive, and when people believe anything is possible. Tailor your monthly newsletters, blog topics and promotional tactics to any and everything summer that fits with your brand and retail store's products or services. Give your newsletter a fun, vibrant summer theme complete with bright colors and summer designs and pictures that match your newsletter topic for that month. If you're a clothing retail store, you could write blog posts about summer fashion tips or new summer clothing trends. Be sure to promote these posts via your social network platforms.
Starting a summer marketing campaign directly targeting a certain group of your consumers has proven successful for several companies, so it's likely to work for you too. An example of a company who did this was Target in 2012. Target's campaign that summer called Big Honkin' Summer targeted parents, especially the vast number of mommy bloggers on the web. Target sent a kit filled with summer toys for parents to review and also created a "Summerizer" mobile app where parents were able to upload pictures with Target-branded frames and clip art of their children. This campaign was so successful because it helped parents fill and enrich the down time they have with their children during these months with their summer toys. It also worked because it got the attention of several mommy bloggers who wrote about how much they loved the campaign on their blogs, and many of the app images were shared and liked by thousands of parents. One can only assume that the omnipresence of the Target brand had an offline impact by driving customers to Target stores across the nation.
Another idea is getting your logo and/or store contact information on summer items people of all ages could use. It's best to choose items directly relating to your brand, but even if they don't, it can still help generate more summer business and sales. Some good summer items are Frisbees, beach towels, can and bottle koozie cups, sunglasses, t-shirts, athletic shorts and beach balls. The principle behind this tactic obviously being to increase the visibility of your brand regardless of where your customers are during the summer!
2. Co-Market With Local Summer Spots
With longer days, warmer temperatures and endless sunshine, the place to be during the summer is outside. The best and most frequented places during the summer are pools, parks and baseball fields. So that's where your business needs to be!
To do so your business could host some type of summer activity or fundraiser at one of these locations that would draw in your normal customers, as well as potential new ones. You and your employees could be in charge of running the concession stands for a day at a pool or baseball field and wear shirts and hats with your logo on them to advertise your business.
Likewise, big and small retail stores alike can offer coupons or promotional pricing for these types of locations when customers make in-store purchases. For example, offer a 10% off coupon to the local water park when customers purchase something from your store. Even better if you tie this co-marketing effort to a slower day or time of your store.
Working with any of your local pools, parks or baseball fields is a great way to market your retail store while getting involved with your community. And any small business knows well that getting involved with your community develops relationships that lead to better business results.
3. Create Your Own Special Summer Occasion
There doesn't need to be a major holiday for you to have a store event, nor does it need to be your grand opening in order to have an open house. It doesn't even have to be a sale or reduced pricing in any way! You can simply create your own event or hold an open house anytime during the summer months. You just have to make it your own special summer occasion and get the word out through word of mouth, social media, event signs and other marketing tactics to ensure people come.
One way to pull in a summer crowd is creating an event promoting a specific item or service of yours, either something new or one you think customers will want to spend money on. Depending on what the item or service is, customers could sample or test it out in your store and then you could also have refreshments for all visitors. Food is a great incentive for many people. Try running some kind of raffle during the event where those who come and enter could win a free one of whatever you're highlighting, along with some other type of goodie bag of items from your retail store or a gift certificate to your store. Even though it's not a grand opening, you can still borrow a tactic or two from typical grand opening event ideas.
Hold an open house at some point during the summer. A good time might be right before or during a big summer sales event or maybe during a period that's normally very slow so it can help bring people into your retail store. Invite community members, local leaders, potential customers, business associates and other local businesses. Open houses allow these people to meet and greet with the owner and employees, as well as see how your business operates and learn about your products and services. After the open house, host a cookout or picnic to get your employees and these people outside to enjoy the sunshine and fresh summer air.
Relating summer to your marketing strategies, taking your business and customers outside, and appealing personally to customers and potential customers is how you're going to attract customers and their money to your retail store this summer. Follow these three tips and see your numbers improve this summer.
If you have any unique ways you've attracted customers to your retail store during the summer please share them with us in the comments below!