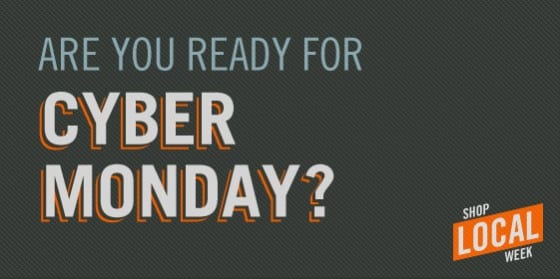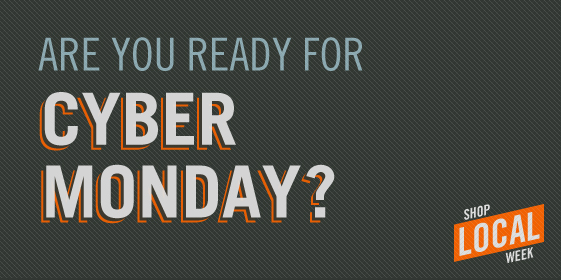 Small local businesses have a lot to offer the holiday shopper over Black Friday weekend. You can draw in local customers with your unique, one-of-a-kind merchandise, your stellar customer service, your quality products and the fact that you're giving so much more to your local community than those big box stores.
But what about Cyber Monday? OK, so you're not Amazon. You don't have huge warehouses full to the brim with discounted merchandise. But that doesn't mean you can't capitalize on the madness of Cyber Monday. Last year, billions of dollars in sales were generated on this day. Grab some of those sales for your business!
First Things First…Get ONLINE!
Even small, local businesses can benefit from an online presence. If you are fairly computer-savvy, you can open up an online site in less than a day. If you're not… well, you're probably going to miss Cyber Monday this year. But that's OK—on Cyber Monday, instead of shopping on the competition's website, read our article, "How to Start an Online Business" and you'll be ready for the festivities next year. And in the meantime, take a look at these tips.
Make the benefits of your products immediately clear.
What's your unique value proposition—why should people buy from you? Sure, the people in your community know all about your fabulous hand-crafted widgets. But shoppers online have never seen your widgets up close and they don't know you personally. So you have to make them aware—right from the moment they enter your website—of why you and your products are so great.
Come up with one (or maybe two) sentences that clearly define the special thing you offer. Then, make sure it's splashed all over your homepage.
Come up with a great deal.
Shoppers expect a great deal on Cyber Monday, so don't disappoint. While you shouldn't drop your prices so low that you don't make a profit, find a way to give cyber shoppers a bargain and they just might come back to buy more later.
Get online and scout out your competition. What are they offering? You might consider a percentage off sale, or maybe a Buy One Get One deal. Some online stores give a discount after a minimum sale is met: 20% off your order of $75 or more, for instance.
Make sure you take the time to carefully consider your offer; if your cyber sale is successful you'll be receiving a lot of orders on Cyber Monday. You don't want to lose money on each one!
Offer free shipping.
Free shipping is the standard for Cyber Monday. No cyber shopper wants to get all excited about the bargain items in her cart… only to find that shipping costs total more than the product! Do some research and make sure that you're shipping your products in the most cost-effective way possible.
Free shipping typically only applies to standard ground shipping. Offer priority or rush shipping at regular rates.
Advertise—the Local Way
Even though you're focusing on online marketing, you don't want to miss out on local sales. Many of your local customers will be doing online shopping on Cyber Monday—advertise your special deals to them by posting signage in your store, sending an email blast to your customer list or sending out a physical postcard.
Advertise—the Online Way
If your business hasn't been doing online sales for very long, odds are that your traffic isn't great. If this is the case, you might want to pay for some advertising through a site such as Google's AdWords. Pay-Per-Click Marketing allows you to set a specific marketing budget, then you'll pay a fixed amount every time someone clicks on your link through the search engine. Once you hit your pre-determined budget, your pay-per-click advertising disappears. But hopefully by then, you've garnered a bunch of orders.
Don't forget social media marketing, either. Now's the time to take advantage of those Facebook and Twitter accounts. Post about your cool online sale and tweet it out, too.
Stock Inventory
Make sure you have plenty of inventory in preparation for Cyber Monday. Though you might normally do business with local customers only, focusing on online sales means that your customer base just got bigger. A lot bigger. Last year, more than 123 million shoppers purchased something online on Cyber Monday. Don't forget to stock up on shipping supplies, too.
Spend a little time now preparing for Cyber Monday, and you'll add some extra sales to your already-successful holiday weekend. Good luck!