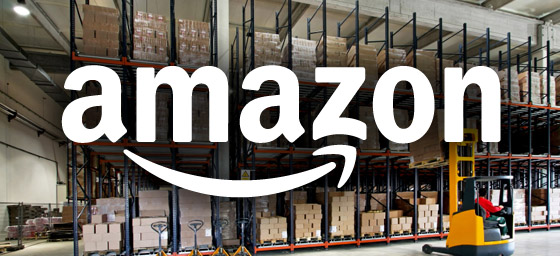 An Amazon warehouse is coming to a city near you. In order to fulfill orders the very day they are placed, the company is spending millions to construct fulfillment centers all around the country. In California alone, Amazon will spend $500 million on several new warehouses.
If you read the media hype, the main message to take away from Amazon's new strategy for same-day delivery is this: Be afraid. Be very afraid. Farhad Manjoo, a writer for Slate Magazine says, "If it can pull that (same-day delivery) off, the company will permanently alter how we shop. To put it more bluntly: Physical retailers will be hosed." (1)
Really? Let's take a deep breath and look at the situation closely. Amazon does have some advantages over small brick-and-mortar stores:
With its huge buying power, it can often offer lower prices.
It can offer a larger selection than small stores that aren't specializing in one niche product.
Customers can shop 24/7 (in their pajamas).
In most states, customers don't pay sales tax on purchases (though customers in Kansas, Kentucky, New York, North Dakota and Washington already pay sales tax. Customers in six other states are slated to start paying sales tax within the next year or so).
Amazon has a great big pile of financial resources to hire attorneys, file lawsuits and wage policy campaigns when threatened with regulations it doesn't like.
The consensus seems to be that, once Amazon is able to deliver purchases to customers doorsteps mere hours after ordering, those customers will never again leave their homes. Instead, they'll just glue their butts to their recliners, watch TV, order food delivery and become pudgy, pale shut-ins. Manjoo says, "Order something in the morning and get it later in the day, without doing anything else. Why would you ever shop anywhere else?"
Well, Mr. Manjoo, let's stop and consider why people would leave their homes to shop:
Many people are not content to live their lives with their butts in the recliner. Some of us actually prefer human interaction to the Internet. Remember the movie WALL-E? After trashing the planet, the people of Earth resort to living in a spaceship where they hover around in recliners watching TV, avoiding human interaction and becoming so obese that they can't support their own weight. I don't know about you, but I'd rather not get to that point.
Customers have questions about merchandise that can't always be answered by reading a product description or product reviews. Why does Apple still have 246 retail stores (2) in the United States? After all, you can buy everything on its beautiful, easy-to-navigate website. That same website touts Apple's retail locations as, "The best place to shop for Apple products." It tells customers, "Test-drive any Apple product. Get all your questions answered by a knowledgeable Specialist . . . And when you purchase a new Apple product, we can even set it up for you before you leave the store."(3)
Test-driving. Apple knows that people like to touch and play with the merchandise before they buy. Sometimes you need to feel the heft of that camera in your hand, or caress the fluffiness of the bath towels before you buy. And with the uneven sizing that exists in the world of clothing, it's difficult to buy some products without first trying them on to make sure they don't make your butt look huge.
The joy of shopping. While it's not true of everyone or for every purchase, sometimes shopping is just plain fun. It hasn't been called, "The Great American Past Time" for nothing.
Personal connection. Would you rather give your money to a huge corporation, or to your neighbor who owns a local shop? Customers are increasingly becoming more loyal to local businesses, to the benefit of their communities. The Retail Merchants Association's Think. Shop. Buy. Local campaign says that shopping local creates jobs and keeps money in communities (for every $1 spent in local businesses, 45¢ stays in the community. Non-local purchases keep only 15¢ in the community).(4) This and other Buy Local campaigns have been tremendously successful in recent years.
So, will you lose business to Amazon once its Same Day Delivery hits your town? Maybe, maybe not. Here's how to keep your customers coming in:
Service, service, service. Go above and beyond. Be friendly and helpful to customers, even when you're having a bad day. Make sure your employees do the same.
Be an expert. Hopefully you already know everything there is to know about the products you carry. If not, learn. If you're not already known around town as the one to see about your product niche, get out there and advertise yourself. Offer an open house to educate people about the benefits of your products, or even teach a community education class. For instance, if you sell gourmet imported foods, offer cooking classes. If you sell cameras, give in-store tutorials about how to take great photos. If you sell clothing, be abreast of the latest fashion trends and host a local "Fashion Week."
Have a value statement and relay it to customers. Why should customers buy from you instead of hopping online and buying from Amazon? Find a value statement (or two. Or three) and put it on your signage. Is your merchandise locally made? Is your support staff  knowledgeable and ready to help? Does your store provide jobs to the community? Don't be shy—remind customers why they want to shop at your store.
Don't clear out your inventory and close your doors just yet. While Amazon will always have a place in the world of consumer spending, it can't ever take the place of real, live, humans.
(1) Manjoo, Farhad. "Amazon's New Push For Same-Day Delivery May Destroy Local Retail" Slate Magazine. July 13, 2012. Online. Accessed July 20, 2012
(2) Apple Job Creation. http://www.apple.com/about/job-creation/ Accessed July 20, 2012.
(3) Apple Retail Store. http://www.apple.com/retail/shop/. Accessed July 20, 2012.
(4) Retail Merchants Association. Think. Shop. Buy. Local. Homepage. http://www.thinkshopbuylocal.com/ Accessed July 20, 2012.