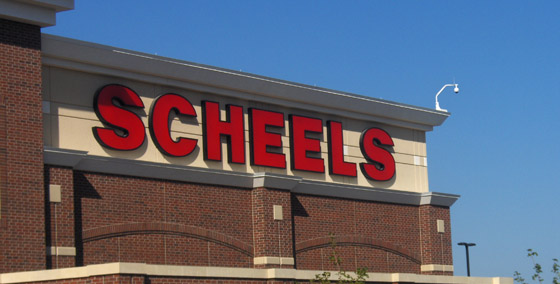 If I asked you what a 220,000 square foot building, a 16,000 gallon aquarium and a 16-car Ferris Wheel have in common, you would probably answer with something like an amusement park or one of those crazy malls in Asia. But you would be wrong. In fact, this accurately describes the new retail behemoth that just opened this past weekend in a Salt Lake City suburb.
If you are not familiar with Scheels, the sporting goods retailer has been around since 1902, when a small hardware and general store opened in Sabin, Minnesota. Since then, Scheels has grown to 24 stores operating in 10 states. Their Reno location became the world's largest all-sports store when it opened in 2008.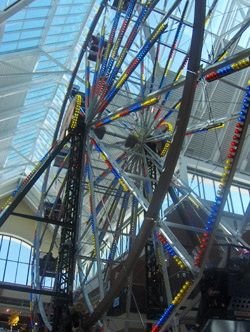 It goes without saying that these guys don't mess around. And it is not just about having the biggest stores or largest selection. Just going to the store becomes an adventure. It is an experience – for kids and adults alike – and I had the pleasure of fighting the crowds this weekend just to give all of our readers an inside look into Utah's new shopping destination.
Much like the opening of City Creek Center, Scheels was more about what the store had to offer besides just the run-of-the-mill sports apparel, accessories and equipment. I took my wife and 3-year-old so I made sure I got adequate insight from a good cross section of individuals – not sure how much you all would have cared if I only wrote about the fly fishing section, which is pretty awesome, I have to say. Anyway, here is my review of Scheels:

The signage is great. I have to say this first since….well, we are a sign company. The sections are well laid out and well identified with huge backlit signs hanging from the ceiling. Even with the massive floor space, we never got lost. Props to Scheels for building a square building and not some crazy architectural structure that you get lost in. Having a giant Ferris Wheel in the middle keeps you rather well oriented too.
Their staff is even better. Yes, it was opening weekend, so they probably over-scheduled sales associates but I was amazed at how many staff members were actually working on the floor simultaneously. And it wasn't sales guys trying to push product. Most just wanted to have a conversation, ask us how we liked the store, or just say hi to my daughter. They were extremely helpful, very well-trained and a pleasure to interact with.
The restaurant was a brilliant idea. Yes, I know, places like Bass Pro Shops and Cabela's offer in-store dining options. The difference is, you tend to spend a lot more time in Scheels than you think. Expect to spend an hour waiting for and then riding the Ferris Wheel. Also, there is an indoor playground for kids and if you have a child like mine, you have a better chance of that stuffed mountain lion coming to life and mauling you while in line for the Ferris Wheel than getting her out in a reasonable time frame  The answer – send the spouse to get a variety of fudge confections and a Diet Coke: well worth it if you are stuck with 50 other families trying desperately to get their kids back from the playground abyss.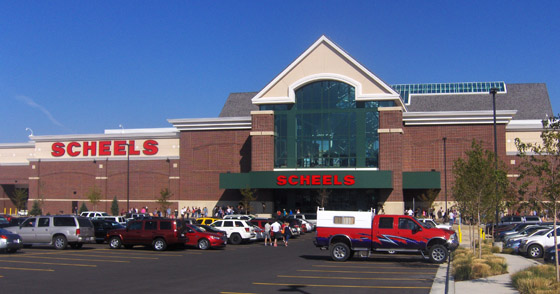 At Signs.com, we tend to write a lot about small businesses and small business ownership. With that in mind, many of you are probably wondering what a gigantic retail store like Scheels has to do with small businesses. Well . . . a lot actually.
The main reason I endured 3 hours of shopping "bliss" is to see what aspects of a store like Scheels you can apply to your businesses. So without further commentary, here are my 3 lessons you can learn from the retail giant:

Be Unique – Scheels offers an experience no one else can. Yes, I know you can't build a mountain with stuffed animals in your strip mall retail space but you can do things that your competitors aren't  It is not that Scheels has a product you can't get anywhere else and I will venture to say, neither do you. There are other hardware stores, computer repair companies and baby boutiques out there. How to differentiate? Be unique. Get creative on how you display product, how you design your interiors, and how you market your products. When you have a sale, think about giving a bigger discount if you combine different products. Not everyone wants 5 shirts, but they may want a shirt, pants and a tie.
Be Thorough – As business owners, we tend to focus on the "To Dos." We wear a lot of hats and sometimes lose focus of the details. But it is the details that make you special. Better yet, make sure your employees focus on the details. Keeping your cash-wrap clean and organized, restocking inventory throughout the day or taking the time to walk your own store to gauge your customers' perspectives will ultimately help you develop a thoroughness that will trickle down to other areas of your business.
Customer Service Trumps Everything – The customer service at Scheels was amazing. As we walked around, I heard many interactions between customers and employees. Maybe my expectations were low, but I fully expected the store to be loaded with teenagers who would rather be on their smart phones than helping customers. I was wrong. The staff was trained and well-educated on products like bikes, skis and fishing gear – all things that your average Joe wouldn't have been experts in. I could tell Scheels did their homework and made sure they had product authorities ready and available to help. In any business, your employees are a part of your brand and you can't afford to have that brand tarnished. Make sure you take time when hiring and if you are going to hire on "potential" make sure you take the time to train them – if they don't know your products, it's your customers who suffer.
I really enjoyed my time at Scheels. My kid loved the fudge and Ferris Wheel and my wife loved the ridiculous number of options in Nike hoodies. Did anyone else go to the grand opening this past weekend? We would love to hear from you. What did you like, what did you hate? Let us know.