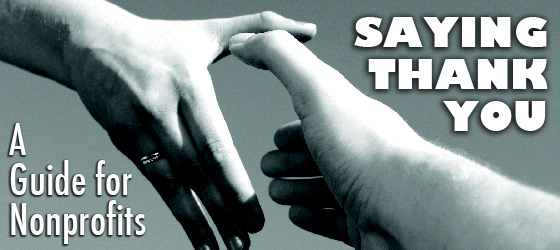 Your mother always taught you to say "Thank you" when someone did something nice, and she made you write countless notes for every birthday, Christmas and graduation gift.
Even though you grumbled about spending your Saturday morning writing out card after card until your hand cramped, you knew Mom was right. When someone gives you something, it's polite (and socially expected) to acknowledge their kindness with a thank you.
No matter what the size of the donation, thank you notes are an important part of your daily operations as a nonprofit organization.
As an example, let's say that your nonprofit organization provides art supplies to children in Africa. Craft a well-written thank you note with these tips in mind.
Make it Personal
If you're a small nonprofit, writing handwritten thank you notes should be the standard. If it's absolutely impossible to handwrite an entire note, the donor's name and the name of the person sending the note should be personalized at the very least.
Be Specific
How will the donation be used? Donors like to know where their money is going; it makes them feel good to picture someone benefitting from their generosity. Avoid vague statements such as "your donation help provide supplies for children in Africa." How do you picture African children using "supplies?" What does that mean?
Grandiose statements such as "Your donation enables us to buy everything children in Africa need!" are just as bad. No one is naive enough to think that their $20 donation is going to buy African children everything they ever needed.
Instead, try "Your generous donation will provide schoolchildren in Africa with pencils, paper, crayons and other art materials." The donor will get an image of sweet children doing art projects, thanks to the $20 he sent.
Be positive
Now's not the time to depress your donor with the fact that his donation is only one tiny drop in the bucket of need. Obviously there are a lot of kids in Africa who need art supplies; otherwise you wouldn't have set up a nonprofit organization for that purpose.
Instead of telling your donor that his $20 will give one kid some crayons, but that there are 10,000 more crayonless kids in Africa, tell him what a great impact those crayons will have on the kids' creativity.
Make it Interesting
Remember the note you send to Grandma for the nice sweater she gave you for Christmas? "Dear Grandma, Thanks for the nice sweater. I will wear it a lot." Blah, blah, blah.
Write your thank yous as if you're sending them to your closest friends. Tell a story about the African schoolchildren. Include some photos of the great artwork they create with the art supplies your organization provides.  For more about telling stories, check out our past article about Increasing Charitable Donations by making it personal.
A Different Call to Action
Let the donor know how they can keep in touch (via your newsletter, blog, etc). Send a report on the success of the donation drive, encourage them to read the blog for more happenings, etc. DON'T ask for another donation. Yet.
Be Prompt
Send the thank you note within 30 days. Promptness is important.
A donation in the hand is worth two in the . . .
Take good care of donors. Spend the time it takes to generate a thank you note. It costs much less time and money to send thank you notes than it does to find another donor. And if you take good care of the people who've already shown an interest in your organization, they might refer others to your cause.
Get an Intern
Nobody runs a nonprofit for the personal financial rewards. The pay tends to be low, the hours tend to be long and the stress tends to be high. So thank you notes might be at the bottom of the priority list. Don't let them go by the wayside because you don't have the time or energy – delegate the task to someone else.
Contact your local university and find a great intern who will work for free (or perhaps for school credit) in order to gain experience. Generating thank you notes for a small non-profit can be done in just a few hours per week. Have your intern do some follow-up activities as well.