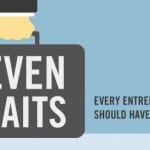 Over the last year, I've interviewed many entrepreneurs. From furniture store owners, to medical device manufacturers, to cheese artisans—it doesn't seem to matter what the industry—all seem to have a few traits in common. Looking back over those interviews, I've compiled a list of traits that all the successful small business owners I spoke with possess.
1. They feel their businesses have a special purpose.
Running a business has its ups and downs. Some days it's exhilarating; some days, exhausting. So what keeps entrepreneurs going when things get tough? Passion and the belief that their business makes the world a better place.
Steven Rosenberg's eyes light up when he talks about the food products he carries in his small green-grocer, Liberty Heights Fresh. Steven is passionate about providing his neighbors with healthy, delicious foods that are made from only 3 to 5 easily-recognizable ingredients.
Betsy Burton is passionate about books and the authors who write them. She loves pairing customers with the perfect book and it shows—she absolutely glows while puttering around The King's English.
Pat Ford is passionate about the artisan cheeses he creates with his business partner, Tim Welsh and the rest of the staff at Beehive Cheese. He likes to play with various ingredients and revels in the feedback he gets from cheese aficionados all over the world.
"You can't do this half-hearted – you have to be all in," says Rick Cochran of Mobile Medical. He told me that the challenges that new business owners face are enormous; without passion and a strong belief in your purpose, many give up within a year.
2. They form and maintain business relationships.
Jim Blanda formed crucial relationships early on with local furniture makers. Decades later, those relationships still remain strong and Vintage Oak Furniture carries an assortment of leather furniture that's made in Utah–a unique value proposition that his competitors can't offer.
Steven Rosenberg understands the value of solid customer relationships, "We like to get to know our customers and establish a relation that's built on trust. When we're dead and gone the only thing we leave behind is our reputation, so it's important to leave a good one."
Networking proves invaluable to small business entrepreneurs. Rick Cochran was able to get his business up and running by sending personal letters to physicians he had worked with at his prior job. With their enthusiasm and capital, Mr. Cochran was off to a great start.
3. They take the time to nurture family relationships.
Betsy Burton and her initial partner, Barbara, were both single parents when they opened The King's English Bookstore. They brought their kids to the shop and took turns caring for the kids while the other partner manned the front counter.
Beehive Cheese is a family affair that began with brothers-in-law Pat Ford and Tim Welsh deciding to form a partnership. They included family members from the beginning planning stages and even today, eight out of fifteen employees are family.
Rick Cochran, President and CEO of Mobile Medical, told me, "You have to keep a balance between work and your family. You need support from the home front in order to be able to grow a successful company, but it's also important to stay involved with your spouse and children. Those relationships matter most."
Libby Monson of Pear Tree Preschool started her business while staying home with her three boys. She's structured her working hours around the two oldest boys' school schedule, "They don't even realize that I work because I am able to do it while they are in school." Her youngest attends the preschool as a student, so he doesn't miss a moment with mom.
Brad and Monnica Manuel, owners of Nothing Knew, started their business with their children's needs in mind, "Freedom to us meant the ability to be home when our kids got out of school and a plan for both of us to be there eventually. We wanted our kids to be influenced by us. That meant being around, a lot."
4. They are eager to learn new skills.
You don't have to be an expert at something to think about opening a business; you can learn as you go. Many of the entrepreneurs whom I have interviewed saw their businesses as an ongoing learning process.
Pat Ford and Tim Welsh, didn't know the first thing about making artisan cheeses when they decided to open Beehive Cheese, but that didn't stop them. They headed to Utah State University, where they learned everything they could about the art of cheese-making. The learning process took many months, but it ultimately paid off and they won a first place ribbon at the American Cheese Society Competition for their Barely Buzzed variety soon after its creation. They continue to try new recipes and create new flavors; some work, others don't. Either way, they've learned something new.
Allison Regan was a talented cook and baker when she was diagnosed with Celiac disease, but she had to completely re-learn how to make delicious desserts without using wheat flour. It took her years of experimenting in order to come up with her special gluten-free baking mixes. The result? Absolutely decadent cupcakes, brownies, cookies and other treats at her shop, Sweet Cake Bake Shop.
5. They get their hands dirty.
Successful entrepreneurs know that get-rich-quick schemes seldom pay off. Instead, nurturing a new business takes lots of time and plenty of hard work.
Mitch Monson, co-owner of The Toaster Oven, wanted to keep his business as lean as possible in its early days. So, he grabbed a hammer (and a bunch of other tools) and retro-fitted The Toaster Oven's space himself in order to save money on construction costs. He also scouted out used fixtures and refinished used furniture to keep his bottom line low.
Pat Ford told me,  "We worked seven days a week in the beginning. We participated in five farmer's markets every week. We would make cheese from 4:00 in the morning to 10:00 at night. Tim would stay until midnight and do the books. We both worked our butts off . . . but it paid off."
In the early days, there were many nights when Betsy Burton didn't get much sleep, "I'd take all the books in their boxes home at night, unpack them and do the invoices at night after Mandy went to bed, and then bring them back in the morning. It was a struggle for awhile."
6. They start small, and grow slowly.
One of the main reasons that small businesses fail is that they take on too much debt early on. The successful entrepreneurs that I've met all told me that they refused to go deeply into debt.
Andrew Caprio, owner of Monet Medical, started his business in his basement and ran it from his home for the first 14 months. Then he moved to a tiny space in a strip mall before finally purchasing the nice office/warehouse space he owns today.
Betsy Burton opened The King's English with a tiny bit of start-up capital; just enough to buy some books to stock the shelves. She operated the shop in a small space and didn't allow herself to go crazy ordering books because she didn't want to take out a loan. As business permitted, Betsy expanded the shop, renting next-door space as it became vacant.
Pear Tree Preschool is a brand-new venture for Libby Monson, so she's started small by opening with just seven students. She said, "I've been able to make a few changes to my original plan and see how things were going to go with my time management and my family responsibilities. Now I'm ready to add a second class and accept new students in January."
7. Successful entrepreneurs take good care of their employees.
Most of the entrepreneurs I spoke with have fewer than 50 employees. In businesses where turnover is typically high (retail and food service, for instance), these owners enjoy the kind of loyalty that their competitors can only dream of.
Jim Blanda, owner of Vintage Oak Furniture, told me, "We treat our employees like family, and we're different in that our pay is more stable. Instead of paying commission only, we offer a regular wage and an additional small commission."
Mitch Monson pays the employees of the Toaster Oven a little more than the wages of his competitors. He provides flexibility where he can and lets them know how much he appreciates their good work.
Employees at Mobile Medical were loyal in the early days of the company when making payroll was difficult. Rick Cochran knew that kind of commitment was rare and valuable; he rewarded his employees' loyalty with bonus pay and stock in the company.
Do you have what it takes?
Do you recognize these common traits? If so, perhaps entrepreneurship is something to think about. Are you thinking about starting a business? Tell us why you think you'll be successful—we'd love to see your comments!