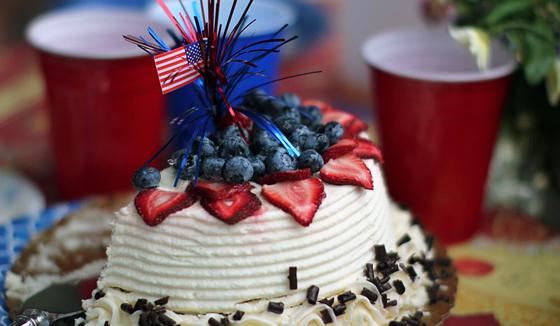 For many, the Fourth of July means relaxing in the backyard with family, enjoying a BBQ followed by fireworks on the driveway. Others head off to the stadium to hear singers and marching bands and watch the big fireworks. But retailers . . . well, you might be working extra-hard, garnering additional sales during the big holiday or you might close for the day. Either way, you could use the Fourth (or as the case is this year, the weekend before or after) to capitalize on some great marketing opportunities.
Here are 7 ideas for your Fourth of July marketing.
1. Join the party.
Enter a float or vehicle in your local community parade. Throw candy, or have employees/volunteers walk alongside, handing out samples of product or coupons.
If you don't have time to put together a float, employees can walk or ride bikes in the parade. Does anyone know how to juggle or ride a unicycle? Let employees bring their kids, too. Get into the parade spirit, have some fun and advertise your business at the same time. One note: don't make it mandatory for employee participation – make it voluntary. If it's a fun thing to do, they'll join you.
If actually being part of the parade isn't for you, consider walking along the sidelines, handing out coupons or promotional items.
2. Set up a booth.
Communities usually host some type of carnival or party on the Fourth. Rental fees for booths can be fairly inexpensive, depending on the size of your town and the type of celebration. You can set up your booth similar to a trade show booth (see our trade show booth article).
Or, you can just participate in the community and offer something fun for the holiday. Try giving away free ice cream or sparklers, "Courtesy of Your Business." This kind of marketing is more subtle, but works really well if you're interested in becoming the business known for community spirit.
3. Host your own party.
Hold an Independence Day party of your own. Hire a caterer to provide ribs, hamburger or hot dogs. Or borrow a couple grills and grill your own. Ask local up-start bands if they'd like to entertain your guests. String outdoor lighting from the trees or outside of your building and dance the night away in celebration.
Another Fourth of July party idea is to host an outdoor slide show of your town. Rove about the town, taking pics of residents, other businesses and business owner, beautiful yards . . . just about anything interesting in your neighborhood. Advertise that you'll be showing the slide show at your party and people will show up to see if they're in it!
Hire a fireworks company, or hand out sparklers and let party-goers light things up themselves.
You can also set up some Smore's stations in large fire drums (check with your local fire marshall on how to do this safely).
4. Offer free, patriotic giveaways at your store.
Find a patriotic, Fourth-of-July inspired give-away and promote it. For instance, you can give a free picnic cooler with every purchase over $50, or a small flag with every purchase.
Free or inexpensive patriotic t-shirts with your store name or logo are also a great way to participate in the holiday and enjoy your advertising spread all over the town.
5. Set up a small sidewalk sale.
Think about the kinds of merchandise people need on the Fourth. Sunscreen, hats, picnic blankets, coolers and toys are all popular. One of the best things a business can do is solve problems for consumers. Set up a display of stuff that parade-goers need and you'll do exactly that.
Or, you can just set up a sidewalk sale with your regular summer merchandise. A sidewalk sale can be profitable on the Fourth, especially if your business is located near the parade route or community celebration.
6. Partner with another small business.
Think of some other local business owners whose products might enhance yours and offer a package deal for the holiday. For instance, if you have a restaurant, team up with an ice cream shop or bakery to offer a Fourth of July brunch and dessert. The possibilities are endless, but here are a few more ideas:
A BBQ grill and a deal on steaks from the butcher shop
Admission to the local water park and a towel, cooler and beach chair
Patio chairs and a patio flower box with a patriotic assortment of flowers from the garden shop.
Admission to the bowling center and pizza from the pizzeria.
7. Whichever marketing techniques you choose, advertise!
Advertise your efforts with patriotic-themed banners and signs. If you're displaying a booth at the community carnival, make sure you have plenty of signs that are easy to set up and that clearly feature your business name and logo.
Offer brochures or coupons at booths or during parades to invite customers into your business either during the holiday or after.
Now get out there, enjoy this years festivities and hopefully you will gain a little more business while you're at it. Happy Fourth of July!