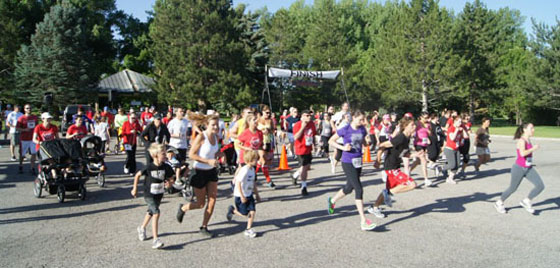 For most of the country, summer is in full swing and that means getting out and enjoying the park, the pool, or the beach (yes, I know it is sweltering right now in some parts, but hey, it won't last forever). No matter the temperature, summer is when people want to be out of their houses and for a non-profit, it is a great time to take advantage.
Putting on a race is a great way for any organization to build awareness in their communities about their cause and maybe generate some much needed funds. But before you commit to putting on a 5k, 10k, relay race or marathon, take a look at these five tips and I guarantee you will have a great turnout.
Location, location, location
Did I mention location? It is probably the single biggest decision you will make about your race and definitely the most important. There is no shortage of good races out there (just look through a site like active.com for races in your area). But what sets the most successful ones apart from all the others is the location.
When deciding where to hold your race, keep in mind how your runners will get there. Is there public transit? How far of a drive will it be? Is it in an urban setting or out in the "sticks"? Think of your race as if you were a runner. If you race starts at 7:00 am, does that mean most of your runners are getting up at 5:00 am and driving an hour just to make it to the starting line? Unless you are a hosting a race for really serious runners, most people aren't going to make that kind of an effort.
Also think about the course itself and the kind of runners you want to attend. If you are a non-profit, the more runners the better so try to lay out a course that leans more toward the easier end of the difficulty spectrum. You can also have multiple distances to appeal to a wider range of runners. Just keep in mind, you and your volunteers will be the ones managing your course. If you have multiple distances, make sure you are able to cover both courses with the number of volunteers you expect to help out.

Permits
One thing that most people don't think about right away is making sure you have the correct permits and permissions to hold a race. Once you decide on a location, getting the permit process started immediately is critical. If you plan to hold your race in a city or state park, make sure the dates you set are available and see if there are any deposits that need to be made to reserve the date and space. The last thing you want is to find out a week before your race that you can't run it or that it conflicts with another event.
If you plan on doing a race on city streets, you may have to inquire about police assistance. If at all possible, don't set your race course up to cross busy streets. It is annoying for the runners and if you need the police to close down the intersection, it is annoying for motorists.
Whatever the course type, do your due diligence. Check with the city or state and then check again. Being overly thorough when putting on a race is never a bad thing.
Signage and Wayfinding
When you are putting on a race, signage takes on a whole new level of importance. No matter how many times you email, Facebook or Tweet out directions, locations, and course markers, someone inevitably gets lost or confused. This especially holds true if you are not running on a closed course or are running on a course that loops multiple times.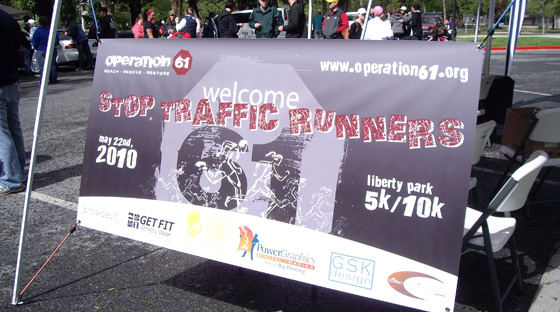 Have a volunteer near the entrance of where you want runners to park with a sign directing them to the registration table or starting line. Make the sign bright and clear. Keep in mind, this could be the first time the runner has been to that location so he is already trying to figure out where to go. Having a volunteer at the entrance is also great for promoting your race to passersby. A couple same day registrants never hurt.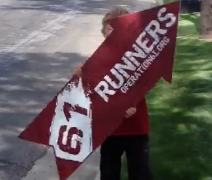 Some other signage options include yard signs pointing out the closest restrooms, where runners can pick up their runner bags. There are numerous banner types that can be used for sponsors or directions to food and water. Vinyl banners and mesh banners great options when you're wanting to keep the signage cost-effective. If you spend a little time and money on signage, your participants will have an easy time getting around and it will increase the chance they will come back year after year.
Food & Drinks
I cannot begin to tell you how many times runners at the races I have hosted comment on the food and drinks provided. It seems like a small thing, but having something that a runner can snack on before or after the race is huge. Having things like bananas or bagels and water or chocolate milk for runners goes a long way in determining if they will like your race and come back.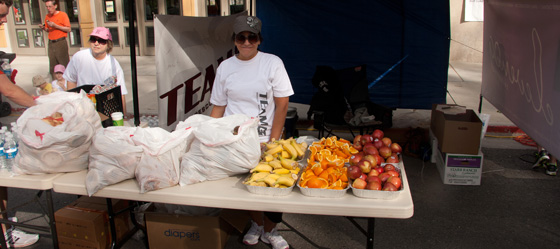 It's summer and it's HOT! So, don't forget to provide water on the course and staff water stations accordingly. The last thing you want is a runner dealing with dehydration or heat stroke. A good rule of thumb is to have a water station every 1.5 to 2 miles depending on the length of the race. If it is a 5k (3.1 miles), a single station half way through should be sufficient. If the race is longer, space out water stations evenly and keep in mind that the finish line should have water available when runners complete the course.
Follow Up
So your race is over, nobody passed out and everyone generally had a good time. Now what? Not only are the runners potential donors to your organization, they are potential activists and volunteers. It is always a good idea to have a follow-up plan to thank runners for coming out and also to deliver information about your organization. It's also a great way to get registrants for the next year. Offer a discount to runners for next year if they register early.
Social media is a great way to stay connected to your participants. Create a group on Facebook or Google+ and invite runners to join so they can stay up-to-date on your race or other events you might put on that would give them an opportunity to donate or volunteer. Get creative. You never want to conclude your race and then not communicate with participants until it is time to get them to register the following year.
Putting on a race is a ton of work but it can be extremely rewarding and can go a long way in promoting your organization to your community. A good way to get an idea of what you can expect is to go run in another race. Learn what you liked and didn't like and implement that in your race. Above all, have fun!