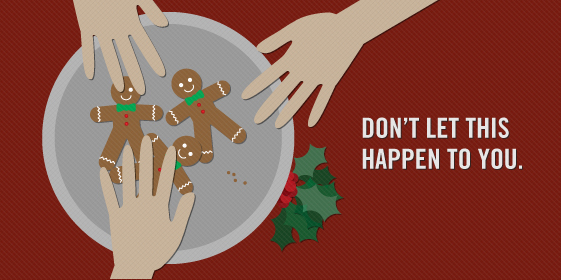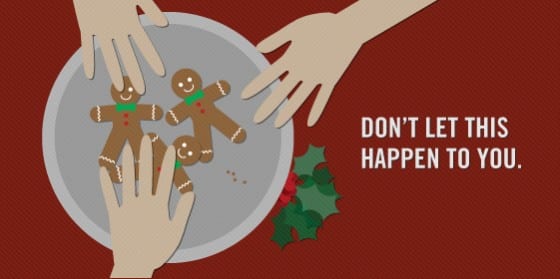 Gathering friends and family in your home is what the holidays are all about. Tasty food, scintillating conversation, fabulous decorations. What could go wrong? Plenty. Here are five holiday party mistakes you must avoid… if you don't want your party to be the worst of the season.
Sending Incorrect Invitations
Whether you're sending physical cards in the mail, blasting out an email invite or posting a Facebook notification, double and triple-check the details. I once arrived on a Friday evening (along with about 20 other people) to a holiday party that was supposed to be held on Saturday. The hostess hadn't double-checked the date, so you can imagine her surprise when her party showed up an entire day early. She was in the middle of cleaning her carpet when we arrived, she hadn't stocked in any food or drinks and her husband was out with the guys. We all left and came back on Saturday to enjoy a wonderful party, but the hostess was mortified.
Also double-check your address. A typo in the house number could be a disaster, especially if you've invited guests who are unfamiliar with your home—inputting the wrong address in your smart phone's mapping app gets you… nowhere. Include written directions and a map with your invitation for those without GPS (yes, some people are still luddites… maybe even your friends).
Letting Guests Get Lost
Speaking of directions… if your home is difficult to find or your guests will be arriving in the dark, don't forget some directional signage. Yard signs are perfect for this task—the corrugate material holds up nicely even in snowy weather, and they're nice and bright so they can easily be seen. Position them from the nearest busy street and all along the route to your home.
Not Stocking Enough Supplies
There's nothing worse than running out of food (except, with some crowds, running out of drinks!) Make sure to stock in more than you think you'll actually need. Some items, like crackers, cheese, soda and wine will last for a long time in the pantry or refrigerator, so if you end up with excess you can always eat or drink it yourself later.
Stock up on paper goods, too. Paper plates, cups, napkins and plastic cutlery can all be purchased in bulk. If you buy them in a solid color, you can use extras for other non-holiday parties in the future.
If you're hosting a classier affair and using the china and crystal, go through your cabinets now to make sure that you've got enough of everything. You don't want to find out you're short on dessert forks just as you're getting ready to serve the pie. Now's also a good time to go through your linen closet and pull out the tablecloths and napkins. Check everything carefully for stains or tears and replace any items that are looking worn and shabby.
Don't overlook the guest bath; there's nothing worse than using the restroom at someone else's house, only to find that they're out of toilet paper! Put out fresh hand towels, fill the soap dispenser and put out an extra roll of TP.
Forgetting to Relax
Yes, you're stressed… you're hosting a party, after all. But try to be organized so that you're party-ready well before guests arrive. No one wants to show up for a holiday party to find a cranky, stressed host. Have everything set up and ready a minimum of a half hour before guests are due to arrive. Then put on some holiday music, sit down and relax for a bit. By the time the doorbell rings with the first guest, you'll be in a holiday party frame of mind.
During the party, keep everything in perspective. If dinner doesn't turn out exactly the way you'd like, someone spills red wine on your carpet, guests show up late… no worries. Remember the reason that you decided to host a party in the first place—to enjoy friends or family. Take a deep breath, smile and move on. Otherwise your guests will be really uncomfortable while you rant and rage.
Neglecting Your Guests
As the host, it's your job to make sure that everyone feels comfortable and welcome. Introduce everyone and get conversations started. When planning seating arrangements, thinks about your guests' personalities and place them accordingly so that people can meet new friends, find common ground and chat happily throughout the meal.
Don't forget to turn the music on before your guests arrive. The volume shouldn't be loud enough to drown out conversation; set it just high enough that it sets the mood.
Plan your menu with guests in mind. If some guests have dietary restrictions, make sure that at least some of the food you serve will fit their needs. If you're serving alcohol, be aware of how much guests are drinking—you don't want people to drive away from your party and into a light pole! Not everyone will enjoy a glass of wine with dinner; have plenty of non-alcoholic beverages available, too.
Happy Holidays From Signs.com!
We hope you have a great month full of fabulous holiday parties and soirees. Our crack design team has been working hard to create some amazing custom holiday vinyl banners, so if you're looking for a last-minute addition to your holiday decor, check these out!