Taxes. It's a dreaded word that nobody wants to hear. So here you are, someone who has embarked in the tax business to help people feel comfortable when hearing that word uttered. Instead of having people running in fear, how do you reach out and show them the safety your tax services provide and bring them to use your services? There's plenty of competition from DIY tax services, larger franchises, and professional accountants which you need to know how to overcome to be effective locally.
Preparing and filing taxes through DIY services is becoming more popular. With cheap software and step-by-step guides to simplify the complicated process people are becoming content with doing taxes on their own. This method allows the individual to be in control, but this is not always necessarily a good thing. The process of doing taxes can be complicated and, without adequate attention to detail, a person could make a mistake in the process. It's more than likely that a tax program will not know your exact circumstance or ask you the right questions to help you with your tax needs.
The allure of larger tax service franchises can appeal to those who don't want to do taxes on their own. Unlike DIY services, franchises can offer personalized tax advice. Professional services usually offer a general service for both state and federal taxes but an understanding of localized tax requirements may be absent from their service. These services offer an easy solution to taxes, which may come at a cost that isn't too steep for the average customer.
Some people want to completely avoid the idea of taxes and push that load on a professional accountant. Tax accountants know what they are doing and are knowledgeable about local tax laws. Unfortunately, they often come at a steep price. Having someone do the work for you is nice but not understanding the tax-filing process and not having control of the amount of return you'll get is a downside to using an accountant.
With the competition in mind, it's crucial that you market your tax service in a way that shows you give one-on-one, personalized service at a cost that is affordable. To assist you in this, we've compiled a list of 5 effective ways to market your tax services to help diversify your business from the different types of competition as detailed above. Not only are they simple and easy to implement but these ideas are sure to bring satisfaction to new and returning customers.
Sign Spinners
We're sure you've seen these guys around dancing, jumping, twirling signs around their heads at jaw-dropping speed. Yes, these sign spinners are perfect for catching the attention of drivers, pedestrians, and social media loving teenagers. Their acrobatic sign twirling skills will sure to be a hit in your community. Not only do they cause traffic in the streets, they can drive traffic to your business by providing an interactive form of marketing. Even though most sign spinners aren't as professional as those shown in the videos, they will still leave a memorable impression. Whether you want to admit it or not, we're sure someone reading this has given their business to a company after seeing a sign spinner!  Who knows, the sign spinner you hire can be the next viral video star (launching their career and promoting your tax services at the same time).
Non-spinning Signs
Implementing signs in to your marketing campaign might seem like an obvious solution but they really are the perfect, inexpensive way to advertise locally. Using signage will help you advertise in places where people will be most likely to view your sign. Strategically placing signs gives you maximum exposure to your community. Outdoor advertising may seem old fashioned but, it is actually one of the most viewed forms of advertising. It creates instant awareness of brands and drives foot traffic to businesses. It's hard to market to someone that's always on the go, so using stationary signs and banners will help you stand out to those in transit and invite them to visit your services right away. An advantage of using signs is that a person is already on the go, making them more likely to make one more stop (at your business) before heading home.
We offer a variety of signage options at Signs.com including banners and decals that will transform your marketing plan in a pinch. Use vinyl banners to decorate your storefront, place A-Frame signs to help direct those that pass by your business, or place yard signs throughout the community to advertise. Whatever sign you use, It's important that your signs are unique and attention-grabbing; a boring sign will not cut it. Design your sign with the customer in mind. Focus on promotions, use QR codes for interaction, and be unique in your sign usage. Click here for some more ideas that you can use to increase foot traffic for your tax business.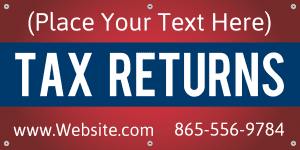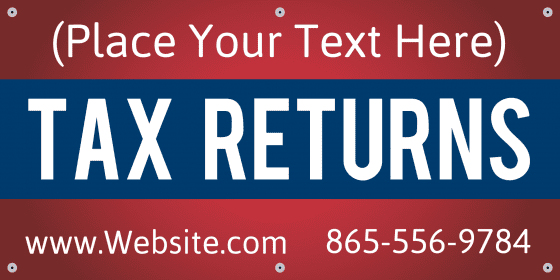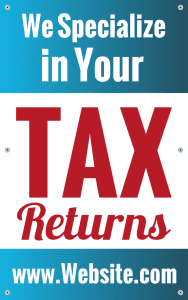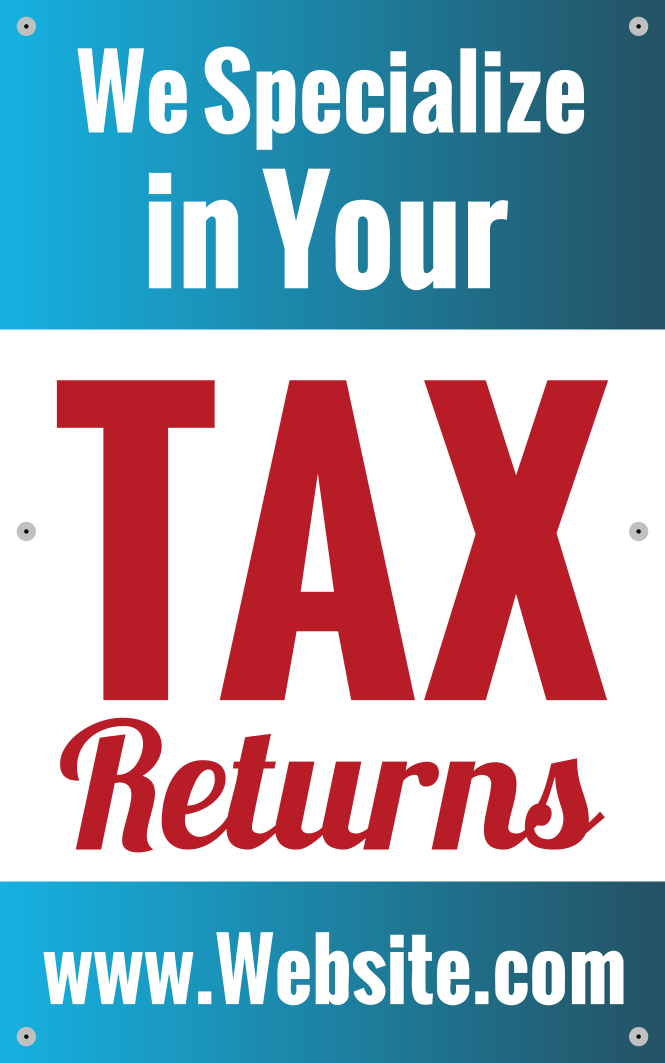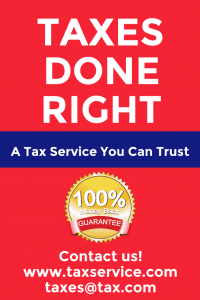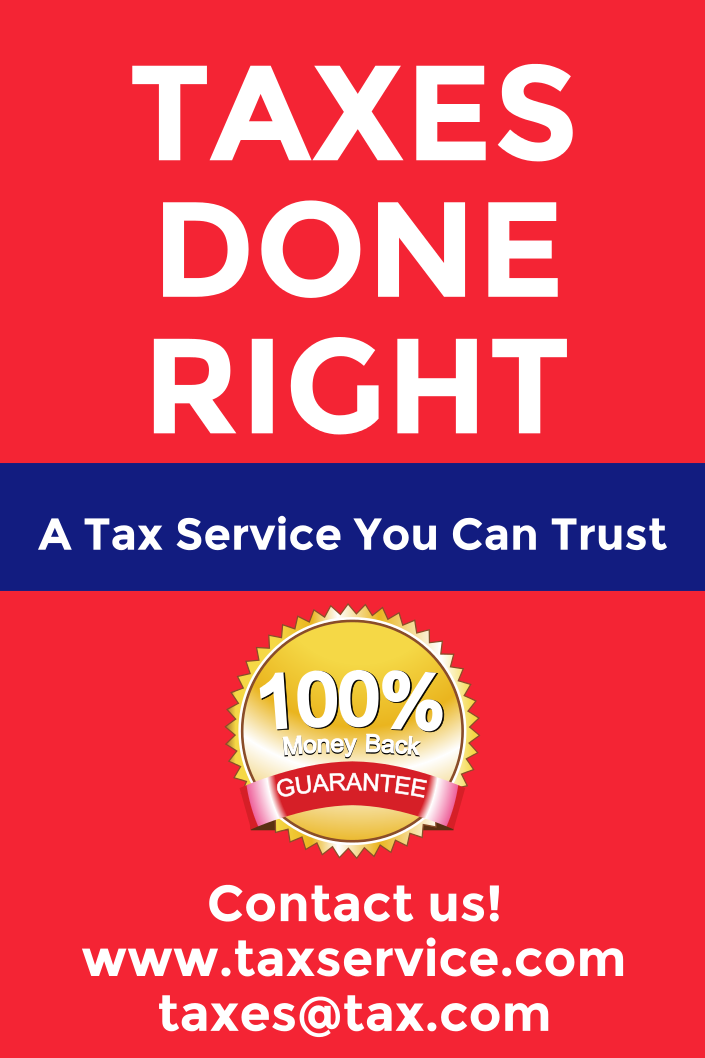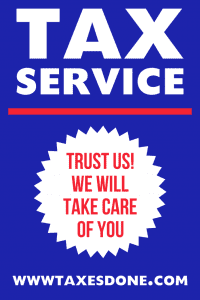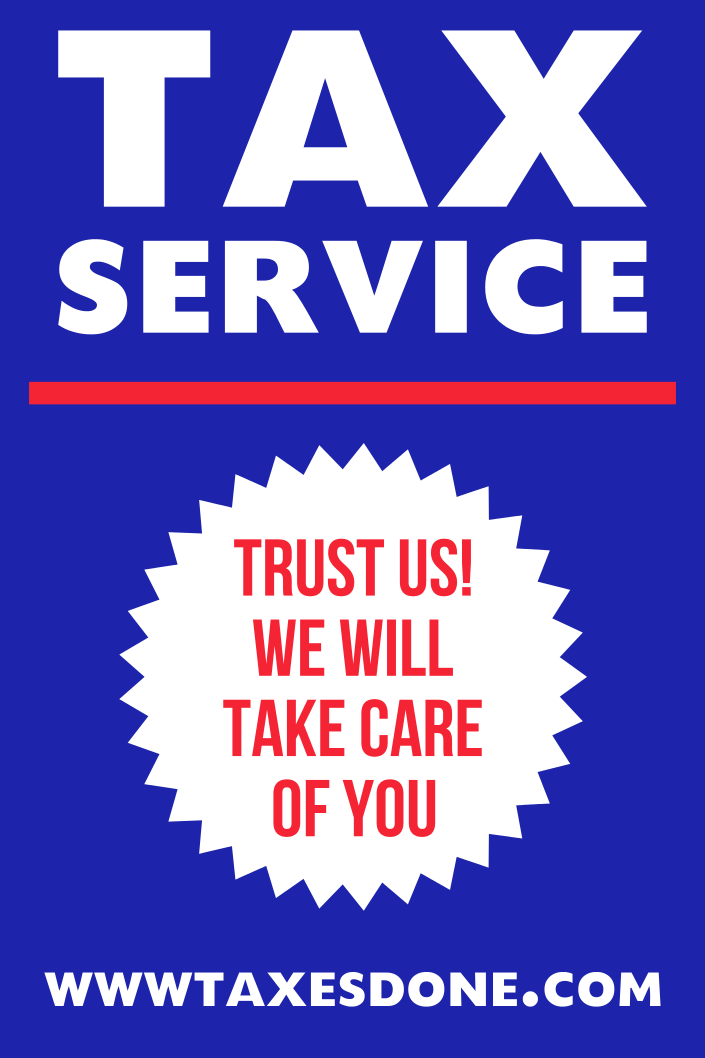 Email Lists
Reaching out to potential and current customers with email lists is an absolute must to help former customers return again the following year to use your tax services. There's a good chance that everyone has an email address, so promoting to the internet masses will be a breeze. Establishing your presence online with an email list is simple. All you have to do is encourage visitors to your website to sign up. WordPress based sites have a myriad of options to do this via plugins and integrate into your third party email service. Likewise, Hello Bar and SumoMe are third party services that work for pretty much any website, regardless of the platform it's built on, and can easily add a static or pop up email sign up call to action for your site's visitors.
Likewise, you can even place offline email list invitations on signage around your store and then manually input email addresses into your preferred email vendor. MailChimp and Constant Contact are two popular ones but there are many options to choose from. It's important to give incentives for joining your email list. Exclusive discounts, giveaways, and useful tax tips are all great perks to entice people to opt-in to your email list.
Once you have your email list established, you must optimize it to benefit those who are signed up. What we mean is that emails sent out should be tailored to the customer and their needs. Set up email lists (called "segments" in email marketing and marketing parlance) for those who want to get a headstart on taxes, an early bird special of sorts. Create a list for those who are waiting until the last minute to file their taxes, offering them discounts or coupons. Send emails out that target specific age groups. Usually the younger generation needs some extra help figuring out taxes, so offering them added assistance and benefits will tempt them to use your services. Further, your customers can be divided to cater to business or home owners, allowing you to send tax information that is specific to their needs.
Segmenting your email lists will also increase the likelihood the emails are opened and not marked "trash" or "spam". A study was conducted to show that segmented emails were more likely to be opened than generic emails. If a college student received an email titled Taxes For Retirees, it will most likely be ignored. On the other hand, that college student would be more likely to open an email titled How College Can Save You Money. Creating unique content that is tailored / segmented for specific audiences will drive traffic to your business and allow your email list to benefit your services.
Remarketing
Taking advantage of the internet for advertising is crucial in building your business. Remarketing allows you to do just that. This modern ad technique allows you to market to people who have visited your website before. In essence, once they leave your page they will see your ads appear as they visit other sites across the internet. This marketing tactic is perfect for reminding a past visitor of your services, allowing you to reconnect with them and encourage them to use your services again. Or to simply persuade them to come back! Incorporating offers and discounts into these ads will attract former visitors and hesitant first time customers to use your service.
Use remarketing to target people that visit specific pages on your website. You can do this using remarketing lists. Similar to how you would set up email lists to reach specific people, you can remarket specifically to visitors who went to your specific pages or did certain actions on your website. Or even some combination of these things. For example, you can remarket to those who went to your sign-up page but left before completing the process. Your ad could then remind them that you value their time and offer them a discount for coming back. If you have a referral page on your site, you can reach out and market to those who sent in referrals. You can even remarket depending on how many pages the visitor viewed while interacting with your website. Setting up these types of parameters for your website will then allow you to create some great lists for who receives your ads.
You can also set up landing pages for those who click on your remarketing ads. These landing pages can contain exclusive information or a special offer that is tailored specifically and exclusively to customers whose behavior on your site you already know. Customers love incentives and offers, so the more you utilize remarketing to speak directly to them the more effective your marketing will be!
AdWords
Google AdWords allows you to advertise your business to people who search specific keywords or phrases on the internet. With AdWords you can market your business in a specific geographic location, giving you the advantage in your region, city or even zip code! If a potential customer is searching 'tax service in Houston' and you've utilized AdWords for your tax business in the Houston area, the potential customer will begin seeing ads for your service. Tax services are widely used, so putting yours above the rest using AdWords gives you the upper hand in promoting your business.
It's important to understand that using AdWords for your local tax service is different than larger or national companies using paid marketing. In order to compete and set yourself apart from those companies, use keywords that are unique to your geographical area or as noted above restrict your targeting to your local area. This will help you to avoid wasteful spending for customers who are not in your local area. This is critical if you are going to get a positive return from this marketing channel.
Select specific words that you know your potential customers are searching for. While this will help avoid competing for customers outside your area, you'll still need to make sure to bid enough for the keyword that your ad is highly visible. This means that, when a potential customer searches for a tax service in your area, your business will be be somewhere within the top three ads displayed, rather than your competitors.
Researching, understanding, and taking advantage of keywords and paid marketing through Adwords is a great way to market your tax services in your area. Knowing the competition and how they are using Adwords will give you the upper hand within the paid marketing channel.
Standing Above The Rest
Implementing these simple, inexpensive ideas will revolutionize the way you market your tax services. Effectively reaching out to your community with personalized and unique content will show the people you're willing to go above and beyond to serve them in their tax needs. Why spend loads of money on television ads when you can use cheap services like email lists and outdoor marketing? Draw attention with sign spinners and incorporate high-tech marketing with AdWords and remarketing techniques. Doing these things effectively will have a tremendous impact on your business' bottom line!